Last update: May 2023
2023
iOS is an operating system developed by Apple which is designed to be used on all their company's devices such as iPhone, iPad and iPod Touch.
There is no doubt that iOS is an interesting operating system, and for sure it has some unique features we all would want to try out. Unfortunately, this question is not something that we can just answer by buying any Apple device because they're not so affordable for many of us. So, there's the question we all want to know the answer: How can we use the iOS operating system in a different device that wasn't created by Apple and therefore doesn't have native access to it?
TechinDroid today brings the answer and is mainly aimed at users of Windows operating systems but, in the end, we talk a little of Best iOS emulators for MAC operating system as well. Which has a fairly large number of users and is using emulation technology. If we emulate an iOS system, this will allow us to run iOS apps and games on Windows 7, 8, 10 or Mac  as if we were on an original Apple device and have many of the characteristics that we'd only be able to use on it. Next, we will see some of the best iOS emulators that we can implement in Windows and mac to carry out this task. But first, let us introduce you to some of the terms that we'll use in this article.
iOS Emulators vs iOS Simulators
iOS emulators are software that allows us to use an iOS operating system in a different environment from which it is therefore natural that running on Apple devices. Basically, an iOS emulator makes you feel like you are physically using an iOS device. For example, the use of OS X (Mac OS X) on a Windows PC through a Virtual Machine (Virtual Box for example).
This is how the iPhone Emulators will give you the impression of actually having an iPhone, allowing you to use the iPhone Apps and some other unique features from these Apple devices.
The iPad emulators, in turn, will give you the impression of actually being in the presence of a true iPad allowing you to install the apps that are originally intended just for its usage on iPad on your Windows computer.
In short, iOS emulators create an environment that allows you to use iOS apps on a computer or Windows PC.
An iOS simulator also allows you to have an iOS environment on an operating system, whether it be Windows, Linux, Mandriva, Android, etc. But a simulator does not try to copy the hardware environment to give you an impression of working on a real/physical Apple device, so it is much more software oriented. You can also test your iPhone, iPad or iPod apps with a simulator.
Why use an iOS Emulator?
The emulators are initially and moreover mainly designed for application developers, and more specifically to our topic for iOS devices. So, when you are a programmer wanting to make mobile apps for iOS (iPhone, iPad or iPod) you will surely need an iOS emulator for your tests.
There are also a million reasons possible for you to use an emulator:
In case you'd want to have a virtual copy of your iPhone, iPad or iPod
For Gaming: Play games that only install on iPhone on your Windows computer
Use apps from the App Store on a Windows PC
And many other personal reasons.
Top 15 Best iOS Emulators for Windows PC & Mac
---
1.

MobiOne Studio
This free application has been developed for Windows operating systems and offers the possibility to develop apps for iOS and Android. MobiOne apps are developed in HTML5 and use the Open Source Cordova / PhoneGap framework.
Its main features are:
Open Source
Compatible with all Windows editions
The possibility of creating notifications on the desktop
The ability to design and test apps for iPad.
Customizable work environment
Supports 32 and 64-bit architectures
Supports large sized apps
We can create effects transitions
The installation process of MobiOne is simple and at the moment of executing it, we will see the following environment. From this console, we have the possibility to choose between various accessories and multimedia elements for the creation of iOS apps.
Download: MOBIONE
2.

iPadian
iPadian is one of the best-known iOS emulators for Windows environments thanks to its scope and simplicity of use, and we can use it in any edition of Windows. With iPadian we won't have an emulator, but rather a simulator. The interface is really good since the appearance is total as if we were using an iOS device, but with this simulator, we are not going to create a local version of IOS on our device.
With this simulator, we have the possibility to run those apps that have been specially designed for iPadian. In case you want to see the appearance of an iPhone or iPad on your computer, this can be a very good option.
Its main novelties are
It can be installed in any edition of Windows (7, 8 or 10)
Supports iOS 9
We have access to the AppStore, iMesages, iWatch and various games.
Simple and iPad-like interface
The possibility of creating apps using Framework
Multiple configuration options
The iPadian environment at the moment of accessing is the following. From there we can manage the various functionalities:
To stay up to date, remember to subscribe to our YouTube channel! SUBSCRIBE
Download: IPADIAN
3.

Smartface
Smartface has its focus especially on developers since from the platform, creating a free account, you have access to multiple tools for the development and respective validation of applications in iOS.
Among its key features are the tools offered to developers to make powerful applications at a professional level.
It is not necessary to download any application since everything is worked online and the link to this important tool is the following:
Download: SMARTFACE
4.

Air iPhone Emulator
Air iPhone is an application that has been developed in Adobe which emulates the graphic interface or GUI of an iPhone allowing us to have access to the behavior of iOS.
The good things about the program is that:
It's free to use
It has a simple interface
The possibility to create and test applications for iOS
Real emulation of iPhone
When executing the application, we will see the following environment. We press the unlock button to access the iPhone environment:
Air Phone Emulator can be downloaded from the following link:
Download: AIR IPHONE EMULATOR
It is important to note that the application must be executed with Adobe Air since on this platform it was developed, to download and install Adobe Air we can go to the following link:
Download: ADOBE AIR
5.

Xamarin TestFlight
This emulator is different from the aforementioned ones. Without a doubt, this is the best emulator to use in case you are a developer. This is Apple's beta testing service for all IOS Apps. For its use, it is essential to be registered in iTunes Connect.
Requirements
IOS 8.0 or higher versions can be tested using TestFlight. All those that are outside this range, cannot be tested through this program.
If you want to know all the information about use and installation, visit the following official Microsoft link to use TestFlight
Download: XAMARIN
6.

Appetize.io
Appetize.io is a kind of different emulator among all we have in this list. It allows us to run and test out iOS apps like every other emulator, but it also lets us develop cross-platform apps on the cloud, and all through this emulator.
Downloading and using the emulator is free by the next 100 hours (this applies since the very moment you start to use Appetize.io), and once that time is over, we have to pay $0.05 per hour. Considering the price, it's a really cheap foot for an emulator that has as its principal aim to make things easy for all the users. So, we definitely recommend it.
Visit website: Appetize.io
7.

Ripple
Ripple is one of the most unique HTML5-based multi-platform emulators we can find on the market. Not only because it's proven that it provides a wonderful experience during the emulation time, or that it has a simple and easy interface. The best thing about Ripple is that it's a Chrome extension, and because of that we don't need to have to go through complicated setup installs to make it work.
With Ripple, we can run and test old and new developed apps, and even though it's still in a beta phase and there are some bugs because of that, it just does magnificent work.

8.

iPadian
The next emulator on the list is iPadian. iPadian has been the choice of many professional users as well as just hobbyist persons that want to spend some time using an iOS emulator. The reason is that iPadian works so well independently of the user acknowledges about emulators thanks to its great and simple configs and interface. It's flexible, offers a simple install process, and it's really intuitive.
The UI is also very self-explanatory, it's friendly with the user and has zero lag input. Overall iPandan is a good emulator that doesn't require you to run into mountains of text and complicated things to work, and that's what it does best, its simplicity makes it just great.
Visit homepage: iPadian.net
9.

iPhone Simulator
As we mentioned at the beginning of this category, we'll also recommend some simulators, and that's why the iPhone Simulator makes its triumphal entrance in this list. This simulator is mainly dedicated to games, and because of that it lacks a lot in terms of advanced features, but that's not a bad thing on its own.
For those who are starting in this simulation world, it's a great thing because of the facility to run games on it. We won't run into any issues thanks to the limitless support. And also, analyzing the main purpose of this simulator, which is gaming, the graphics are pretty marvelous.
Download:  iPhone Simulator
10.

 Electric Mobile Studio
Electric Mobile Studio is a software developed by professionals that mainly focus on another professional's work. It has a million of features that help with both iPhone and iPad web-development.
We can try the free trial or if we're directly looking for the full packet then we can obtain it for $40. This price might be something that not everyone can afford just for an emulator, but if we are looking for an alternative that works efficiently in every case, then it's totally worth the cost.
Visit website: Electric Mobile Studio
11.

Remoted iOS Simulator
Despite its name, Remoted iOS Simulator it's actually an emulator. Those who are familiar with Xamarin and its wonderful passion for the simulation market will be pleased to know about this amazing app they developed. Because this of the fact that this is an emulator, we'll have anything but trouble when testing out iOS apps in our PC. This app gets the job of seeing Apple's ecosystem done without any issue, even if you don't have any experience with emulators at all.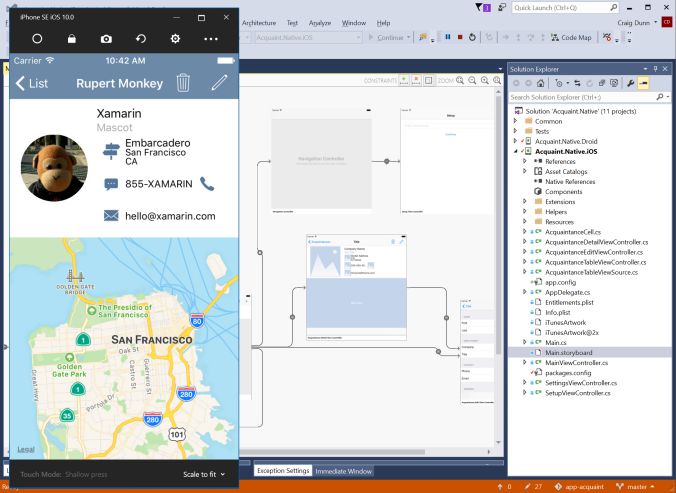 The last thing we'd like to mention is that all the experience when using this emulator goes very smoothly and easy. We don't have to worry about anything. The software is simple and easy to use.
Visit website: Remoted iOS Simulator
12.

App.io (Not available now)
Because of the name, this emulator can sound like a game, but App.io is actually a really good iOS emulator for those who use Windows on their computers. The initial charming factor that this emulator has to provide us is that it's completely free, so we don't have to use even a coin on it to make it work. Besides from being free, the emulator is simple to use, and simple to understand. We won't see either complicated setups or interfaces, it's actually the opposite, and thus everyone can use it.
Once we configure a bunch of things, the emulator is ready to go. We can use it for everything we want and as much as we can, whether it'd be to test some apps or fully dedicate to games, this emulator makes us enjoy the emulation experience and gives us all it has.
13.

iPad Simulator (Not Available)
iPad Simulator is an extension of Google Chrome browser. It can act as a simulator and also like Cloud iOS. We can get to use Apple features, like Siri, without having to pay anything.
It's a virtual clone of iPad which we can use as an iOS emulator for Windows Computer. As for the Cloud iOS, it allows us to drag and drop from iOS apps from the PC to the iPad Simulator. It's also very easy to use and install because the only thing we need to do is search the extension on the Chrome Web Store.
Best iOS Emulators for MAC 2023
---
I know this might sound kind of ironic, but if we, as users of a MAC laptop or computer, want to ensure if everything is working as intended, then we can try out these iOS emulators to fulfill our needs.
There are just a bunch of emulators that are actually available for MAC for download, but because of the few choices, we can expect a lot of refined elements and excellent features.
Appetize.io
Another software that is returning to the list is Appetize.io. As we can deduce, it is available in both Windows and MAC, and just like the Windows edition, the MAC version is greatly performed and with the goal in mind that the experience will be incredibly smooth and streamlined.
It's true that the program can be a bit slow when starting it, but that's because it takes a little time to load all the assets. Once that's done, the entire process becomes fluent and is very pleasant.
Visit website: Appetize.io
App.io (Not available now)
App.io makes a return in this article but now as a MAC iOS emulator. The reason is that it's available in both platforms, and in both, it runs perfectly nice. We might feel pretty familiar about the interface, but the reason behind that is that there is a close link to Apple's operating systems.
Even though it's not free, we have a 7-day trial which is definitely worth to try if you ask us. The emulator has been designed with refinement, ensuring that we get the best experience when testing it out.
As we see, we have the possibility to emulate iOS in a safe and totally practical way in Windows 7, 8, or even MAC before venturing into the purchase of an iOS device. Since we know of its high costs in the market, this helps us to do all of the things we want to do in an Apple device. Do you know any other iOS emulator for Windows or MAC that we didn't mention in the article? Don't hesitate to send the name to us through a comment! Remember that all the feedback you give us makes us do even better articles. Thanks for reading and don't forget to share with your friends!
Also read:
How to Play Animal Crossing Pocket Camp on PC
Best Super Nintendo Emulator for Android
Nintendo 3DS Emulator for PC & Android
How to Play Breath of the Wild on PC
How to install Kik Messenger on PC
How to Run Android Apps on PC
Best DS emulators for Android
Best Android Emulators for Pc
Best SNES Emulators for PC