Last update: November 2023
Android has several Super Nintendo emulators (SNES emulators) with all kinds of unique features that have nothing to envy to their desktop iterations. If you enjoy playing SNES games, keep reading – these are the five most interesting emulators for Android that we were able to find.
With the arrival of the SNES Classic Mini, this iconic system is once again on everyone's lips. The catalog of games released for the 16-bit Nintendo console is timeless, which is why the miniature re-edition of the console is such an event. It is a good time to remember that our smartphones are fantastic emulation machines. And keeping that in mind here's a selection of the best SNES emulators for Android devices. These emulators will allow us to enjoy some of the best SNES games.
 [SNES] Super Nintendo Emulators for Android 2023
---
We begin our selection of Top 5 Super Nintendo emulator with Snes9x and you can free download it from google play store, Also the same in the case of other emulators, while some SNES emulator can be downloaded as apk file. If you are not familiar of handling apk files we recommend you to read our guide to install apk file on android phones.
1.

Snes9x EX+
This SNES emulator, like most of the existing ones for Android, is based on the iconic emulator Snes9x, an open source emulator that has been improved and ported for decades. Specifically, Snes9x EX + is based on version 1.53 of the original Snes9x. There is a version based on an older build in the author's website, too – it has a better processing speed but it has more issues overall.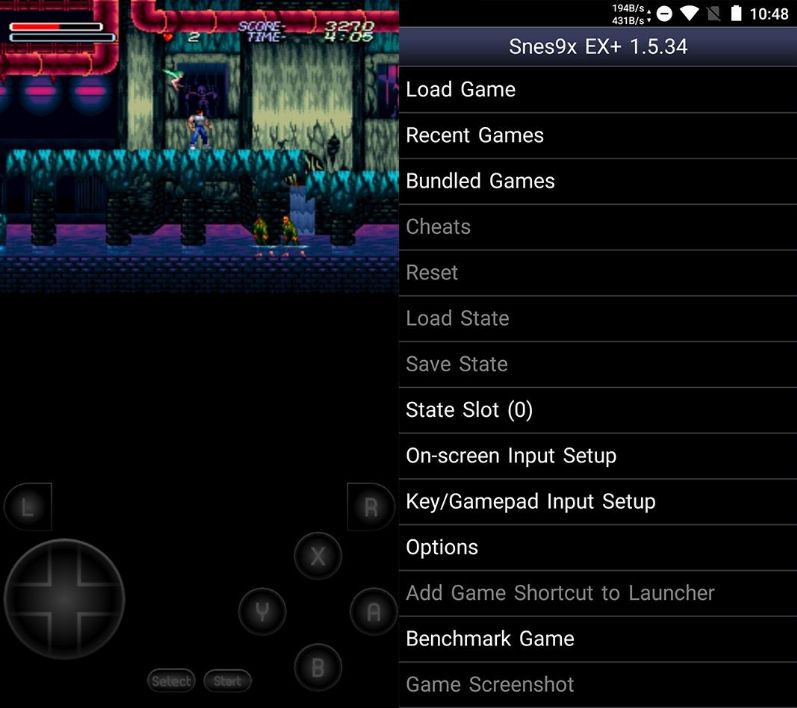 The best thing about Snes9x EX+ is that this version has no advertising or limitations. This emulator allows you to save games in multiple slots, insert tricks, capture your screen, use external keypads and gamepads, customize the audio and video quality of the emulator, tweak the virtual gamepad as you wish… in short, if you have to choose only one Super Nintendo emulator for Android, try this one! It's a best super nintendo emulator and available for free download, anyway.
2.

John SNES Emulator (Free)
The Super Nintendo emulator for Android under the label "John Emulators" that haunt the network are a result of the work of a Japanese developer who promotes their applications, created from scratch. In the case of John SNES emulator android app, what we have is a more than efficient Super Nintendo emulator that has little to envy those that are based on Snes9x overall, in addition to offering some unique features such as the use of Dropbox to synchronize games, saved games and configuration options, or the automatic creation of save points and screenshots that are subsequently used as thumbnails in the game selection menu.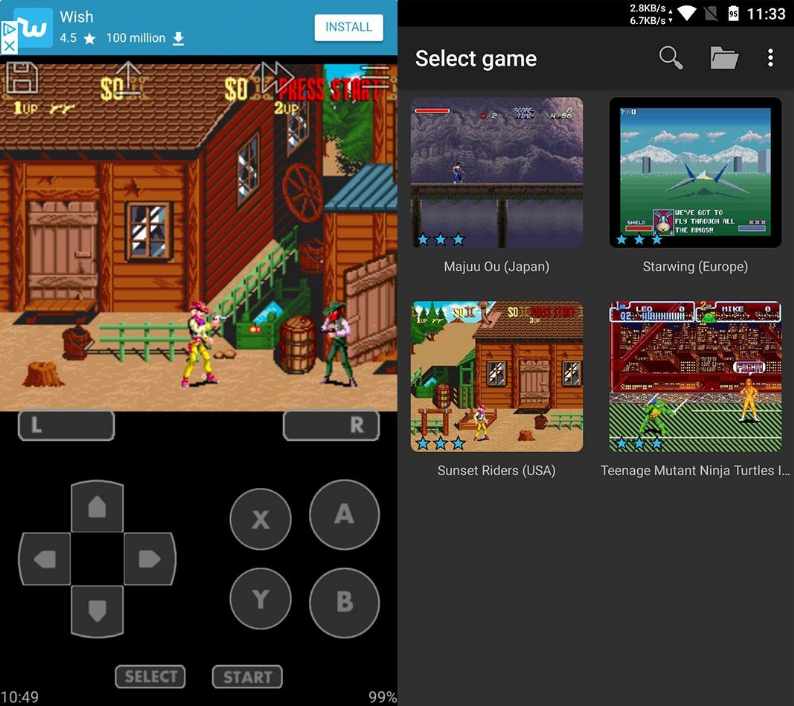 The free version of John SNES Emulator is something fully work on android devices, although it includes advertising integrated into the application, both in the transition between games and menus and during the emulation itself, through a small horizontal bar at the top of the screen. Of course, if we want to get rid of such advertising, we can always get the paid version of the application. We won't get any ads while using it.
3.

SuperRetro16
One of the main references in the SNES emulation for Android was removed from both Google Play and Uptodown for legal reasons, but a few months ago the veto was lifted and we can download it freely again, without having to search for an APK file online.
SuperRetro16 came back with new features added. In addition to being an emulator made from scratch, it has many virtues – despite being a step below the enormous compatibility, the emulator has a great interface, with options as interesting as the automatic search of the covers of the games we have, or the ability to send the image to external screens via Chromecast.
The main negative point of SuperRetro16 is how limited and uncomfortable the free version can be. It will only allow us to save our game a maximum number of times, in addition to getting some more customization options through a virtual currency system that can be very annoying. Luckily, we can always get the full version and remove all restrictions.
4.

Matsu Emulator
This emulator is rather new. It doesn't have the age of emulators like SuperRetro16, but it does a really great job on its own. Matsu Emulator has a feature that separates it from the rest – it's an all-in-one emulator, supporting a wide number of consoles, not just the Super Nintendo. It can run the same games as all the other emulators with fantastic results, and it allows you to do real-time saves, customization of audio and video quality, and the usual array of features.
The main downside of Matsu Emulator is in its price: sadly, this emulator isn't free. You can buy it for 7.99$, and it will be worth the price, of course – remember, you'll get a lot of emulators with just one purchase. So if you're the type of guy that has played and tried a lot of different systems, Matsu Emulator could be the application you're looking for.
5.

RetroArch
Last but not least… Perhaps RetroArch is the most unique emulator on this list. The application is not an emulator on its own, nor it has an architecture created from scratch. RetroArch uses the "cores" of a lot of known emulators for PC in order to create one of the biggest and best environments available nowadays for your Android. It has an extremely big compatibility with almost every game you can think of and it runs the games without a problem.
Sadly, RetroArch isn't able to offer as much customization and freedom as its contemporaries do. The good news is that this emulator is free and it's constantly being updated, so there's no excuse for not having it! In addition to that, RetroArch has a huge selection of emulator machines for different consoles, so you can play more than just only SNES games. Check it out!
Despite all the years that have passed since the first Android system came out, emulation is something that keeps bringing people to this operative system. We hope that this selection of best SNES emulator helps you if you're an enthusiast or just like playing your favorite console games on your phone. Do you know of more best SNES emulator for android or want to recommend your favorite one? Don't be hesitate to tell us about it in the comment section!
Recommended picks from emulators for you: