Last Update: September 2023
Although You may not know, there are many things you can do with Android smartphones one of them is scan documents using android phone camera. In fact, there are several apps with which you can do it, which offers you a quality very close to the one you get using the official scanners of a lifetime.
Today we are going to teach you how to scan documents with your Android phone and Tablet. To do this you have to use one of the best apps to scan Documents on Android phone you can find for this function, CamScanner is most useful app to do this task. And we will explain step by step how to use it.
You may Also like:
How do i scan PDF with my Android phone?
Of course many of them have this question luckily there are some apps available to do this task we have Used the best app for this task. you can use them to mail to your university or an industry. The quality of the file is depending on your camera. where can i get a document scanned and emailed
Scan Documents with Your Android phone & Tablet Camera
---
 Lets see How do i Scan documents with CamScanner (Photo scanner app for Android free.
1. At first you have to install the Document scanner app for android from below link. Once you have installed you have to open it.
2. When you open CamScanner app for the first time you will see this interface. A blank space in which all the scans will be added and the camera icon on the bottom right. If you just want to scan a document, click on that icon and you will go to a screen like a camera.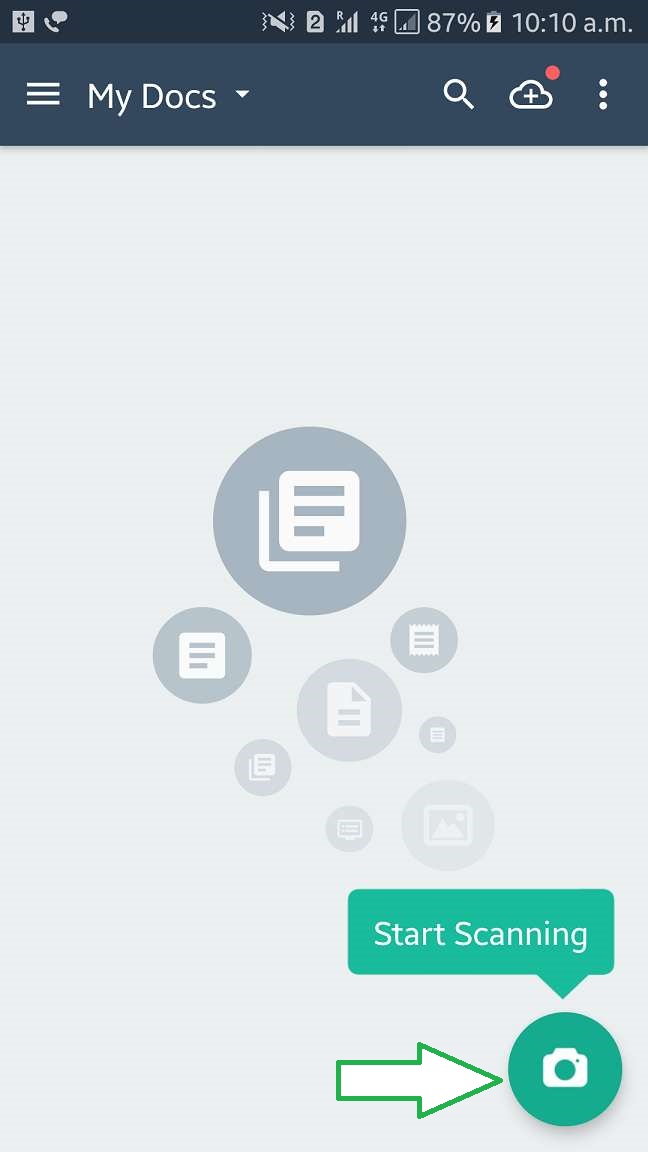 3. In this step you have to pay special attention to the two things that we pointed out below. They are the two main options. The one that has an icon that seem to be seen two squares is to scan several documents, perfect for when you have several papers that belong to the same. And the icon on the right, which has only one square is the individual mode or a single document.
4. The process is very easy as you see. On the main page click on the camera, and on the next screen you have to choose single or multi-document mode, to focus the camera well and shoot. Immediately the app will recognize the paper you wanted to scan, although allowing you to edit its perimeter in case there is an error.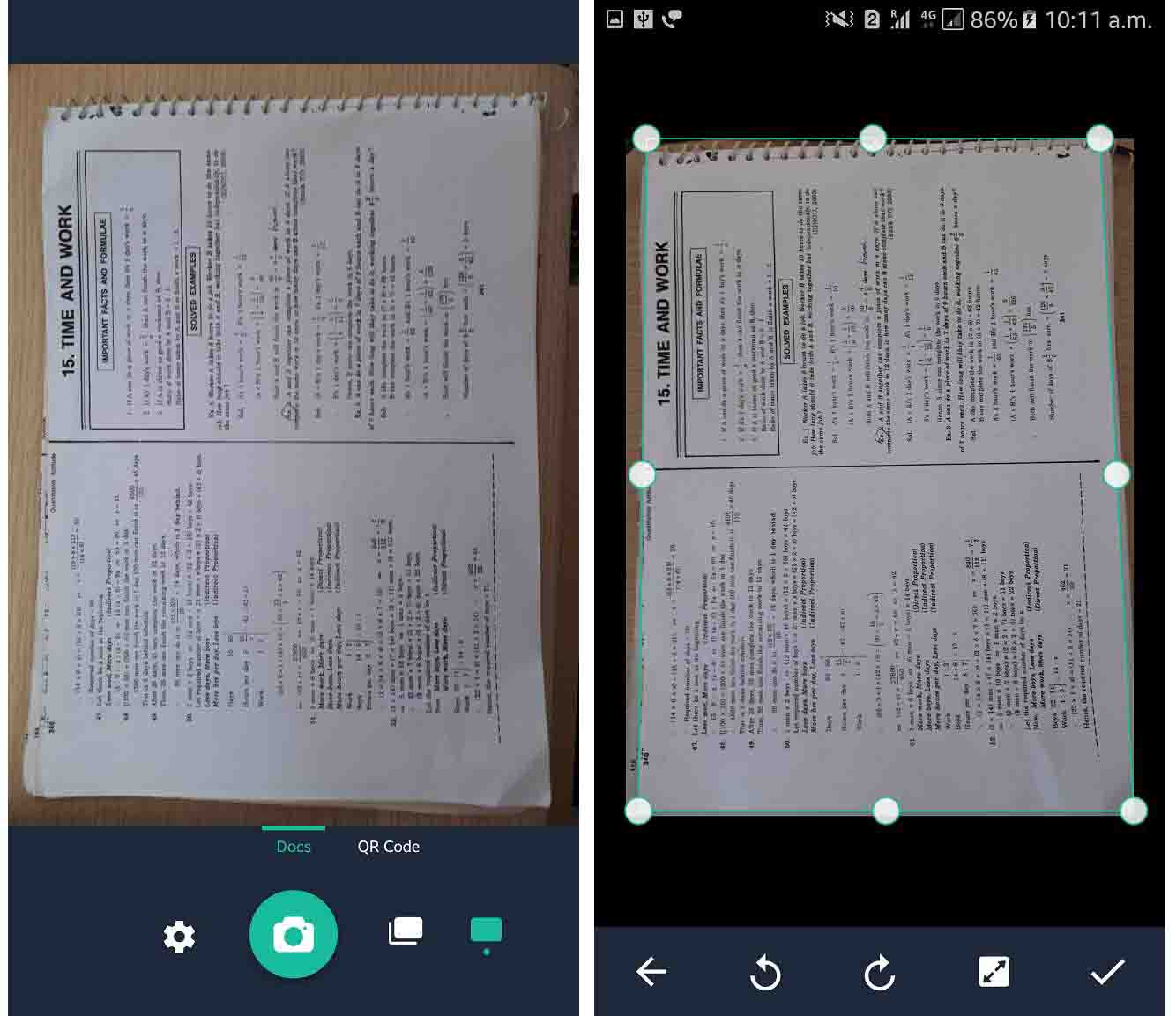 5. On this screen you just have to click on the Camera trigger button to scan. When you do this, it will scan document and expand it to full screen as if you had taken a photocopy by taking you to a settings screen.
6. At the next step you can do several things. You can change the default title to know in the main menu what is in each document. Below you have several filters like Instagram to adjust document highlight and grayscale and choose how you want it to be seen, although there is also a settings option which you can edit it more detail.
7. You will see that there is also an icon with a magnifying glass with the text OCR , is a premium feature which let you convert PDF to Word. Otherwise, the automatic mode of this screen usually work quite well, So its just a transition in which, once everything is to your liking, you have to finally click on the "Tick" to accept and complete the scanning the document. pdf scanner android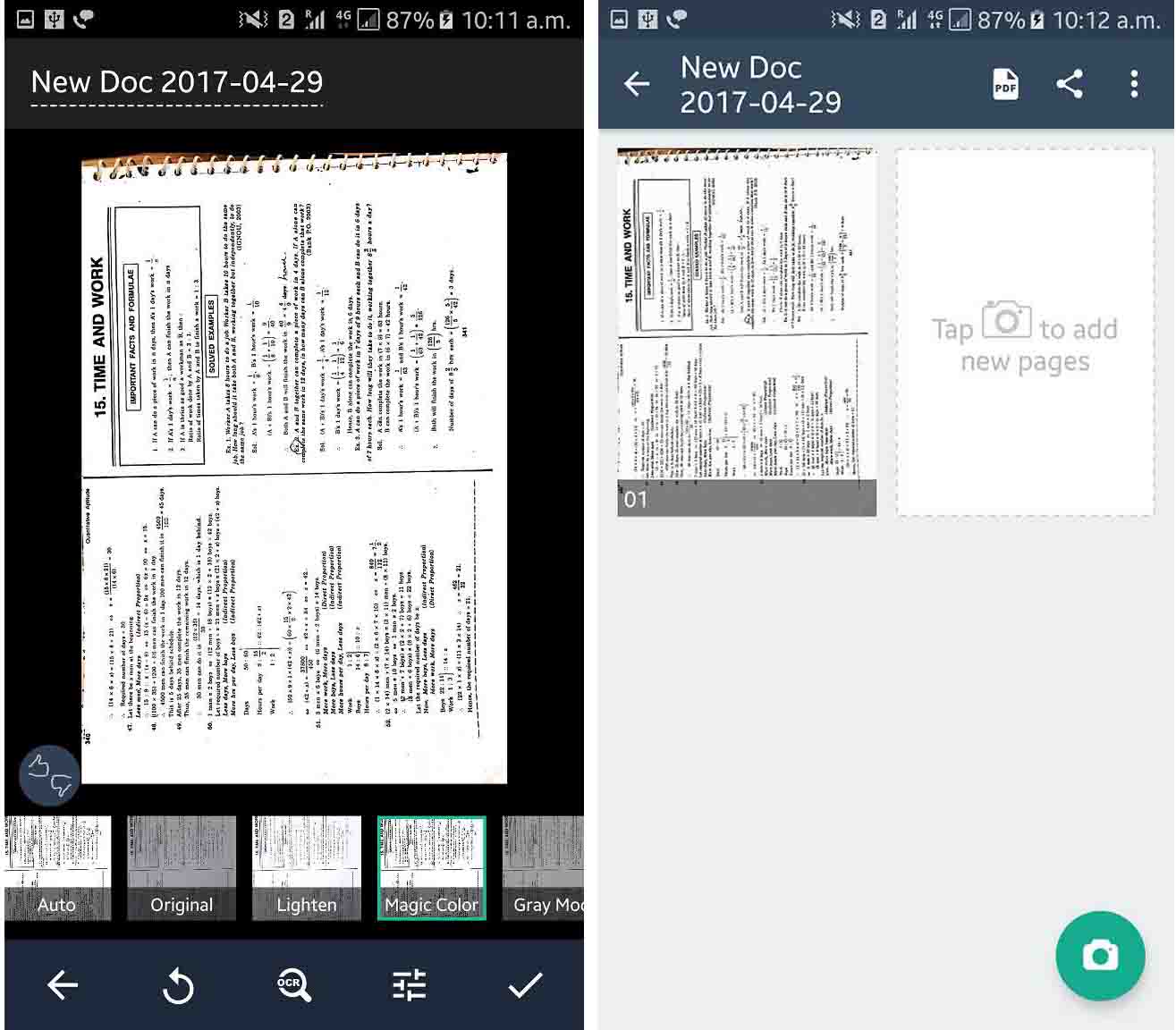 8. Thats all, once you have completed all above steps the scanned image will be saved on the app and you can access it any time from the main screen. You can tap on it to open that, Now will view on image. If you want to convert it into PDF file You have to click on classic "share icon", with it you can choose whether to share as a JPG image or PDF document and then choose any of your mobile apps to do so.
Import and Export text
CamsCanner has many features that you can use, some are free and others for paid. On the main screen you will find a "Three-Dot" icon which to display the options. Among them is a call import from the Gallery which you can choose one of your photos to apply the CamScanner filter to highlight the Doc.
Get paid apps for free on Google play store.
This way you can simply Snap photograph the documents you want to scan and later when you have time you can import them into the app to edit and adjust them as we did before.
A Premium feature called OCR on the filters screen. It is the option to recognize the text, which analyzes the writing and digitizes it by passing it to a text .txt that you can use in any text editor. It is not infallible and it gets messy with some letters like weird symbols but, usually it works well enough to take it into account.
The con is that to use this feature you have to buy the Pro license of $ 2.29, which offers you better image quality and digitized texts. There is also a premium plan that for $ 5 a month gives you collaborative features and 10 GB in the cloud. Whether or not to pay for these functions depends entirely on your needs.
I hope this tutorial will help you a lot and save your time of going to computer center to Scan the documents, thanks to the Android smartphones. So that you can scan documents near you.