Last update: September 2023
Can I Run Android Apps on PC? Yes you can run Apk on windows using an android emulator. In this article make this task easier than ever: to Run Android Apps on Windows keep reading this guide.
A particularly elegant solution for using Android apps on Windows PC & Also on MAC is the NoxApp Player. It lets you emulate the operating system of different Android tablets, allowing you to try different apps in a secure environment without threatening the integrity of your operating system.
Run Android Apps on Windows 10, 8 and MAC
---
You want to use one or the other Android app when you are at home, not on your smartphone or tablet, but on your home Windows / Mac PC? And most of all, you don't want to install the desktop version of the software for this purpose? Then the NoxApp player would be a good choice for your project. The free program emulates Android on windows 10, 8 and 7 PCs MacOS PCs as well – You can choose mobile phone or tablet mode when installation and can be easily and conveniently installed on the computer.
If you want to use photo editor apps and edit images, the NoxApp player also supports using your laptop's webcam as a camera.
| Android Version: | 4.4.2 |
| --- | --- |
| License: | Free |
| Operating System: | Windows & MAC |
| Language: | English |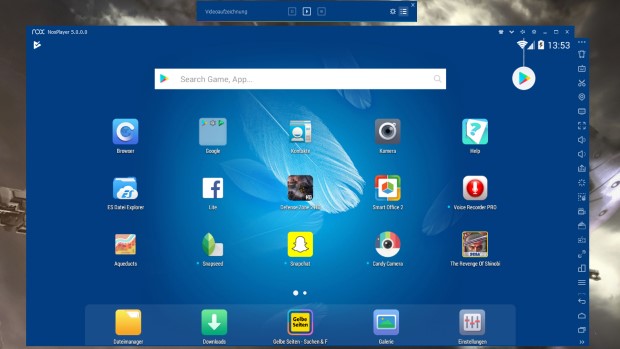 Download: NoxApp player (For Windows / Mac).
Whether it's Google Play Store apps or manually downloaded APK files, the NoxApp player can handle both with ease. To use a share a single apk file within the player from your pc, you only need to drag it from your desktop computer into the player window. Then Everything else is done by the emulator: It recognizes the file as an app, installs it independently and creates a corresponding icon on the surface. If you double-click this with your mouse as usual in Windows, the program starts immediately.
Last time we complained that only Android version 4.4.2 is being emulated, the manufacturer has meanwhile improved: In the new version 6 of the NoxApp Player, Android 5.1.1 can now also be emulated, which means that even newer Android apps are now being installed can. I personally use Blustacks for run Android apps on windows 10 just saying!.
How to use Android Apps on PC
Lets see how to use Nox player to play android apps on Windows or Mac PC.
Steps to follow:
Download the free NOX player from the official site (Link given above).
When you are done with downloading the program, Now its the time to install it on your pc.
Just Double-click on the setup that we downloaded earlier.
And follow the options shown on the interface and setup it as your liking.
Thats all, Now you can launch the NOX player from your desktop.
My opinion about Nox
Many advantages, but a big disadvantage …
The NoxApp player is a really fun emulator because you can easily and safely try APK files without having to worry that they may paralyze your smartphone or tablet. Thanks to the latest update to version 6, the Android version 5.1.1 is now also being used as a basis, which opens the door to many newer apps. Now I can also pronounce my absolute recommendation for the program because it runs as stable as liquid and rarely shows any dropouts.
One point of criticism, which I nevertheless want to attach, is that the program, once put into operation, installs one or the other app for advertising purposes. On the other hand, however, stand the automatic rotation of the display, good sound playback and keyboard input as well as the automatic detection of a webcam as a camera.
If you like to try apps, but do not want to cover up your entire smartphone or tablet, you will find the NoxApp player an ideal playground. Because you can also film the behavior of your apps – a recording function is integrated into the player. However, for this task Nox player isn't only the solution, there are many android emulators are available to run Apk on PC. We hope this guide help you with use android apps on PC, Don't forget to share this article with your friends and drop your o