Last Update: September 2023
Best Antivirus for Android smartphones 2023
Best Antivirus for Android 2023 September – Security Apps: Security is the most important thing in Android systems is to have all your software updated to the latest version available for the device (both operating system and applications). But despite being fully updated there is always who develops software with very bad intentions. To get rid of this type of attack that we need an Antivirus apps is up to date in our smartphone especially for rooted users. So we decided to make a list of Best antivirus apps for android in 2023 September.
The world moves very fast vulnerability malware and exploit. yesterday broke today no longer use for anything. This is the dark side but on the side of safety also adapts to new threats fast. That is, the virus that half a year ago was the best place surely has fallen and already has substitute So we have to use best security app for android.
Best Antivirus for Android 2023. The best Android antivirus analysis of AV-TEST was released. Its an independent computer security institute. That publish every two months the list of the best antivirus for Android at the moment. I leave here the best security app for android 2023.
There is many antivirus services have a free version of its application that frees you from known threats and if you want a constant tracking or additional services, depending on the application, also typically have a premium application.
10 Best Mobile security & Antivirus Apps for Android  2023
1. Avast! Mobile Security & Antivirus
The avast! It is one of the Best Android Antivirus 2023. it can perform automatic scans of installed applications, the contents of the memory card and every new application we install. It also offers filters SMS and calls. Like most applications in the list.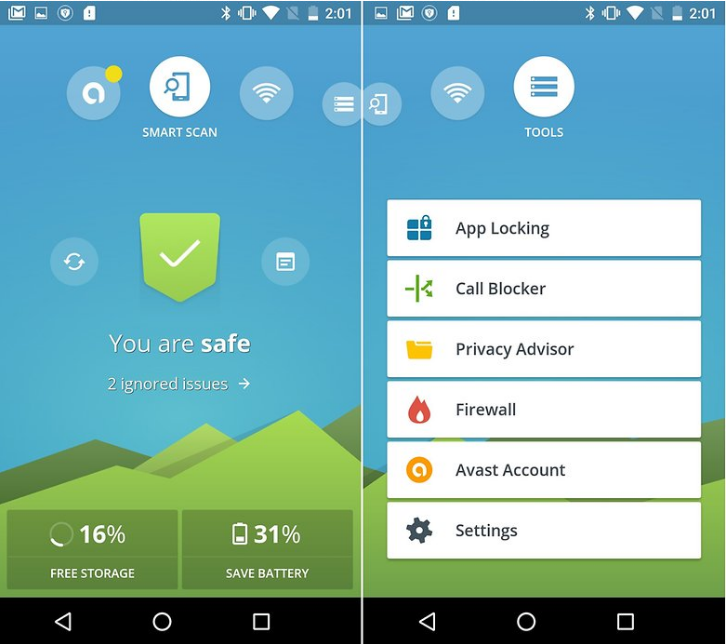 We also find a lock option and GPS tracking if your phone disappears. In this trace, we need to add a siren to scare the thief to find our smartphone or under the couch. Finally among its functions: We also found a firewall, web shield, remote functions and more.Your download is free. best free antivirus for android 2016
2. Bitdefender Antivirus Free
Bitdefender  is a free Antivirus app that will do a great job in analyzing virus. It will not find any extra function beyond suspicious files delete files, safe navigation and anti-theft protection. It should be noted as a positive point integration with smartwatches and is very light, so it becomes the ideal for older smartphones candidate. Best Antivirus for Android 2023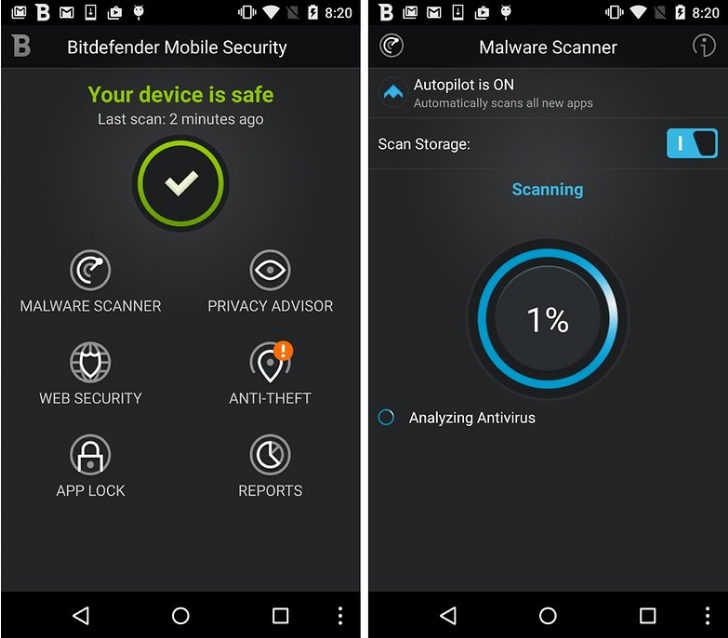 3. Kaspersky
The Antivirus company Kaspersky Lab is well known for its market research regarding mobile security is concerned. By installing this app on your Android smartphone you'll freely find basic functions including anti-theft and anti-virus scanner. Although the real-time protection is a function of payment. The Kaspersky application has very positive point that is created by one of the most trusted companies in this field.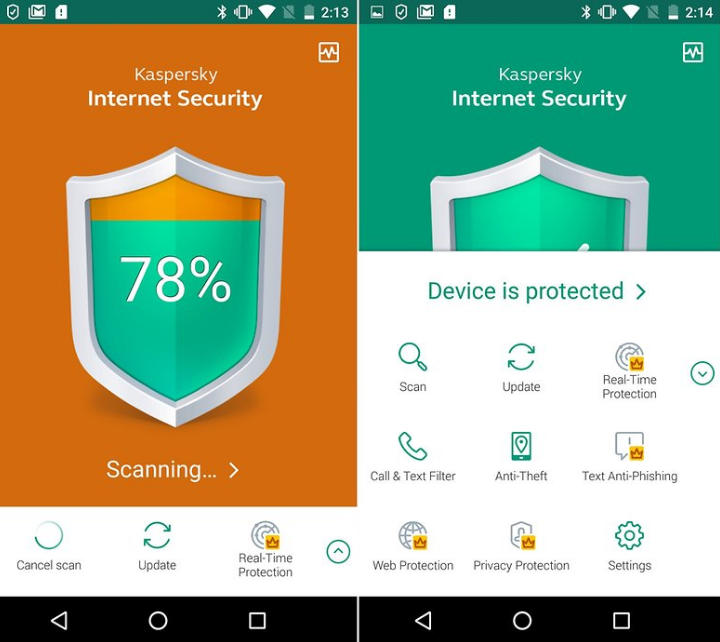 4. AVG Antivirus
AVG Antivirus is one of the best free antivirus app for Android. With AVG antivirus you can scan apps, such as settings, files and media if have infected files. Other options are the possibility of terminating processes that slow down the device, battery control and data usage. best antivirus for android smartphones
Its function:
Protect our device in real-time virus attacks.
Malware attacks.
Spywares.
Phishing, etc.
It also allows us to block and delete all information in case of loss or theft, as well as locate our phone via Google Maps.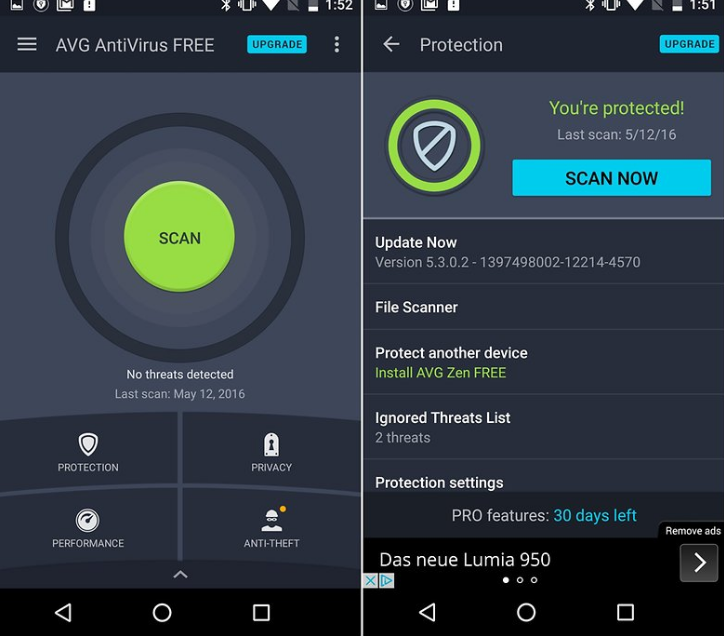 free antivirus for android tablet
5. Eset Mobile Security
One of the best antivirus for PC has gone to smartphones. It is free but, is integrated into the application to provide maximum security purchases. The interface is very clear and simple. The database of virus and malware is extremely extensive.
Application recommended for its simplicity and quality and combines all the experience that has Eset PC to transfer it to your Android smartphone.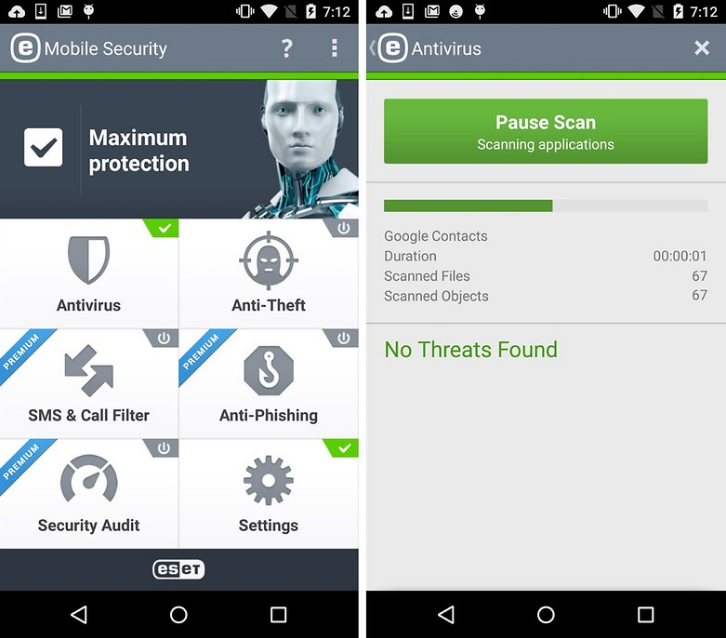 6. Sophos Free Antivirus and Security
Sophos AntiVirus is free but offers some addition to superb protection extended services. Able to detect all the latest malware, secure web browsing and theft deterrence also has blocking calls from unknown numbers, filter messages, emails, parental control and data encryption.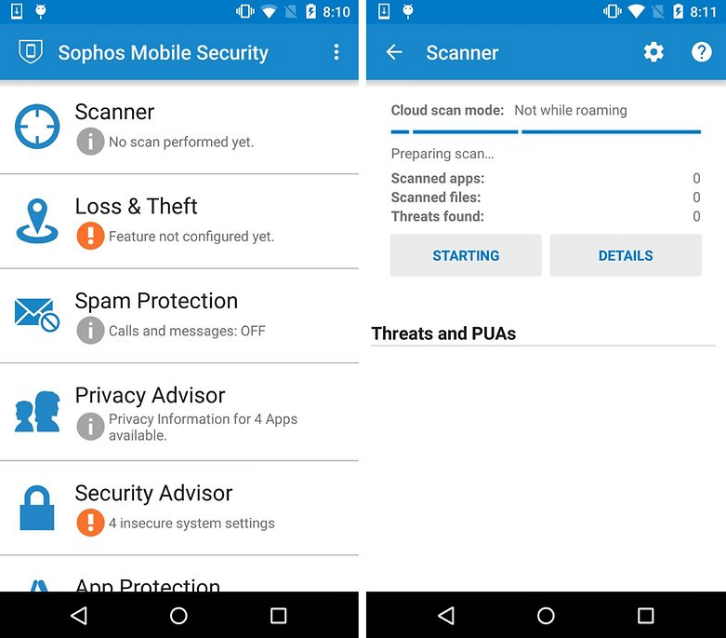 7. Norton Antivirus and Security
Norton Antivirus and Security protects your smartphone both theft and malicious virus. This is a completely free application that eliminates malware before they enter your device. It also offers the possibility to analyze data from the SD card. On the other hand, Norton Antivirus and Security provides the option of Remote Lock via a text message in case of loss or theft.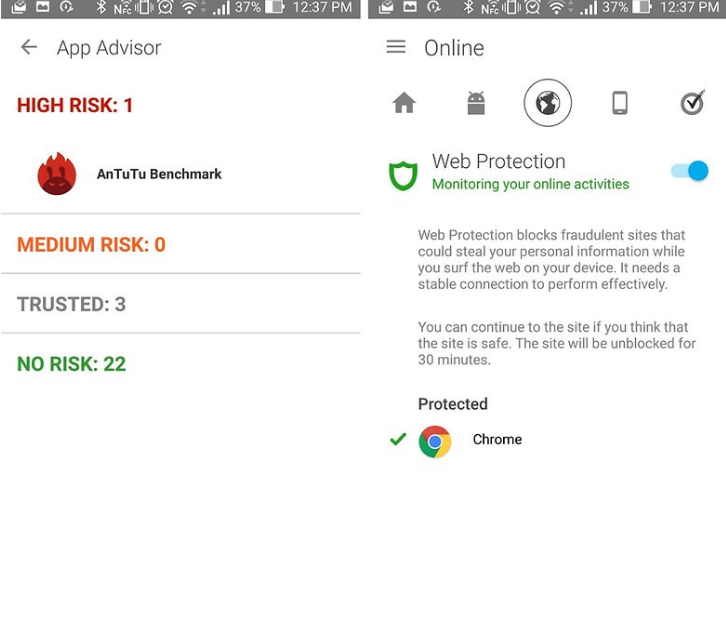 free antivirus for android mobile
8. 360 AntiVirus
This antivirus is developed in China and will not find it in Google Play. In this country, Google services are very limited and there is no Google Play. it's easy to get an application from anywhere and the chances that contain some sort of malware are quite high. best free antivirus for android 2016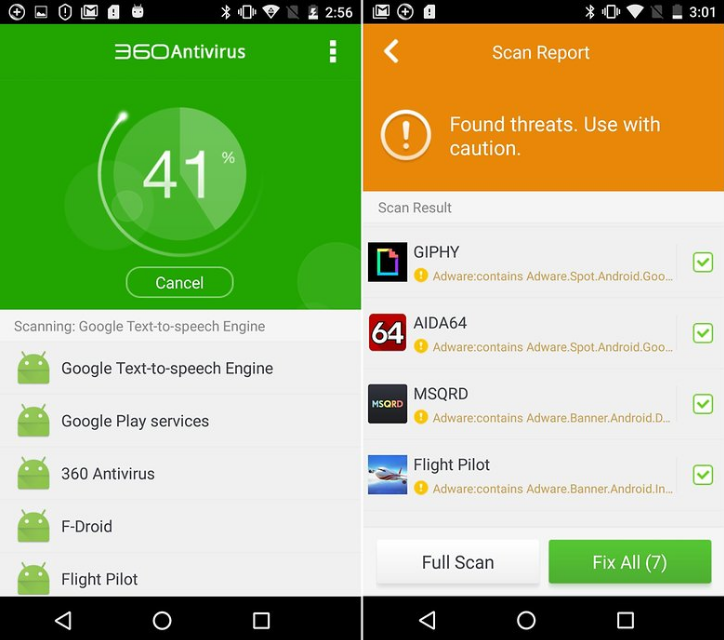 Among the virtues of this Chinese antivirus are rapid threat detection with no false positives, light weight and low battery usage, block calls and messages, prevents data theft by phishing and adware. More information web Geek360 (in Chinese) and here you can download 360 Antivirus in English .
9. Avira Antivirus Security
Best security app for android smartphones and tablets. Capable of blocking both viruses and other malware and malicious software. You can also find your lost smartphone and you can protect or restrict your access applications. All this without your resources go down the drain.
Its database is updated to detect all the latest malware and does not slow down your system. Data traffic is also very small so you will not have fright in the bill or not you spend all megs doing nothing.
10. CM Security
Its one of the best antivirus apps 2023. Maybe this application is not as well known as the rest not having a background in computers. CM Security is one of the best security app and malware protection. One of the most curious features is its Intruder selfie. through which a photo of the person who has tried unsuccessfully to unlock your phone (of course) is made. We also found the ability to block applications.This app is provided by Cheetah Mobile. a company that performs research and reports on the state of the Android platform.
Do you have a favorite? in best antivirus & security app for android smartphone 2023 September list, just leave a comment below.