Last Update: May 2023
Here is the list of Top 5 best free video converters and commercial (paid) programs that available for windows 10, windows 8, 7, XP and Mac.
Treatment with all kinds of media formats, including video, every day is more common among users of any type: from professional needs for their respective jobs and student needs, to common usage such as social networking apps and for instant messaging or e-mail services.
And thanks to the high-speed Internet connections available to us today, the sharing of such files is becoming more common, because while once was almost unbearable to send video over the web, nowadays, if your format and size options are properly optimized, the process is almost immediate. However, as we can see with other media such as photos or audio files, today we possess a number of alternative programs that work directly with each file format. In this way and in regard to this video, we can find formats like AVI, MPG, WMV, MKV, MP4, MOV, FLV, 4K mp4 and among others.
Each one of them has characteristics, which define the most appropriate type of use, something that already comes into play as quality parameters: "weight", compatibility, platforms, etc. To know some of the main differences among the most common formats today, we recommend to take a look at the top video conversion softwares that we offer below.
Once we know the different types of formats available for us to work with and use for videos, it's best to acquire some video converter software specially designed for the treatment and conversion of them. In the market we can find many options for this type of work: today we are going to talk about five of the most popular alternatives that have the plus of being completely free. We'll also talk about what would work best for you, depending on whether you will use that video to transport it on a USB key, send it by email, for professional presentations, to share it on Facebook, etc. The format in which it should work can vary. You can find there are huge chunk of video converting softwares available on web which one you should go for and the video convertor meet all your needs? That's why we TechinDroid made a detailed review of the Top 5 Best free video converters for windows and mac from this list you can pick your item from this list. If you are looking for make your own videos or just want to make some changes in the video i recommend you read our previous article about best Video Editing software.
Best Video Converters for Windows & Mac 2023
---
Some of the programs listed here are free video converters and some are has paid features for the professional stuffs.
1.

 MacX Video Converter Pro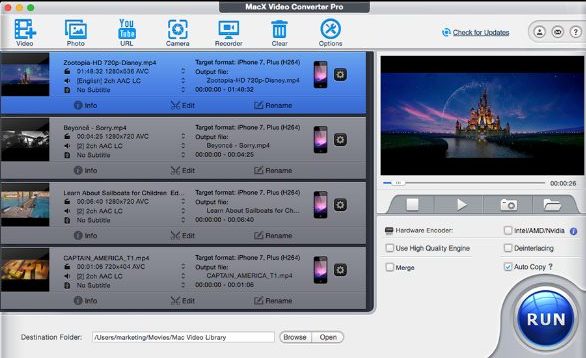 MacX Video Converter Pro is an all-in-one video processing tool that can help you control and manage your video files easily. It can convert any 4K HD/SD video to MP4, HEVC/H.265, MOV, AVI, MKV, MP3 and 200+ formats, and convert video to iPhone, iPad, iPod, Apple TV, Android, Sony, Surface and more devices. With support to Intel QSV/Nvidia/AMD hardware acceleration, it can convert video at super fast speed without any quality loss. Besides, this tool also can download videos/music from 300+ sites, capture streaming video, cut/trim/split/merge/rotate video, as well as make photo slideshow in a few clicks.
Available for Mac OS X (macOS High Sierra included)
More info: Official site.
2.

Any Video Converter free (AVC)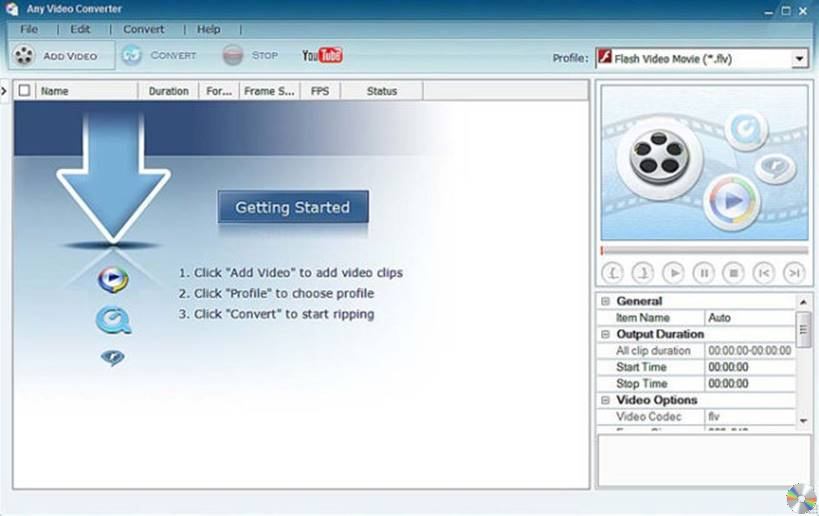 One of the main advantages that presents this particular software is its ability to work with almost any common format and it's one of the best mp4 converters for mac, so we have almost guaranteed to find the desired format in each case. Its operation focuses on importing the Video with which we work and then converting it to the desired format with only the push of a button, as simple as that. In addition the different formats are categorized by the type of format and for the device that will export it, and the program shines because it has a really simple user interface, even for novice users in these conflicts.
Available operating systems: Any Video Converter available for Windows and Macos.
More info: Official site.
3.

Freemake Video Converter (For Windows 10 & 8)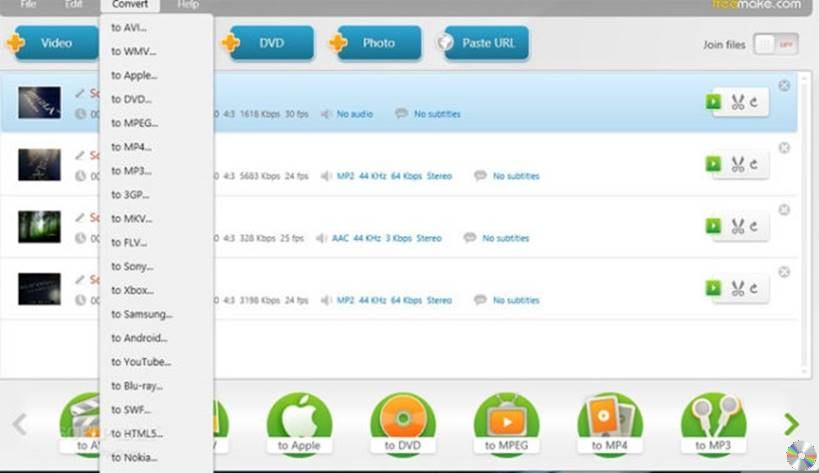 As usual this best video converter program, support for multiple video formats is a common feature among most of them. In this case, although its functionality is very effective, in terms of its user interface, we can't ask for a lot: it does the job just fine and without fashion. In the main screen just we have to select the input format of the video that we want to add to the list and indicate the output format between all the supported ones. Also it's worth mentioning that the processing speed, even with large videos, is really remarkable.
More info: Official site.
4.

Free HD Video Converter Factory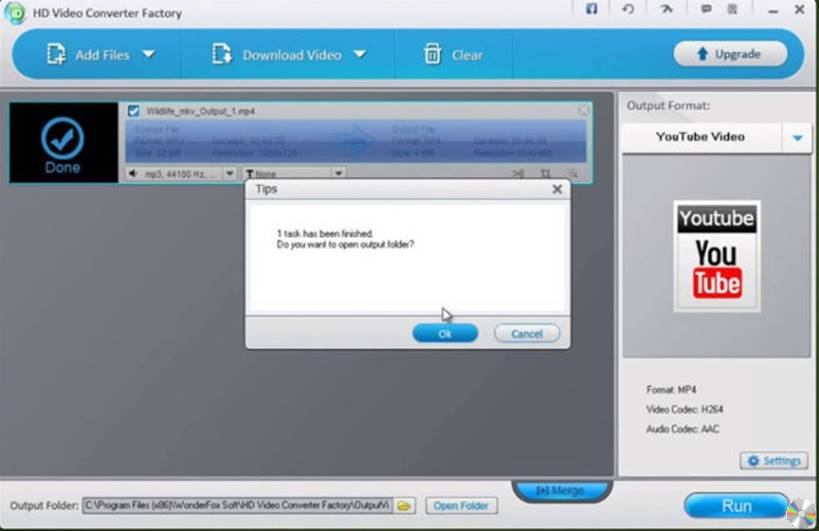 As mentioned previously, despite the enormous support of video formats that these free tools usually have, the truth is not known thanks to the simple user interface they possess, and something like this program happens. VCF is the best free video converter for windows, It supports more than 200 file formats but, in this case we will highlight support for video in 4K. On the other hand, something worth a word is that the program converts video files from Internet websites, has some basic tools for editing and downloading content from portals and video sites such as YouTube.
Compatible with Windows 10/8.1/8/7/Vista & XP.
More info: Official site.
5.

HandBrake
Here we are facing one of the most special free movie converter, because it is a very light option that, in this case, is specialized in treating with the MP4 format. And this is more than enough for those who want to have optimized video playback on their mobile devices, hence the specific use of the aforementioned format. Once we have loaded the original in the program, we have the ability to select only a part of the video for later conversion, therefore saving space. It also features some customization options to adjust the size of the resulting project, apply some filters, modify the codec to use in the resulting videos and adjusting the compression used for them.
Available operating systems: Windows, macOS.
More info: Official site.
6.

Format Factory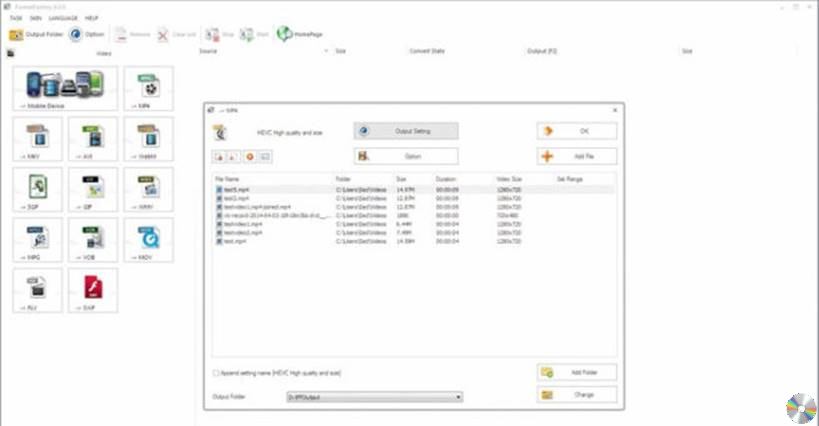 Finally I will discuss an alternative free mkv to mp4 converter that, as the main feature that breaks apart from the rest, it can convert both video and audio files. This is something we can check immediately because once installed, when we expand the list of compatibility options we can see extensions for both types. Of course, this program can't ask you much more apart from its main function, conversion, because the other functions are very basic and focus on optimizing these tasks. The program also has the feature of DVD ripping and repairing damaged video files and convert files to dvd format (Free dvd converter).
More info: Official site.
Aforementioned tools are the top 5 best video converter for mac and windows in 2023, Which one do you like the most? and do you use any other free converter that is better than the programs we've listed here! Then do let us know in the comments and Don't forget to share this article thank you!