Last Update: January 2023
Are you looking for the Best Video Editing App for Android to make your videos way better?, Here we put together the apps to edit videos on android. 
Video editing is an art which was not everyone's cup of tea few years ago. However when smartphones evolved, video editing apps have made professional video editing like a cake walk. If you love editing videos and sharing them on social media then it is suggested to keep any video editing app on your android phone.
Best Video Editing Softwares For Windows And Mac.
You will find several ready made video filters and effects on video editing apps which you can directly apply on your video in just few taps. It is not necessary to have technical knowledge of professional video editing. This is an era of mobile technologies and more people's interests are shifting towards mobile devices. This has made several app developers to start releasing awesome apps. If you are a music lover then you can download free music downloader apps to get access to unlimited music on android and music player apps to play your favorite music. Movie making apps are also there to help you making and editing quick movies.
Top 10 Best Video editing Apps for Android 2023
---
1.

FilmoraGo
FilmoraGo is one of the popular video editing apps by Wondershare. It includes features like video rotation, trimming, ready made filters, rotation, overlays, text effects, animations, etc. One of the cool feature of the app is it does not leave any water mark on your editing videos. You can use FilmoraGo's library of licensed songs to add copyright free music to your video back ground or you can also use your own music to add in your video.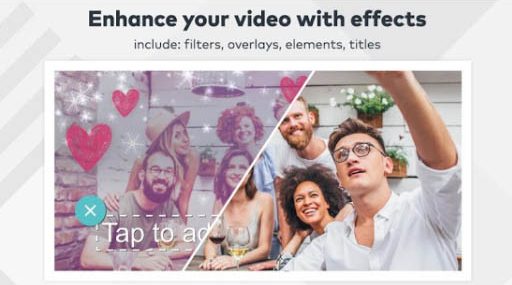 2. Quick
Quick video is a popular video editing apps and has over 10 millions of downloads. The app is free to use on smartphone. As its name suggests, Quick app is good at creating quick slideshows. You just need to add pictures from gallery and it will apply ready made effects and will also add cool sound effects to the video back ground. You can share the edited video directly on social media.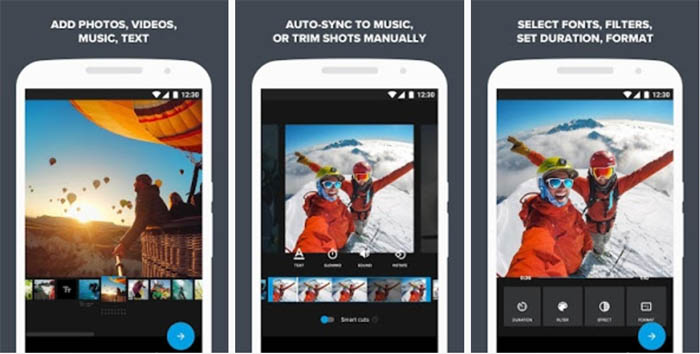 3.

Video Editor By WeVideo
Video Editor by WeVideo inc. is a cool app to edit videos and has an awesome feature of cloud storage. Yes ! you heard it right. You can save your videos directly to the cloud which will save your storage space. The app has ready made video filters, frames and effects which you can use on your video to make it look like a professional video.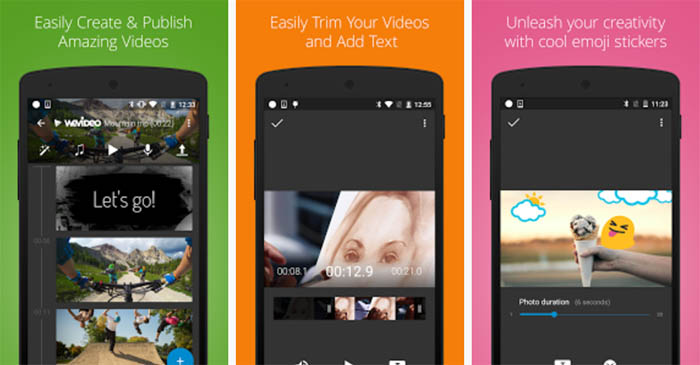 4.

Adobe Premiere Clip
Adobe has an years of expertise in providing video editing solutions. Adobe premier clip is intended for smartphone users and it helps to edit videos. The app has really cool features which include ready made soundtracks, photo motion, slow motion, sync to music, etc. If you are an adobe fan then it is suggested to download this app and enjoy editing your videos and posting them on social media.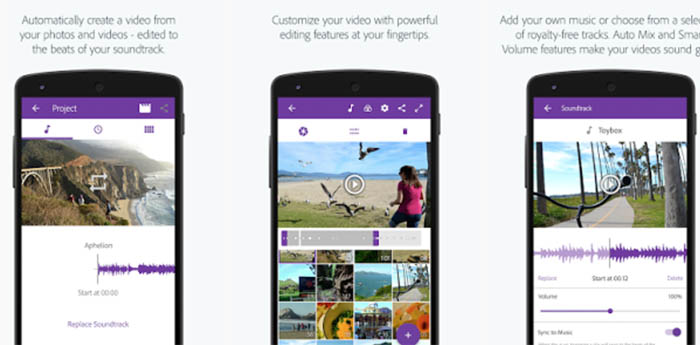 5.

Video Editor By inShot
Video Editor by inShot inc. is a cool app for android to edit videos and movies. If you love creating dubsmash video then this editor is a must for you. The app lets you create awesome dubsmash videos by adding ready made filters and effects. The app has several amazing feautures which includes merge, trim videos with effects, animated texts, collage, stickers, etc. One of the cool thing which I love in this app is it does not leave any water mark on edited videos. You can also use this app for youtube video editing.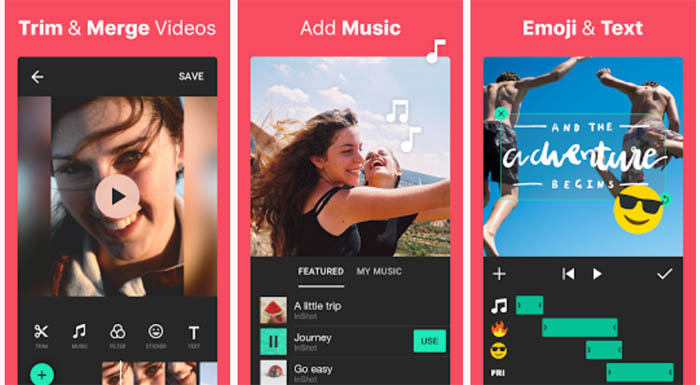 6.

Magisto
Magisto is another free video editor for android. It lets you to create awesome videos and short movies with its auto-video maker feature. You can create picture slideshow by simply adding images and it will automatically add a beautiful background music to it. You can choose from its ready made editing styles and even create video collage.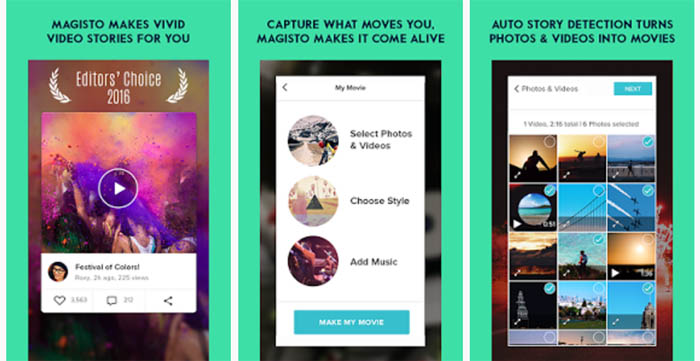 7.

Movie Maker Filmmaker
Movie Maker Filmmaker app is another cool quick movie editor which lets you to save your alot of time in editing videos. You can apply ready made filters and effects and directly share the final version of your video on instagram, facebook or other social networking sites. The app is available for free on Play store.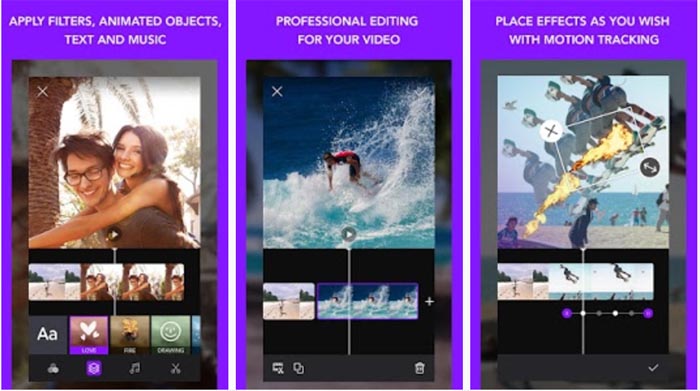 8.

VivaVideo
VivaVideo is another app to edit video clips. The app is available for free download on android. You can easily merge two or multiple videos using this app and also add subtitles to your video. The app has over 200 video filters which you can apply in just a couple of finger taps. The app also has a paid version which you can buy if you want more features in this app.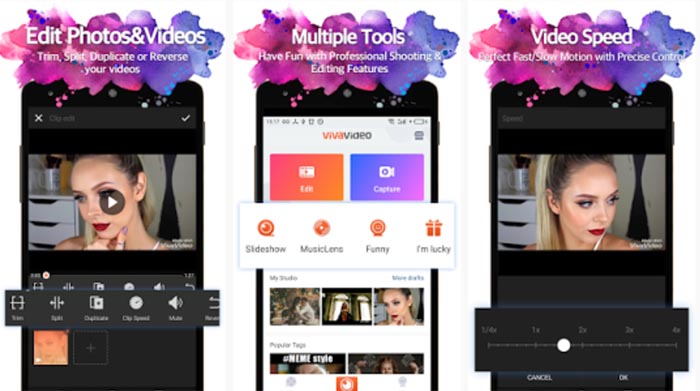 9.

LapseIt
LapseIt is less popular but an award winning slow motion camera app. The app makes it very easy to create slow-mo videos using your camera app. The app has ready made animation effects and video effects which you can add to your slow-mo videos. The videos would look like if they have been edited by some profession video editor.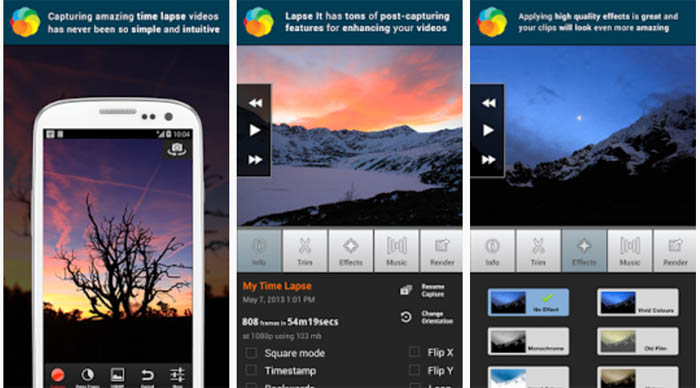 10.

Cute Cut
Cute cut is an app to edit videos seamlessly on android and ios smartphones. The app has unique video filters, ready made back ground music which you will love. Unlike most of the other video editor apps Cute Cut doesn't leave any water mark on edited videos. The app is completely free to download and is available on Google Play store. You can download using the link mentioned below.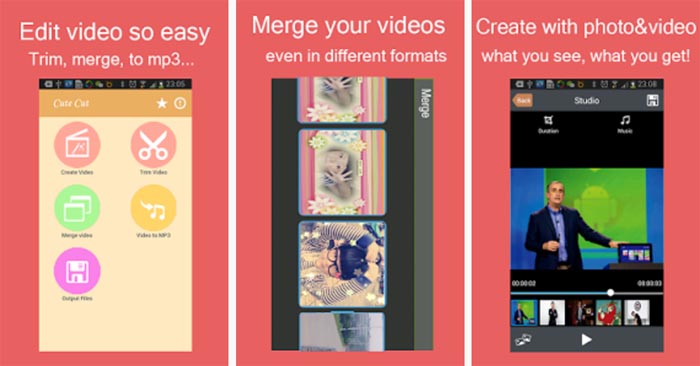 We end up our list of Best Video Editing Apps for Android 2023 January, Which one is your favourite editor?.