Last Update: August 2023
Everyone needs a little privacy in their lives, there's always that picture of the trip you took to the beach that you don't want anyone to see or that video of you dancing to a Carly Rae Jepsen song. Today on TechinDroid we'll teach you how to hide files, photos, videos, and apps on Android Phones and Tablets.
How to Convert WhatsApp Voice notes into Text.
This list is aimed at the people who want to keep their files, apps, videos or photos just for yourself, the question is. Let's see which choices we think are the best for this critical task.
Apps to Hide Files, Photos, Videos and Apps on Android
---
On google play store you'll find the hundreds of apps which work for the same function, Here we listed the best apps to hide your personal data on Android phones and tablets.
1.

File Hide Expert
The first one in our list is a pretty straightforward one, File Hide Expert does what its name says, hide files on android. It works really easily, you just have to launch it and click the folder icon in the top right corner to start hiding files. You can hide photos, videos, music, or any other files from the gallery. After you're done with hiding items, you can set a password to re-enable them temporarily.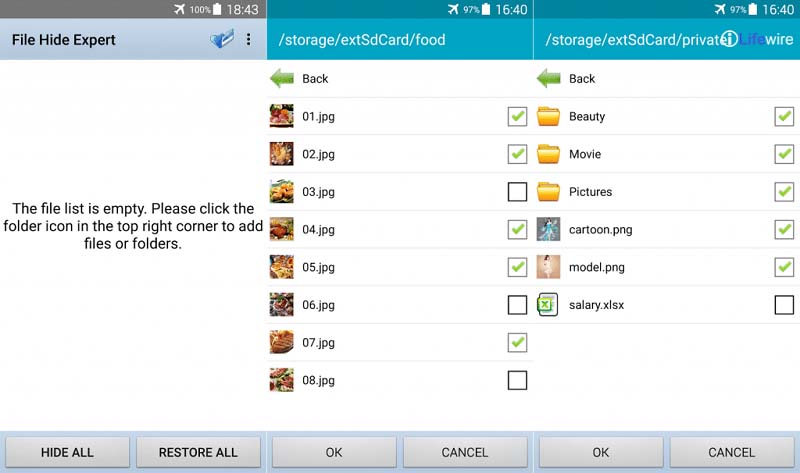 This is a free app supported by ads, there's a paid version which removes ads and adds 12 new languages.
2.

Keepsafe

(Hide videos / Photos)
Keepsafe is a great choice for a multimedia hider, especially those pics or videos that we want to keep just for ourselves. The app works as a virtual vault where you can store pictures on a private cloud, these pictures are hidden from your phone but, you can watch them anytime, anywhere if you have the app. You just create an account (or if you already have one, log in) and you can start uploading pictures and videos.
Best app for Hide photos on android.
The basic plan is free but, for $4.99 you can have access to premium options, such as a cloud storage limit of 5000 items, no ads and space saver functions, as well as a secret door function (disguises as another app) and a fake PIN.
3.

Nova Launcher
The last apps are awesome, they not only get the job done, but, also do it great, but there's something that they both lack, and that is App hiding. For those who want to hide apps on android, there's Nova Launcher. The eternal king of 3rd party Android Launchers, Nova Launcher brings to the table the function of App hiding in a very easy process, just go to the launcher, go to its settings and there's the option of App Hiding, select the app that you want to hide and that's it!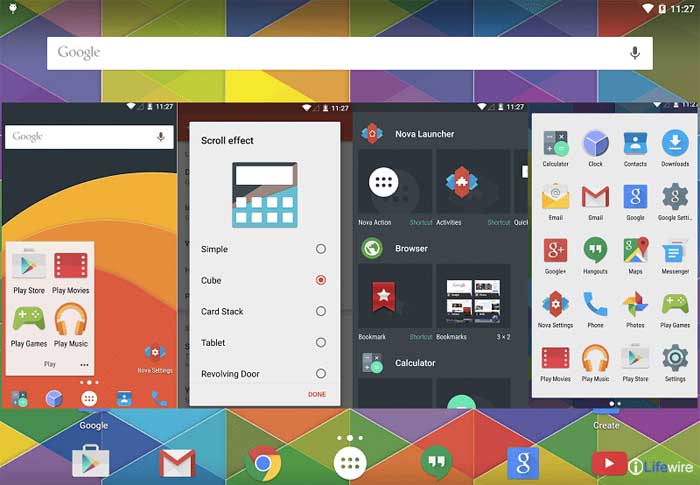 As a bonus, NL gives you the possibility of getting rid of (visually at least) applications you do not need, such as those installed by your carrier, making your App Drawer slimmer and easier to navigate in.
Make your files invisible on Android
---
Have you ever used Ubuntu? Android and Ubuntu are distant relatives, (Android is based on Linux and Ubuntu is based on Debian, which is based on Linux) being of the same family is beneficial in this case, as they share the way that files and folders can be hidden, just rename a folder or file with a "." before everything else, e.g. ".Pictures".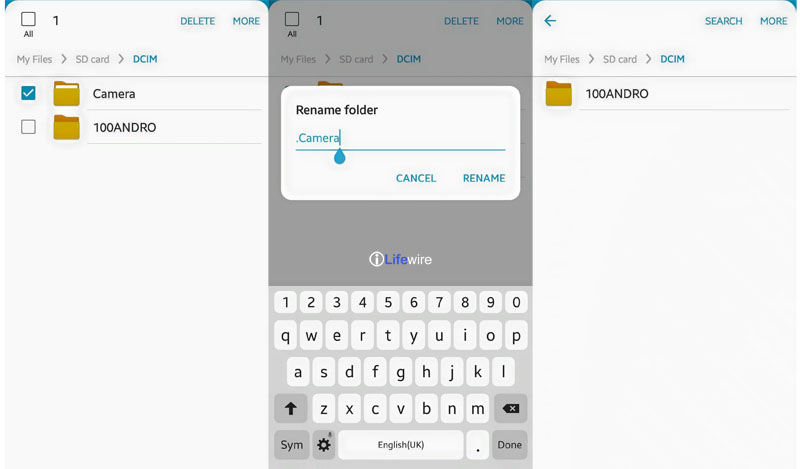 This is really helpful, as it can be used to hide just about anything and to see these hidden files and folders you just have to go to your file manager and select "Show Hidden Files", be cautious, though, as there are some hidden files that are important for your system, so remember how you named your files and folders and don't touch the other ones.
If you want to be extra sneaky, you can rename any file or folder to what should be a system folder e.g. ".siminfo" (it doesn't exist, that's why it's safe). By using this way you can hide pictures on android without app.
Use Guest mode (Lollipop and later versions)
---
This option only works if your phone has Android 5.0 or a later version, and it works for our photos, videos, text messages, and contacts. This function was made for that snoopy kind of people that you don't want to have looking at your gallery, and it makes sense to use this technique, too, as it is kind of suspicious to have an app named "File Hider Expert" installed on your phone.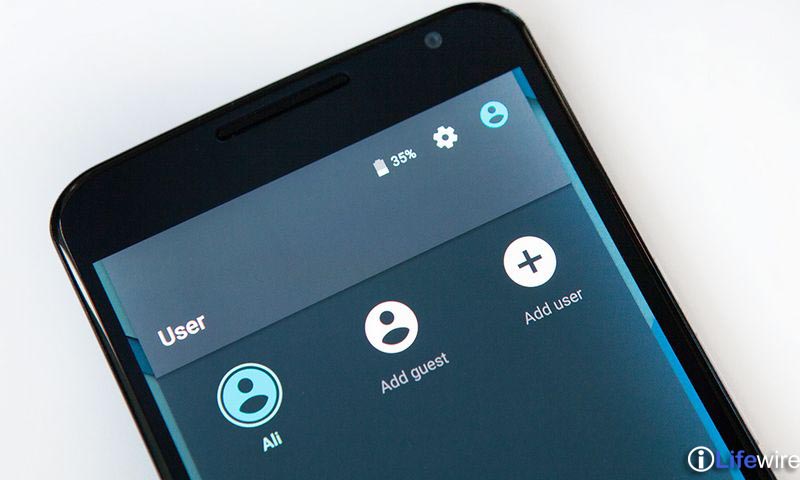 So choose the guest mode. Once activated, you can lend your phone without fear. All your photos and videos, your text messages but also your contacts are then concealed with curious eyes. To start it is pretty easy, just display the notifications bar and click on the little blue man in the upper right. To return to normal mode, all you have to do is select your account. Keep in mind that this option is not available on all smartphones, some LG or Samsung models don't have this function enabled, even if they have 5.0+.
I hope these tricks are help you Hide videos, photos and files on android. So what do you think? Have any suggestions that we could add to our list? Leave your opinion in the comment box below, and we can start a lovely conversation!