Last Update: May 2023
HELLO world, In this short guide you'll learn how to enable / Turn on incognito mode on Android browsers like Chrome, Firefox & Dolphin.
Privacy has always been a delicate thing on the internet. Sometimes there's too much privacy, which leads to feeling empowered and unleashing your true self, not fearing the consequence of your actions and sometimes there's no privacy at all, something that ad agencies love because they can curate their advertising, however, web browsers have built-in incognito modes, so that you don't have to worry about leaving any trace of your browsing history, passwords, or cookies. Using incognito mode varies on the browser you're using, let's take a look at what Incognito mode really is and how to enable it on your browser of choice.
What is Incognito Mode?
All Web browsers keep the browsing info of the pages you visited, the forms you fill, the cookies you leave, etc. Users don't like this, so to satisfy them, many companies have included an Incognito mode on their web browsers, to ensure a safe browsing for their user base.
✦

Protect your passwords
Web browsers may keep your login details to optimize processing times, so it's possible that your Facebook login and password could be on somebody else's phone, that's obviously really dangerous and plain awful, BUT when you're in Incognito mode, that data isn't saved, so when you're using somebody else's phone, use Incognito mode to browse on your accounts.
✦

Private searches
You may want to browse some websites that you don't want anyone to know about or look something up on Google that you feel ashamed of searching, Incognito mode has your back on this, as it won't register any logs on your browser's history.
1.

Firefox Focus: Incognito Browser
Focus is Mozilla's Incognito-oriented mobile browser, just with the tap of a button, Mozilla Focus makes it really easy to delete any trace of your online activities, including cookies and notifications. Browse faster and ad-free.
2.

Incognito mode for Firefox Android
Mozilla Firefox has an Incognito mode built-in by default, it's as easy as starting the app, tapping on the menu button (vertical 3-dot) and choosing 'New Private Tab', this will open a new Incognito tab for you to use. When you're using Firefox in Incognito mode, any tab you open will be in Incognito mode, to return to your regular tabs, go to the tabs screen and tap on the icon to the justify of the mask.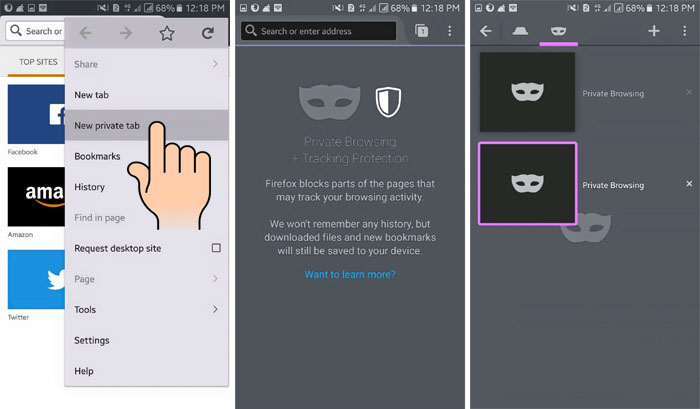 You can also return to your normal session if you close all open Incognito tabs.
3.

Incognito mode in Chrome for Android
Google Chrome uses Incognito mode in a very similar way. Tab on the 3-dot menu and click on 'New Incognito Tab', this will automatically create a new private tab with an anonymous session. To manage tabs click on the number trapped in the square, at the justify of the 3-dot.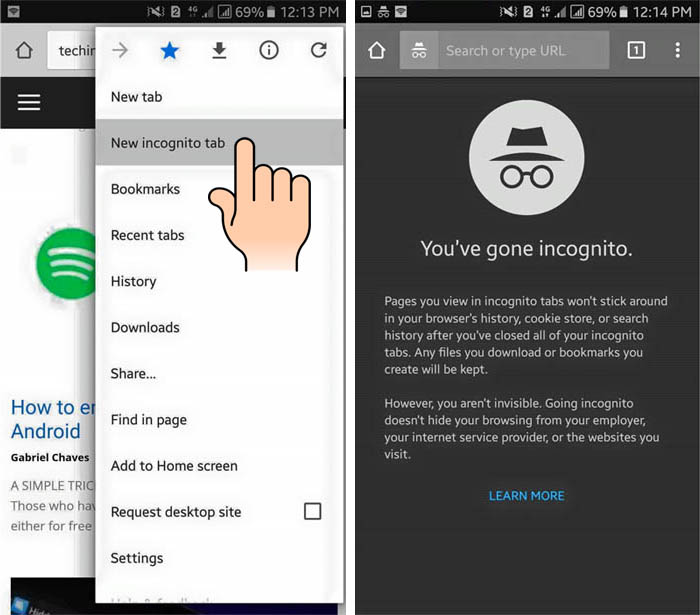 To open a new click on the plus sign '+' on the top justify, keep in mind that to know if you're in Incognito mode you have be aware of the new tab screen. If it's black and it has a hat with a pair of glasses, you're in Incognito mode.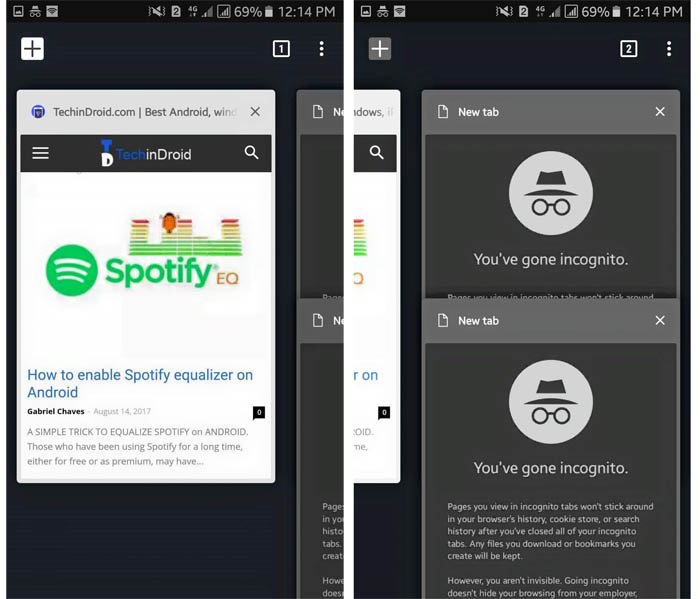 4.

Dolphin incognito
Dolphin browser also has an Incognito mode (they call it 'Private Mode'). To activate it you must click on the puzzle-shaped icon that's below the + icon, this will prompt a small menu where you can click a 'Private mode' button, that will make your browser delete all history, cookies, form data, etc anytime you close it.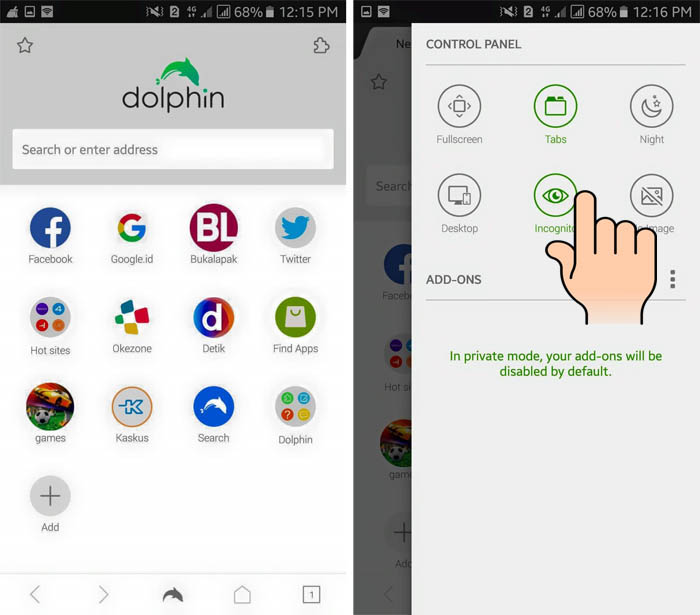 5.

Incognito mode by default with InBrowser and Dolphin Zero
Incognito mode has become quite an important features in a lot of browsers, it's so important that there are even browsers built-in just for that! Dolphin Zero and InBrowser are two lightweight alternatives that don't save your browsing data, automatically. They are fully featured, too, excepting Dolphin Zero because you can't have more than one tab open at a time.
Privacy is becoming more important these days, so it's always good to keep your data as secure as you can and to be honest, the best way you can keep something private is by destroying it, amirite? 🙂 We hope you like this post, be sure to share it with your friends if you found it helpful!