Last Update: December 2023
Free Virtual number for WhatsApp 2023
---
Are you puzzle over Create WhatsApp Account with virtual phone number?. Here is the complete guide to Get virtual numbers for WhatsApp Verification 2021 & 2023. WhatsApp, is the best instant messaging app in the world that is, also a must when it comes keep in touch with others for free. register whatsapp with virtual number Therefore, more than once we try to offer all kinds of help for those users who do not have other ways to use the app than by a few little tricks about it.
Free virtual number for whatsapp
To be clear, whenever we want to use create a new WhatsApp account, we will have to verify our identity with a phone number SMS verification on our smartphone , otherwise, we will have absolutely no chance that it works. Are you looking for bypass WhatsApp verification code android For this reason, We are going to show you. Which will allow you to generate a free virtual number without the need of SIM card.
How to get a Virtual Phone Number Free 2023
---
There are plenty of web pages providing online temporary phone numbers for bypassing signups on any app or website. By using temporary phone numbers you will be able to hide your real mobile number & stay anon from other people. I'll provide some best temporary phone number providers. here are the fake number providers list for whatsapp verification.
1. Hushed (Paid but, Reliable)
Choose this if you want to use WhatsApp for months or years with the Virtual Phone number and you do not want to lose access to your account in any situation. You may think that, why i need to pay? When i can get free phone number for whatsapp verification from the other websites that offers receive SMS online. We'll tell you the important fact, what's going to happen if you create whatsapp with the free virtual phone number.
Free Number? Get ready to say Goodbye to your WhatsApp anytime!
As i said already if you need to keep the Whatsapp account with you for a long time, we strongly recommend you to choose the paid service. Because paid numbers are remains secure with you, no one will have access to the texts or call that the virtual phone number receives.
If you choose the free virtual phone number provider sites, you will not get any kind of privacy protection to your number. Because the free virtual number sites are displaying all the received texts publicly for free that can be viewed by anyone.
So if you have already created WhatsApp account with free sites. This could lead your account vulnerable & there is always the possibility of being hacked.
To prevent such account thefts you must choose the reliable and secure virtual phone number provider like Hushed.
Hushed is one of the popular virtual / disposable phone number provider in the market. Its available for both iOS and Android users. you can start using this disposable number app by simply downloading it for free from google play or app store. This app also support for voice call verification. We would like to suggest this app to our users after have been used hushed for week and share you what we like about it: its supports both instant texts (Send/Receive) and voice call (Incoming/Outgoing) depends on the credits you have on your in-app wallet, the only downside of this app is that it is not free. Pricing starts from $1.99 (for US phone number) i recommend you go for this plan, Once you have bought . With this plan, you will get a number with 20 mins of talk time (or) 60 SMS including sent / receive and the validity is 7 days.
We only going spend 1 message is for Whatsapp verification, In addition to this you still have 59 SMS left so you can also register on any of the other messaging apps or social networks if you want. Its cool right? And one important thing to note, Some of the users who have tried hushed they were reporting this "After buying number on hushed, when i put it on whatsapp it keep shows is not a valid mobile number for the country United States". To avoid fall into this error after buying the phone number on hushed, We have some special tips for you to assist you with buying a working US, UK, CA or any other country number for use with whatsapp registration.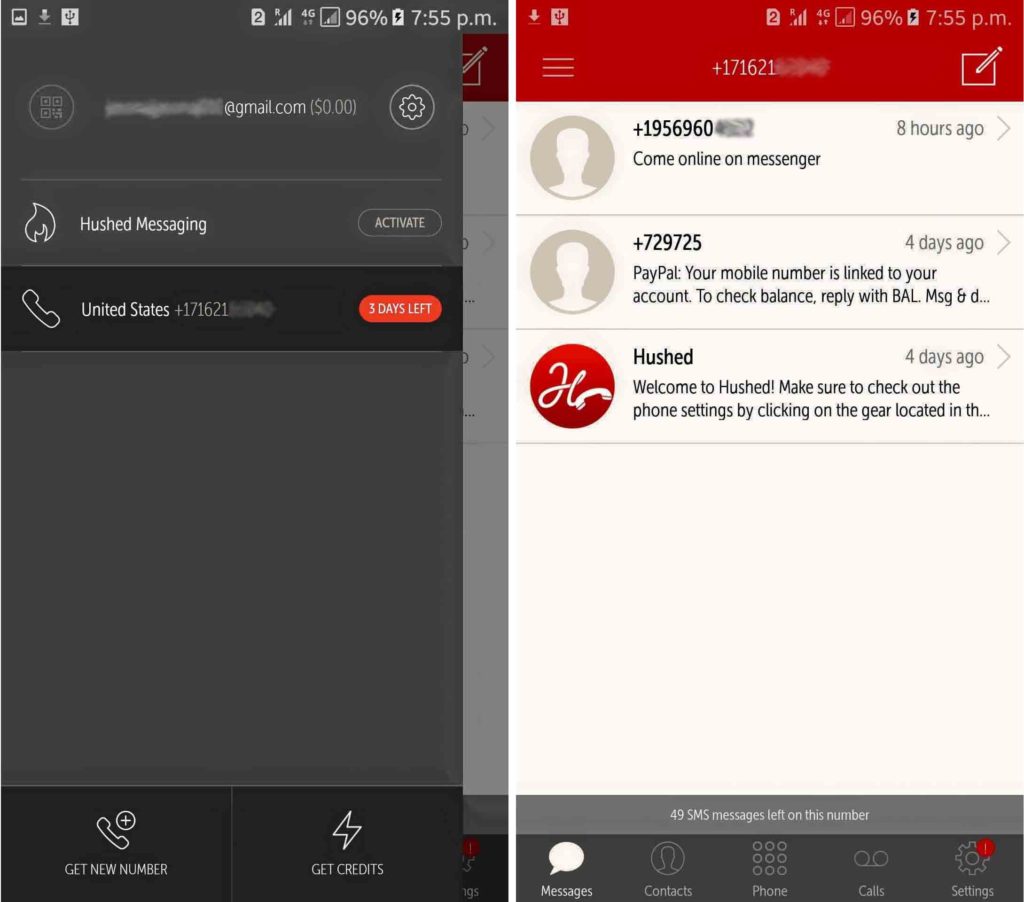 Read this tip before buying number on Hushed!:
Important Note: If you were looking to buy a virtual phone number on hushed, Follow these steps carefully; Once you are inside the hushed app and Tap on "Get new Number". This will take you to the list of phone numbers available to buy, Before making the purchase it's very important that you must make sure that the phone number you going to buy will work with whatsapp or not.
Many users are repeatedly reporting us about the issue: After bought the phone number on hushed when they try to register whatsapp with that number, Whatsapp didn't accept the number, instead it returned with a error message. "Entered number is not a valid mobile number for the country: Country name"
We really found the good solution for this issue, we'll tell you now. In the hushed app you are allowed see the full 10 digit phone number even before buying it, We going to use it to check if the whatsapp is accepting the phone number or not. So let's see how to check it.
All you need to do is Open Whatsapp and start the sign up process enter the phone number that you found on hushed app and hit Next button. If whatsapp shows error like "+1(205) 341 **** is not a valid mobile number for the country: United States". Then you must try with other numbers listed there in hushed app and repeat the process until you found the number that work with whatsapp.
Now you may have this question on your mind. How to tell if the phone number going to work whatsapp registration? It's not that hard, Once you have entered the valid number, after clicking the Next button, you will see the "OK" button in the Pop-up menu (As shown in the screenshot).
Tip: Most of the united states numbers which starts with the prefix of +1234******* will definitely work for registration with whatsapp.
That "Is this OK, or would you like to edit the number?" message means the number you have entered can be used for whatsapp, Alright now you can buy that number from the hushed. You will need to pay via In-App purchase with google play for buy your own virtual phone number.
Once you have bought the number on hushed, Go back to whatsapp and click on "OK" button. As a next step you will receive whatsapp verification code via sms. You can find the sms containing the verification code in the hushed app's "Messages" tab. Enter the confirmation code on whatsapp and verify it. That's all, now you will able to use the whatsapp account with the number you bought from hushed.
For Android users:

For iOS users:

2. TalkaTone (Free)
Talkatone lets you send and receive free Texts and call from anywhere! Its a free app you can download it from google play. Sign in to this app using your facebook account to Get a free phone number of your choice, In addition you can make free calls in the U.S. and Canada. TalkaTone will give you free us number for WhatsApp, For this all you need to do is Just download the Talkatone app from google play and Register with your email or Phone number, Thats it Now your free whatsapp number will appear in your profile section of the Talkatone.
Then Open Whatsapp and enter the phone number shown in talkatone app and continue Next step. You will receive whatsapp verification code right in the app.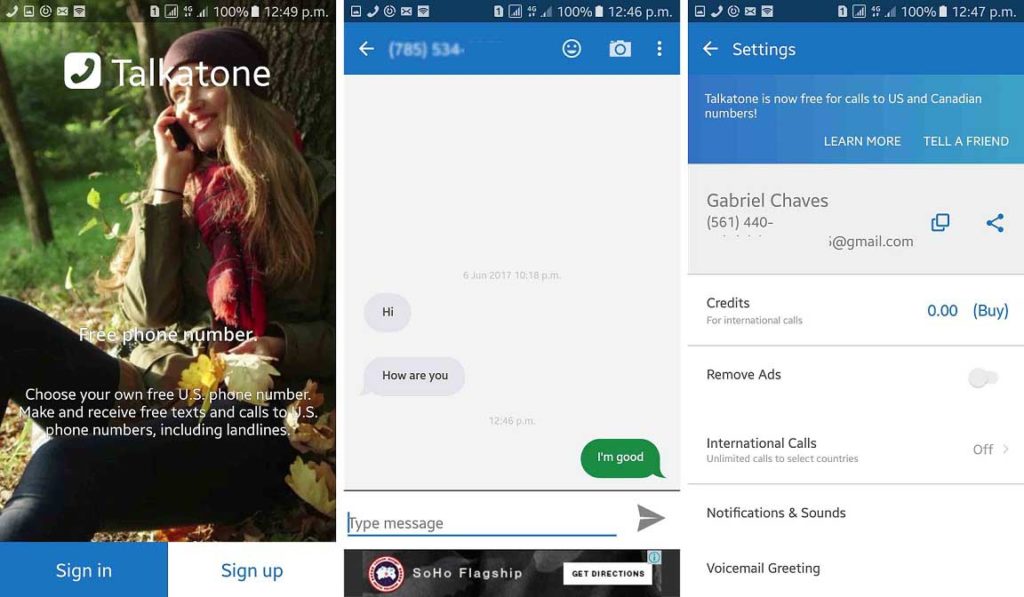 3. Miracletele
A Miracletele WhatsApp virtual phone number is the best solution for the people who do not want to spend money to get a virtual phone number. As this service is absolutely free to use. To get your free phone number for whatsapp verification, just visit their website and select your prefered country from their list & then choose the phone number. That's it. Now you will have access to the phone number to receive SMS online, register whatsapp with the virtual phone number and then you can make your chatmates believe you are from the specific country.
List of countries available: Canada, Denmark, Finland, United Kingdom, Israel, Netherlands, Poland, Sweden and United States of America.
Visit: Miracletele.com
4. SMS Receive Free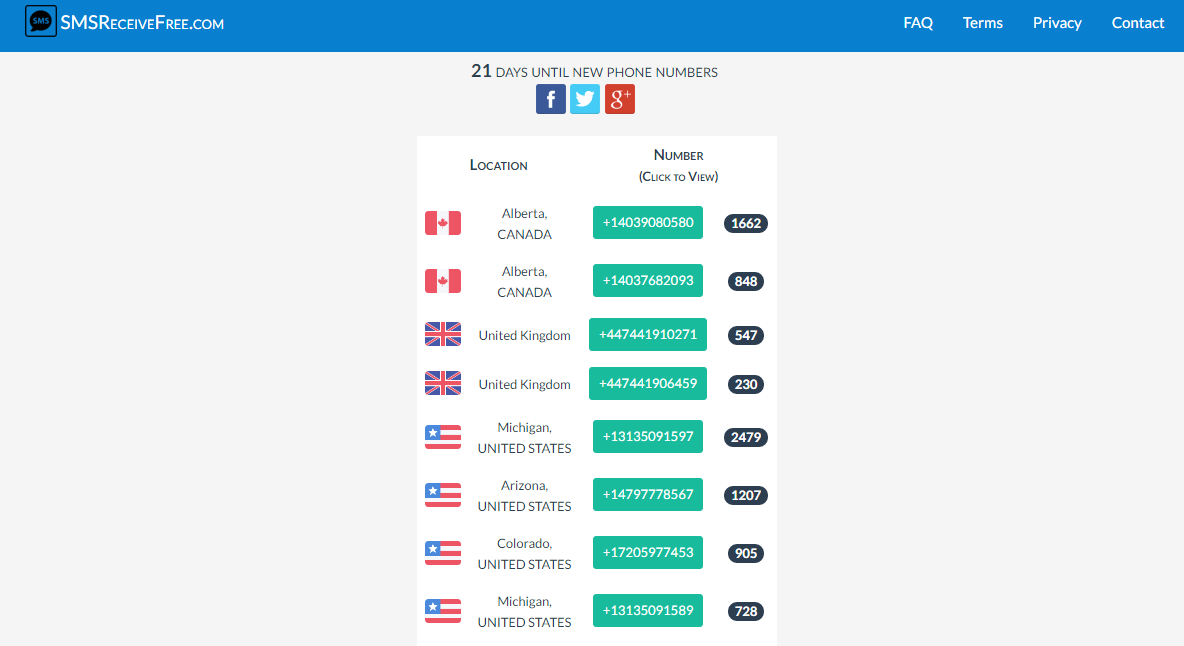 Its a free temporary phone number provider ( online sms receiver) . Its offering 25+ phone numbers from US, UK, CA etc. This service available for free. They will update new phone numbers in every 21 days cycle. you can use any one of that fake number for whatsapp verification, Since this service is free most of the numbers will get used by someone instantly after publication of new numbers.
So you'll need to go faster than others to grab number before someone does. Its not only for the case of SMS Receive Free, all of the free virtual number services are like that & i recommend you go for the paid one that will work for long term and also safe no one can grab your number again.
Visit: Smsreceivefree.com
5. Virtual SMS Number
Its one of the free phone number provider which found recently on web. It provides 52 virtual phone numbers (US, UK, CA) for free. If you wish to buy a private you can get them on there.
Visit: Getfreesmsnumber.com
6. Receive SMS Online
Another popular free online phone number provider. No need of signup they are providing phone numbers from US, UK, DE, FR & EUROPE and much more. 15+ Active Free virtual Phone Numbers plus they are offering private phone numbers too. If you were interested just hit "buy services" button it costs 0.9 $ only. You can get free number for whatsapp verification.
Visit: Receive SMS Online
7. Proovl SMS
Proovl SMS can receive any SMS verification, with USA and UK mobile SIM numbers. All numbers are new and dedicated). On Proovl site you can receive free sms for whatsapp verification.
Visit: Proovl
More WhatsApp Tricks from TechinDroid:
How to Read WhatsApp messages without your Friends knowing
How to Delete a Sent WhatsApp message Before they read!
How to use 2 WhatsApp Web accounts on Same PC
How to Remove Blocked Contact from WhatsApp
How to use Bold, italic Style Texts in WhatsApp
How to Know Who Blocked you on WhatsApp
How to Hide Last Seen on WhatsApp
How to Hide WhatsApp Chat
How to Create WhatsApp Account with Fonyou
---
With all the above steps finished, and we are much closer to being able to Create an account of WhatsApp with virtual number.
Step: 1 Download and install fonyou app from the below link
.
Step: 2 Open the app it's time to register an account with fonyou. we have to fill out some informations like Email, country, State, Zip. In my case I have selected New York and the zip code 10203. Accept the Terms and conditions a and finally click Continue button.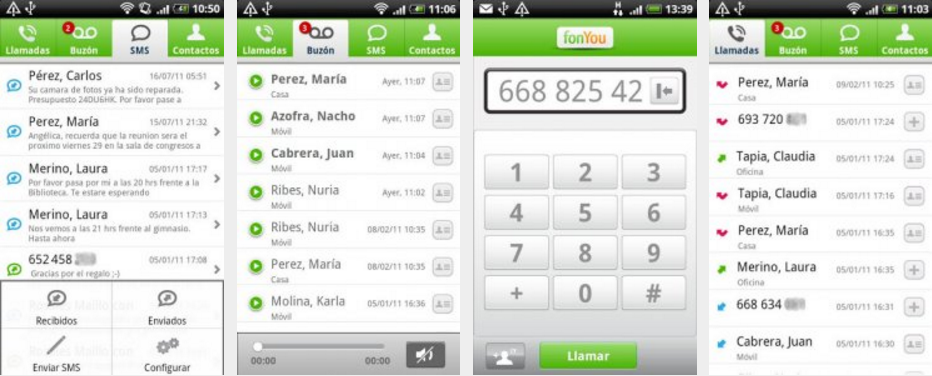 Whatsapp fake number 2021
Step: 3 That's it guys. Now You will be able to enter your account, then the message will ask if you are new to the site, and not only have to ignore but even skip the procedure
.
Step: 4 On the next page, you will find the option Receive Calls & messages then you can create whatsapp with the free virtual phone number on whatsapp and verify whatsapp with virtual number we see that there is an alternative "Free virtual Phone Number" , with all the numbers we can take advantage of.
Download: FonYou for Android
We sincerely hope this article saved you with securing your real identity on whatsapp messenger app and keep your hands safe among online friends & chat-mates. If you liked our work do not forget to share this with your friends and also share your thoughts in the comments section!