Last update: September 2023
Hiding conversations Whatsapp isn't a complicated task, In this article we'll show you  how to hide whatsapp chat on Android & iOS devices.
Whatsapp is one of the most used communication tools currently. Almost everyone has used WhatsApp at least once, and has become one of our main tools to communicate with family, gossip with friends, and even talk to businesses! Being such an integral part of our everyday lives, it's only natural for us to have the need of keeping our conversations safe and private. Regularly, if you don't want anyone to read a private conversation, you delete the chat and that's it, right?
But, what if you had important information on a private conversation? You probably don't want to delete that conversation, as it may be a chat with a loved one or there are some really important messages that can't afford to be deleted, that's why today on TechinDroid we'll teach you how to hide whatsapp conversations iphone and Android, so that nobody can access them (at least not by mistake).
How to hide WhatsApp chat on iPhone & iPad
---
Here is the instructions to hide whatsapp chats on iOS devices.
1.) Hiding conversations in iOS is just as simple as it is on Android. Open WhatsApp and go to the "Chats" area, find the chat you want to hide and slide it to the justify, this will show an Archive option, select it and voila! It's hidden.
Hide whatsapp chat iPhone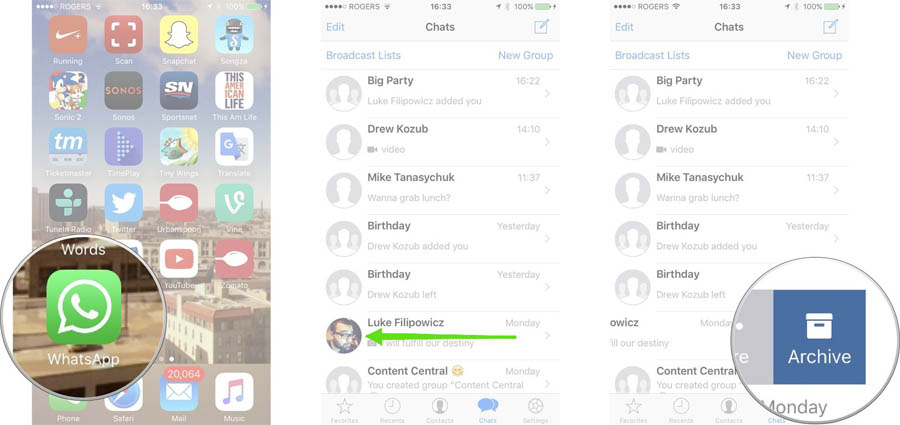 2.) In order to find the filed conversation, go to the top of the Chats area and slide with a downwards motion, that will show the option of seeing your filed chats. If you want to unfile a conversation, you must do the same process that you did to file it: find the conversation you want to unfile, slide it to the justify and select "Unarchive".
3.) And that's it! Now that you know how to hide WhatsApp convos, you'll be free from curious eyes. However, this option doesn't work for Groups, and the chat will appear again if one of you sends a message, so if it's really something you don't want people to see, delete the conversation.
How to hide WhatsApp messages from Chats list on Android
---
Here's the instructions to hide whatsapp chat with archive in android.
1.) Gladly, WhatsApp have the feature called chat archive function, where you can hide your conversations from the curious eye, it's not the most known or used of WhatsApp's functions but, it's certainly the most effective for this task, be that on an Android or iOS smartphone.
Let's start with Android, to hide a chat firstly, you must open the application and look for the conversation you want to hide by heading over to the 'Chats' tab.
2.) Once you've found the conversation you want to hide on Whatsapp, long press the aforementioned chat, this will show you fewer options on the top right corner, one of them being 'Archive chat icon'

, tap on this and the selected conversations will disappear from your Chats tab. In this way you can also hide multiple chats at once by selecting 2 or more convo.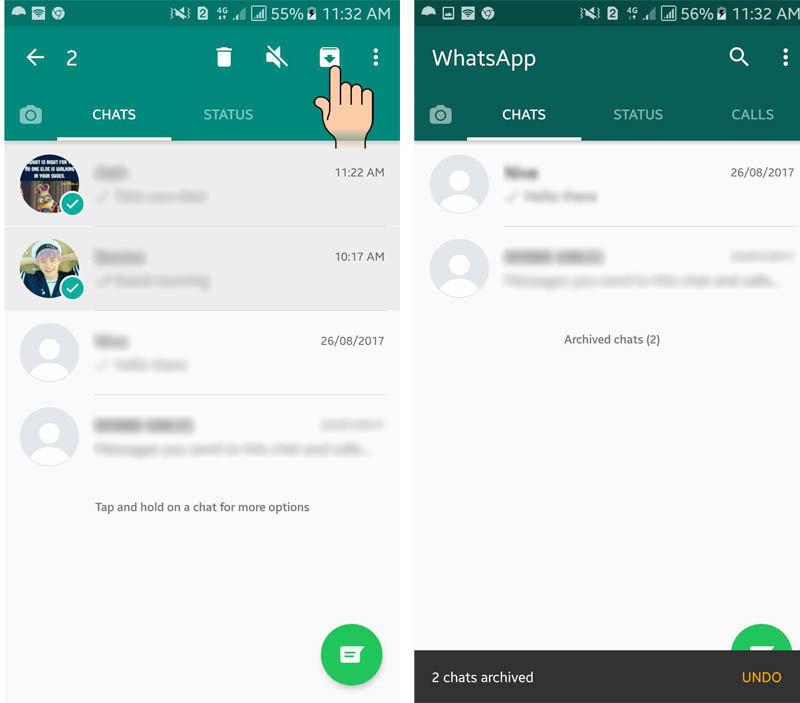 3.) Hooray! You've successfully hidden that private convo you don't want people to read.
How to unhide Chat?
How can you get it back? That's easy, just go to the end of the Chats tab and there you'll find an option that says "Archived chats", press it and you'll find all of your archived conversations.

To take the convo out of there, long-press it once again and choose the option "Up arrow button"

.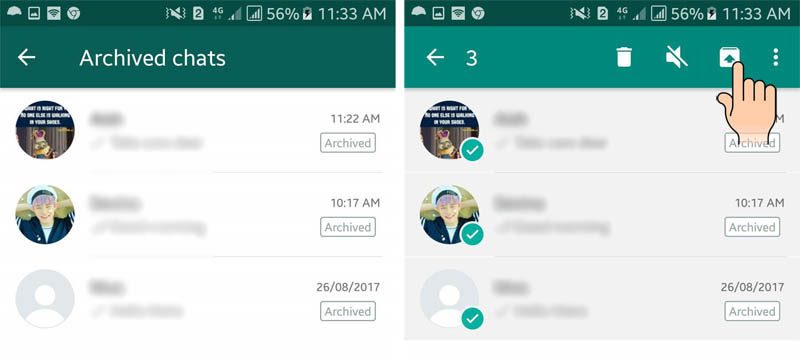 Also read:
How to Read WhatsApp messages without your Friends knowing.
How to Create WhatsApp Account with USA Phone Number.
How to Remove Blocked Contact from WhatsApp.
How to Know Who Blocked you on WhatsApp.
How to Delete a Sent WhatsApp message.
How to Hide Last Seen on WhatsApp.
Privacy nowadays is a luxury, with information becoming more and more public every day, that's why it's always important to keep some secrets to yourself and that can gladly be done with WhatsApp (to some extent). If you think a friend might want to read this post, feel free to share it!