Last Update: January 2023
How to Transfer whatsapp messages to Another New phone: All of your whatsapp conversations (chats) are stored in the phone memory, not on WhatsApp servers. Therefore, when you change your phone and keep the same number. Chats you had in your old phone not seen in the new. You may lost old chats.
To protect them from prying eyes, WhatsApp chat histories stored as encrypted files. But You can easily transfer whatsapp messages from one phone to another: if you make a backup , you can easily restore your chats.
How to transfer WhatsApp messages from One phone to Another
 Step: 1  First, create a Chat backup on the old phone
Almost all versions of WhatsApp have an option to save a backup of chats on the phone memory or the SD card. The exact route varies slightly from one operating system to another:
Android : Settings> chat> Save conversations
iPhone : Settings> chats> Copy chats (syncs with iCloud)
BlackBerry : Settings> Setup Media> Message History
Windows Phone : Settings> Backup
Nokia S60 : Settings> Chat History> Save chat history
 Step: 2 Now you'll have a backup of chats on the SD card or phone memory. The path and file name also vary between systems (connect your phone to your PC with a USB cable to copy):
Android: \ sdcard \ WhatsApp \ Databases \ msgstore.db.crypt
iPhone: net.whatsapp.WhatsApp \ Documents \ ChatStorage.sqlite
BlackBerry: \ SD Card \ databases \ WhatsApp \ messagestore.db
Windows Phone: \ SD card \ WhatsApp \ WinPhoneBackup
Nokia S60: \ wa \ MsgStore.bak (expires after 7 days)

Restore WhatsApp chats on your new phone
 Step: 3  If you saved chats on the SD card, restore them on another phone is as simple as entering the card , or copy the files to the international memory and run WhatsApp for the first time .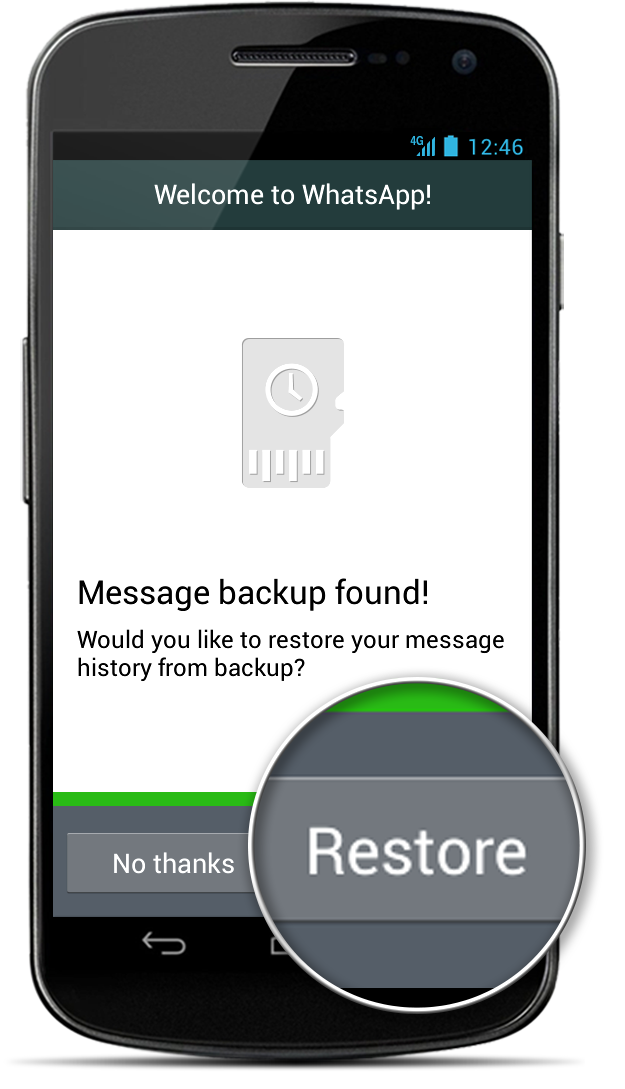 Step: 4 In his first run, WhatsApp looking old chat histories
If you already run WhatsApp before making the copy, chats will not be. If that is the case, uninstall and reinstall WhatsApp . In the case of the iPhone backup is saved in iCloud, so you must not move anything. you just need to be connected to the Internet.
Thats it guys i hope this trick will help you How to transfer WhatsApp messages from One phone to Another (Android to Android/ Nokia to Nokia/ iPhone to iPhone).