Last update: November 2023
Are you disappointed with your Android phone's internal storage, Its running out! ?. Here is the Guide to Increase Internal Memory space on Android without root.
We all get that day of frustration when our android internal storage getting full. However, you can free up some space by deleting apps but, it couldn't be a best solution for this. From here begins the bug every time you have to update an app or much worse if you want to install a new one. If your smartphone has a SD card slot, you may be able to increase internal storage a bit by moving some apps to memory card.
How to recover files from a damaged SD card.
Before getting started I want to warn you that the speed and storage capacity of your microSD card are lower than the internal memory of the device. Therefore I always recommend purchasing a good performance SD Card that support faster writing speed. At least you'll need an class 10 SD card for minimum.
How to Increase Internal Memory Android phone & tablet
---
To get more storage space on your Android smartphone, Carefully follow the below indicated ways. You should try this without any difficulty these tricks are 100% working.
1.

Increase internal memory Android (6.0 Marshmallow onwards)
From the marshmallow version onwards (Android 6.0 Marshmallow, Android 7.0 Nougat and the future Android O) Android natively supports use microSD card as internal memory, albeit with some restrictions. You will be able to move some apps to the microSD card but, not all. And also be able to save the photos from the camera directly to the microSD card.
How to Free up space on Android.
When using the micro SD card as an extension of internal memory you have to format it in a special format that compatible with Android. This process has two effects. First you will lose all data that stored in the microSD card. Second you'll not be able to use it with other devices like you did before.
Use memory card as internal memory from Android Marshmallow
To expand the internal memory at first you have to format it as internal memory. With this way you can increase internal memory without rooting & without pc.
To do this:
Go to "Settings> Storage and USB> SD Card". Once you are in, click on the three Dots (you'll find it on Top right corner) and select "Settings". From the options choose Format as internal, on the next screen click on Delete and format.
At the end of the formatting process it will ask you "Do you want to transfer the data that we already have on internal storage". I prefer to do it later manually and choose apps that you don't use frequently, Its because they are a little slower since everything is hosted in the SD card goes more slowly.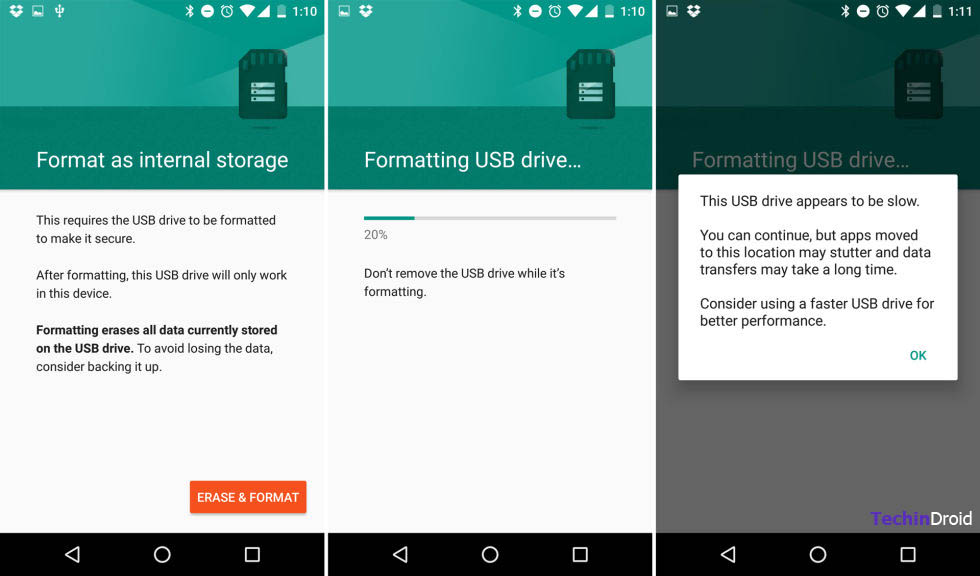 Now you can move some apps to the SD card. Apps that allow this will have an option within Storage in the application information.
2.

Increase internal storage of Android 5.1.1 Lollipop with Root
---
Tools & Downloads
Micro SD card (Class 10 minimum).
Download and install MiniTool Partition for Windows, in Linux we can use GParted.
Install the Link2SD app from Google Play.  Increase internal storage android tablet
Before Getting started:
Before proceeding the smartphone must be rooted. If you don't have Root permissions on the device you will not be able to do this trick. You should also make a backup so you do not lose your data.
How to Expand the internal storage of Android
You must restore the device to factory condition, resulting in a total loss of data and apps. In this method we are using link2sd app to increase internal memory of android phone.
To do this, go to "Settings> Backup and Restore> Factory Data Reset" .
1. Now insert the SD card into the card reader and connect it to your PC.
2. In MiniTool Partition, click on the drive of your microSD card. Its very easy to find it by its capacity. And careful Don't touch the hard disk of your computer.
3. Now delete the partition of the SD by selecting "Delete" option and create a new partition in FAT32 file system and  set as primary.
4. Then click "Apply".
5. Then, on the right under Operations, click Split Partition.
6. Separate the microSD card into two partitions. One for internal (apps) and one for external (photos and other files).
7. Now select the smallest partition you just created, then click Format partition , enter the Ext3 file system.
Hint: If you have a 32GB SD card you can split it by 8GB and 12GB. The 8GB for apps (Ext3). Another one is for save photos and files it should work as external storage.
8. "Right-click the partition" and then in the "Modify drop-down menu", click "Set Partition as Primary". You should now see a screen similar to this: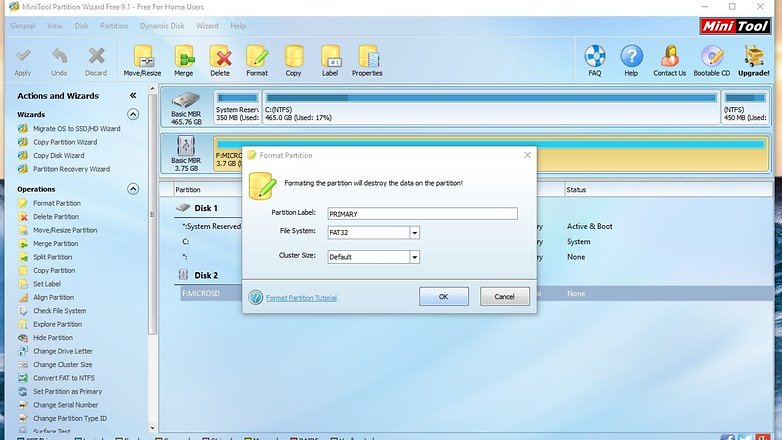 9. Click Apply on the upper justify of MiniTool partition. Keep in mind that this process will take a few minutes. In the meantime you can go and make yourself a coffee.
10. Once this is done, don't insert the SD card into the smartphone, for now, keep it aside. Restart your smartphone, but don't save any apps.
11. Open the Super User app and update the SU binary (by the way, you can update the SuperSU app through Google Play).
12. Turn off your smartphone and insert the microSD card.
13. Restart the phone, without any other updates go to google play & install and open the Link2SD app (internal memory).
14. A message appears asking you what the file system is on the second partition of the SD card, click Ext2 and restart the phone again.
15. Open Link2SD again and then, under Settings , Tap on Installation Location and select Internal.
16. Within the settings of Link2SD click on Auto Link, you must leave this option enabled.
And ready! On your next installation, you will see a notification telling you that the installed app has been linked to the SD card.
One last tip, don't remove the SD card from phone while the its on, first turn off the smartphone.
I hope this guide will help you get unlimited internal storage on android phone and tablets. Have you tried to expand your internal memory?