We've all sent a WhatsApp message to someone who didn't want to receive it: maybe we've sent by mistake, a spicy photo to the family group, maybe we've been writing something that we've later regretted telling or been sending something important to the wrong person. Surely at that time you thought about how beautiful it would be if you could go back in time and avoid sending that message…
The truth is that there are some tricks to delete sent messages in whatsapp before the receptor reads it. News flash, my friend: the new version of this application will allow deleting any messages you want, disappearing them on both your phone and the other person's phone.
Also read:
How to Read WhatsApp messages without your Friends knowing.
How to Create WhatsApp Account with USA Phone Number.
How to Remove Blocked Contact from WhatsApp.
How to Know Who Blocked you on WhatsApp.
How to Hide Last Seen on WhatsApp.
How to hide Whatsapp chat.
Keep reading this article and find out how to delete a WhatsApp message if it hasn't been read. With it we can delete the message that already sent on WhatsApp before the 5 mins. Whatsapp's new beta feature. WhatsApp is currently testing a new feature: the ability to delete a sent whatsapp message before read, also from the servers. We have 3 different methods available for do this trick, the first method is using official feature of the whatsapp called "Delete for everyone". Another method is by blocking the person before reading the message, so let's see how to do in practically.
Delete a Sent WhatsApp message if it hasn't been Read
---
Method 1:

Works with  Single, Double tick
With this feature If you already have the one tick or a double tick that means the message delivered and hasn't been read yet by receiver. In this case you will be able to delete the text permanently from the server. If it shows a blue tick it's late, it's already have seen by the receiver.
We have good news for you. The latest version 2.17.1.869 of WhatsApp update, allows you to undo send unread WhatsApp messages. Here we'll explain what to do in order to access this new feature
1. At first update your WhatsApp to the latest version. If you are an Android user open google play store and update whatsapp and for iOS users update it from the app store. delete sent message on whatsapp group
2. Make sure the message you want to delete only has a single or double tick, i.e., that it has been received by the other person but, has not been read yet.
3. Press and hold your finger on the message you want to delete.
4. Now you'll find the few options on the top of whatsapp app, You will have to tap on the "Trash bin" symbol. You will see the possible ways of delete the message in the pop-up menu click on "Delete for everyone". This will erase your messages from both end (Sender / Receiver).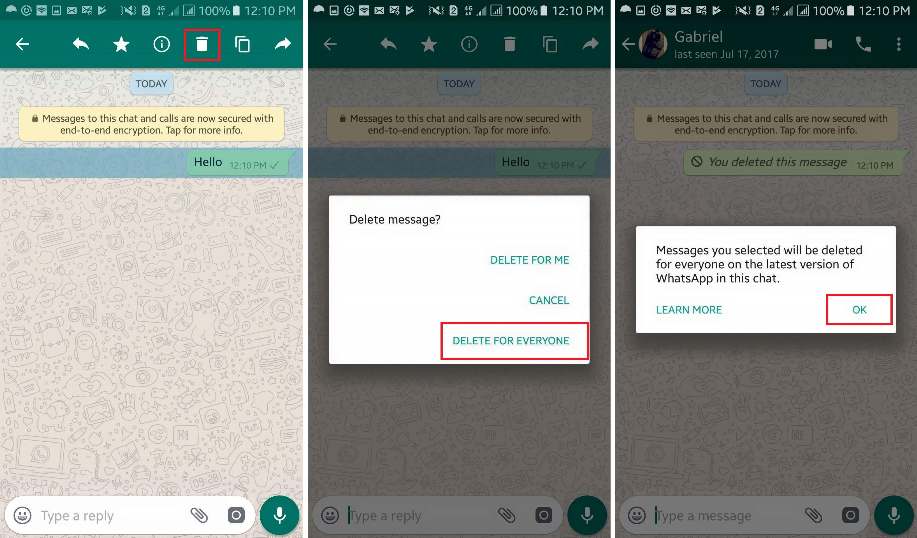 recall whatsapp message after delivered
Although the other person cannot read the message you have sent, the app will still warn the person of the deleted message via notification.
Method 2:

Works with Single, Double tick
Before the announcement of this update, Whatsapp users have already made many tricks to delete a message before the other person reads it. One of those tricks is to block the person before they get to read the message. We will explain:
1. First, you need to make sure the message has been delivered but, the receiver hasn't been read yet. You must confirm if two blue ticks appear in the message. If the ticks aren't blue, then the message hasn't been read yet.
2. To do this trick, you must enter the chat with that person and click on the icon with "three vertical dots", located on the top right of the screen.
3. Pressing the icon will open a tab with options, you must tap on "more" and there you will find the "block" option.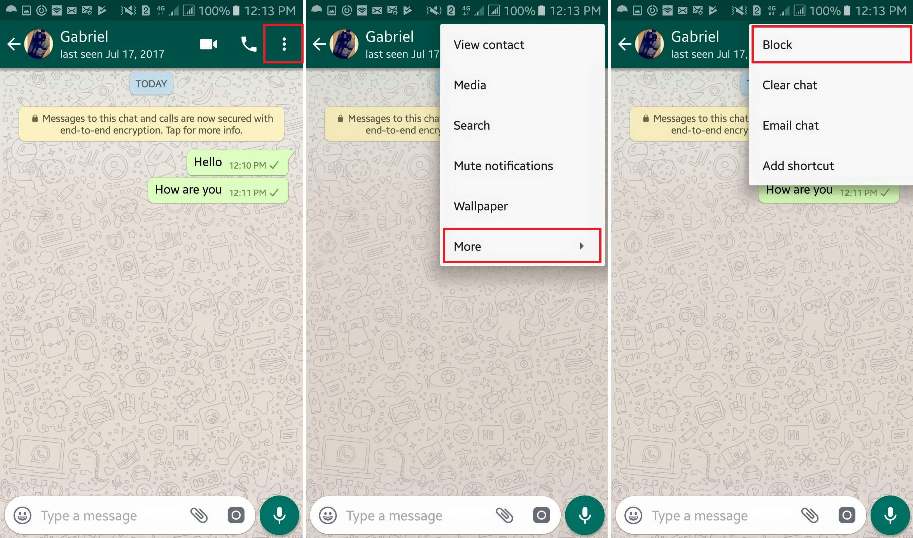 unsend whatsapp messages
4. Once you do that, the person will be blocked and will never see the message you sent.
The problem with this option is that you must keep the person blocked for a period of at least 30 days. This is because the servers keep in their database any WhatsApp messages that have not been sent, for a time lapse of 30 days. If you unblock that person before the end of the 30 days, they will receive the message anyway. Therefore, if you want to keep in touch via Whatsapp with that person, this is not a recommended option.
Method 3:

Works only if the Clock symbol shows on the message
The next trick to delete a whatsapp message that hasn't been read requires some speed and skill but is perfect for those who realize they've made a mistake right after sending the message. We're going to tell you step by step what you should do:
1. Make sure the clock appears in the message, the icon that indicates that the message hasn't been sent yet.
2. Turn off your data, Wi-Fi and any possible internet connections.
3. Return to the chat with the message you want to delete and hold that message.
4. At the top of the screen you will see, among other icons, a trash bin. You must press that option.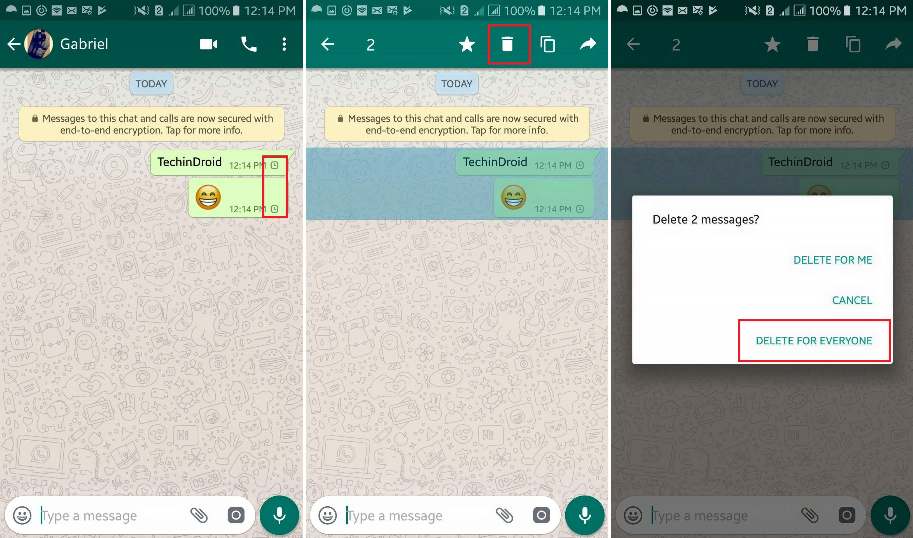 5. You will get a message asking if you really want to delete that message. Choose "yes".
6. Once you have deleted the message, you can reconnect your phone using the Wi-Fi or data connection that you had before. The message won't appear again because it was never sent in the first place.
Developers also be working on new text formatting options, inspired by the Markdown language, which would display bold text between two asterisks. I hope this feature will let us delete texts without them reading. Something to add ? Say on comments.