Last Update: September 2023
Recover deleted sms on android: If you accidentally deleted some or all text messages from your smartphone don't have to worry, you have 99% chance to recover them successfully. However, one factor that you should consider: Time! If you delete messages from your inbox you will have to act fast. recover deleted sms on android SMS are recoverable as part of memory and this is overwritten, so the longer you wait to act, the greater the chance of receiving new text messages, application updates or who knows what will replace them. The chances of recovering the SMS down every minute.
Tools to recover deleted SMS on Android
There are more than a tool that can be used on a PC and you can help in this part of the process.Recover deleted sms on android without root Also users of a Mac are supported. In general, the programs are free, or at least have a free version that does the same job as payment (except Android Data Recovery). The tool that you use is at your choice, although it is important to know that all basically do the same thing, scan the memory of your Android, identify and retrieve deleted text messages. All provide guidance during the process, which usually has four basic steps: connect, scan, view and retrieve . Moreover, the process works for data other than text messages. Here are three tools that would be worth for this tutorial:
How to recover deleted text messages on Android
Depending on the program you choose, the steps may vary, but essentially all you need to know and do is in this tutorial.
Download and install one of the above programs and open it on your computer.
Connect your Android to your computer (with the recovery program open) and USB cable.
Enable USB debugging mode on your Android. This requires access to options for developers in the phone settings. Settings> Device Information> tap 5 times quickly on Build number. This will give us access to developer options that are also in settings smartphone. We enter them and mark the 'USB debugging' box.

Enable adjustments 'USB debugging' / © TechinDroid

Follow the instructions of the recovery program to scan and analyze memory Android smartphone.

Once finished, you will have access to search and preview of the data stored on the device (both recently deleted as that information is still intact). As long as the specific part of the used memory in which are stored and recorded the deleted data is not overwritten can retrieve your messages. I return to reclacar the importance of acting quickly.
Now we need to find the text messages folder within the program, the SMS we want to recover and once located, click on the 'recover' button to, or add them back to the device, or save them on your computer making a kind of copy or backup.
Note : If you want to complete this process without a PC, you must have root access on your device. It is also probably need a recovery application payment. Anyway it easier and cheaper to use the computer.
How To prevent this happening again
Recover deleted sms android with apk Well, maybe you have learned the lesson, but maybe not. If you do not want to pay for any of the above programs and be able to use them longer, or just do not like these free versions, the best you can do is make sure not going to need more. This means you'll have to back up your SMS from now. The good news is that the process is so simple that hardly take you five minutes and you put away this problem forever. I use a free application called SMS Backup & Restore . It is very simple and works perfectly. In the screenshots below you will see how it works.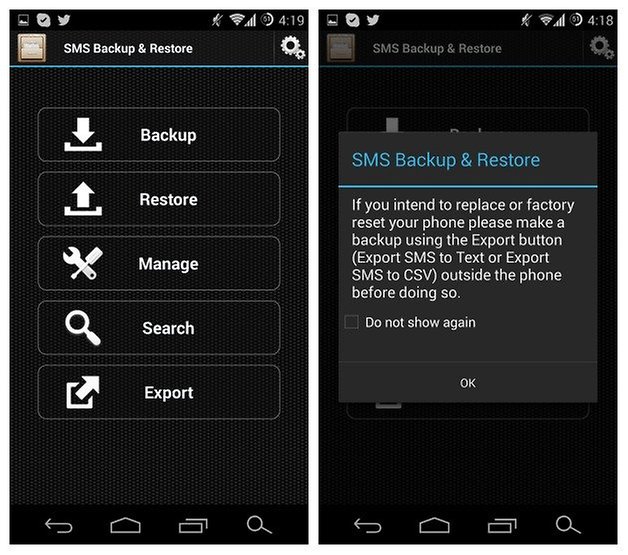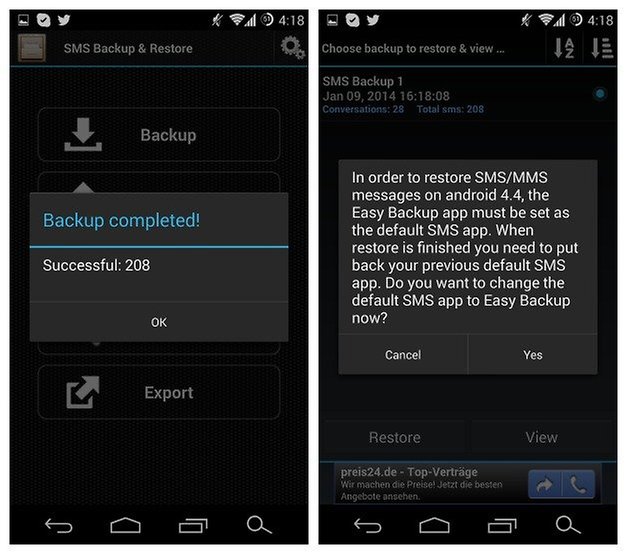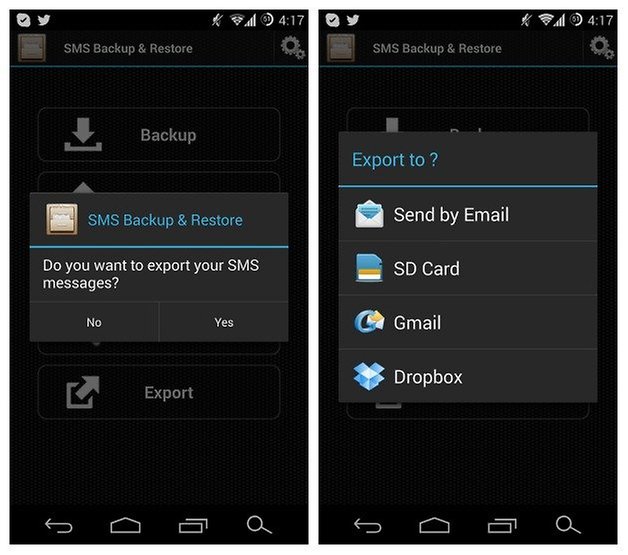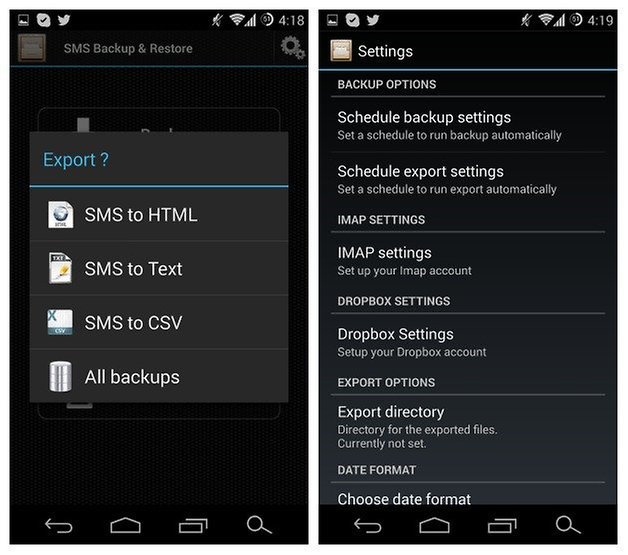 I hope this article help you to recover deleted Text messages / sms on android for free. Have you ever accidentally deleted SMS? Were you able to recover? Do not forget to share your experience!