Last Update: January 2023
Recover Deleted Photos and Videos from Android phone or Tablet
Recover DELETED Photos and Videos on ANDROID: Surely many times you've accidentally deleted a photo or important videos from your smartphone and when you you realize that that was not the photo you want to delete. After you out to blows to the head, do not worry, You can recover deleted photos android for free with Apps. Most importantly, stay calm and act quickly.
The first thing you have to do is turn off WiFi and data connections on your phone, the reason is that when data (music, photos, videos …) are eliminated not actually deleted until overwritten something about the device memory. It is therefore important to act quickly. We will give you two options to recover your accidentally deleted photos and videos from your smartphone, one for users and one for root users root.
Recover deleted photos from Android without Root
The first thing to do is connect the phone memory (internal or external) as a Mass Storage Device on your computer.
If it were a USB. Although you can do by connecting the terminal directly or you can use a micro SD memory adapter (or card you use your mobile phone) to SD or USB.
I recommend them because not all Android phones manage memory in the same way, and secondly the recovery rate may be severely affected.
Then download Recuva (It's a free sofware). This program recover deleted photos videos from android . Recuva is the most recommended for this type of action. Use of this app You can easily Recover deleted photos on Android without Root.
Typically, for most of these programs work, the memory must be formatted as FAT32, NTFS or similar. If you do not recognize, you can do a quick format (trying to get important data first) to FAT32 and then follow the process.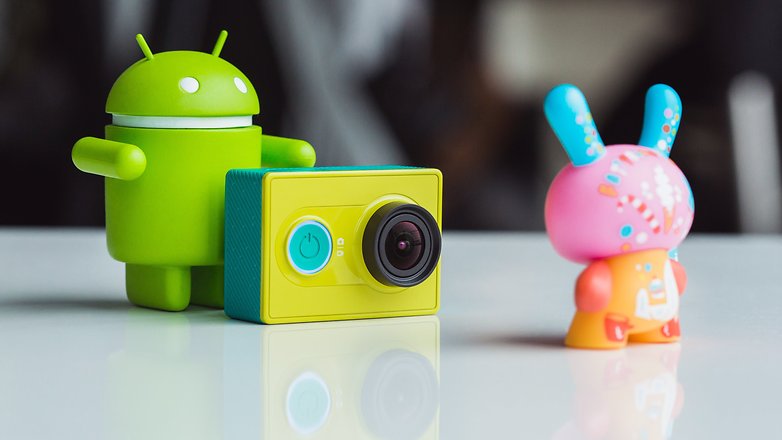 When you run Recuva first thing you need to do is select the type of file you want to recover: Pictures, Videos, Music, Documents, etc. the option to recover from a specific location and the letter in which the memory of the mobile which you want to retrieve the files is then chosen. Recuva searches the entire system and takes about five minutes. Once the search is complete, Recuva brings us the photos in their original quality.
Important: When finish Recuva find deleted files and recover and go, try to do it on a different device from which you are recovering the as it can sometimes cause conflicts and damage recovery. So if you're recovering from mobile, burn them on the hard disk of the PC.
Recover deleted photos with Root
 Step: 1

 Download and install this free program Dr. Fone available for Mac and windows pc. There are other programs available but Dr. Fone has always given us very good results.
 Step: 2  Install the program, run it and register. You will see this screen: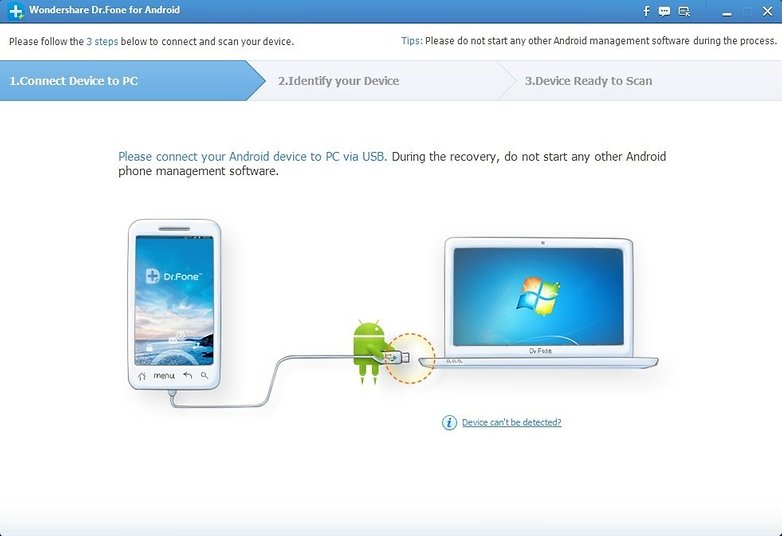 Step: 3  Connect your smartphone to your computer via a USB cable. USB debugging functions for the process have to be enabled on your smartphone.
 Step: 4  To do this you just have to go to Settings> About phone> and 'Build number' Tap repeatedly until the Developers option is activated.
 Step: 5  Back in Settings you will see development options go down and see the option USB debugging and activate. You'll see a notification at the bottom of the screen Dr. Fone saying that USB debugging is enabled.
For devices with Android Lollipop, you must authorize your computer through the confirmation message that appears on your phone.
 Step: 6  Once Dr. Fone is connected with your phone, you can select from several categories of deleted files. We focus on the photographic archives but as you can see in the picture have many more options.
 Step: 7  At The next step It will ask you if you want to explore deleted files or all files. If you want a quick recovery, select the deleted files. You 'll have to accept the RSA key by clicking on your smartphone always OK . The connection between the two devices is secure.
 Step: 8  Once this is done, Dr. Fone scan your phone and reboot. If you receive a message on your phone saying that your PC is connected again, ignore it; simply let Dr. Fone do its job. You can grant all permissions to Dr. Fone without fear.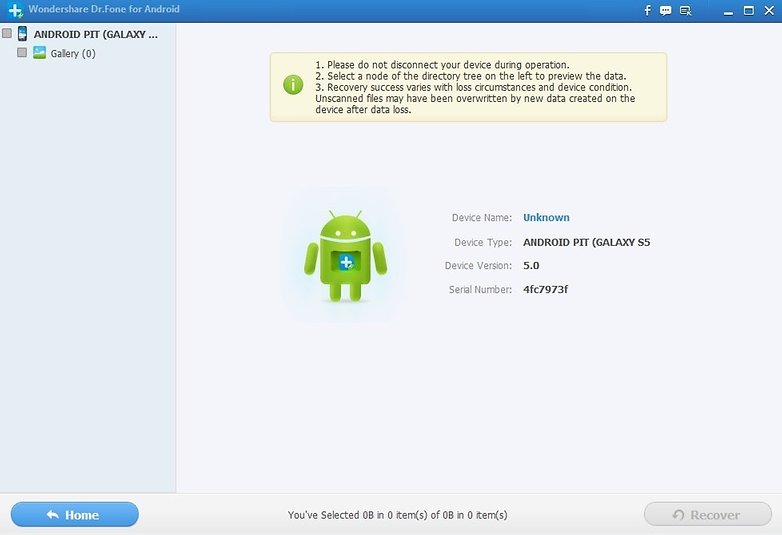 Step: 9  One time Dr. Fone has finished analyzing your phone will receive the results on the screen where you can check the boxes of the files you want to recover, then click and retrieve files will be saved.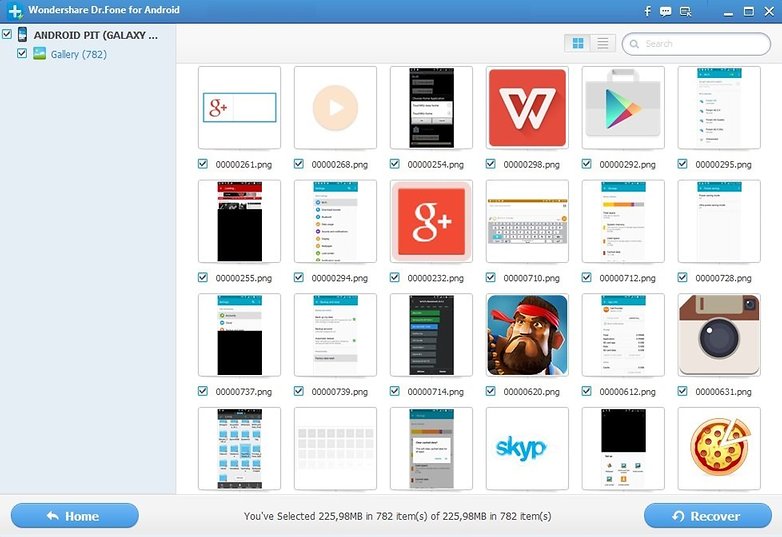 As you see, it is quite easy to recover your photos if you act on time. Best not to lose them in the future and have a backup of your photos.
How to Prevent losing photos & videos in future
If you want to avoid in the future take these scares, you can make a backup of your photos. With Google Photos App That have a unlimited capacity provided  to save your photos and backup function is very easy to configure.
Once you have installed the application you just have to go to application settings and choose backup and synchronization, that way you can choose how often you want to back up. So you never miss an important picture.
I hope this article help you with recover deleted photos and videos from android for free .Have you ever missed an important photo? Did you get it back? Tell us your story in the comments!