Here we'll show all the steps to know how to clear Instagram search history and the suggested people on Instagram without using external apps.
Instagram is a social network that has become essential for many people over time. The number of Instagram users increases day after day, and hundreds of public figures have succumbed to its charms. This platform has a search engine where users can enter the person they're looking for, so they can see the profile of that person and send private messages, download their videos, etc.
Also read:
The problem with this is that all the searches we do on the social network are kept recorded, Its not always a good feature, we may not want to be recorded. Instagram has the separate settings tab for clear search on Instagram.
You may have an interest in knowing how to erase search history on Instagram to maintain your privacy. Here we'll explain how to do it. We have also included another section that explains how to delete the search suggestions too, so that there is no trace left of such activity in your account.
How to Clear Search history on Instagram 2020
---
Steps to follow for Delete search history on Instagram For Android & iOS:
Step: 1 The first thing you must do for get started with erase search history on Instagram is to go to our Instagram account and reach the Profile page. Once there, you must select the three dots icon (if android); or select the Gear icon (If iPhone / iPad) located in the upper right corner of your screen.
Step: 2 Once the menu has been selected, now you must scroll down to the tab that says "Search history". You will select this option.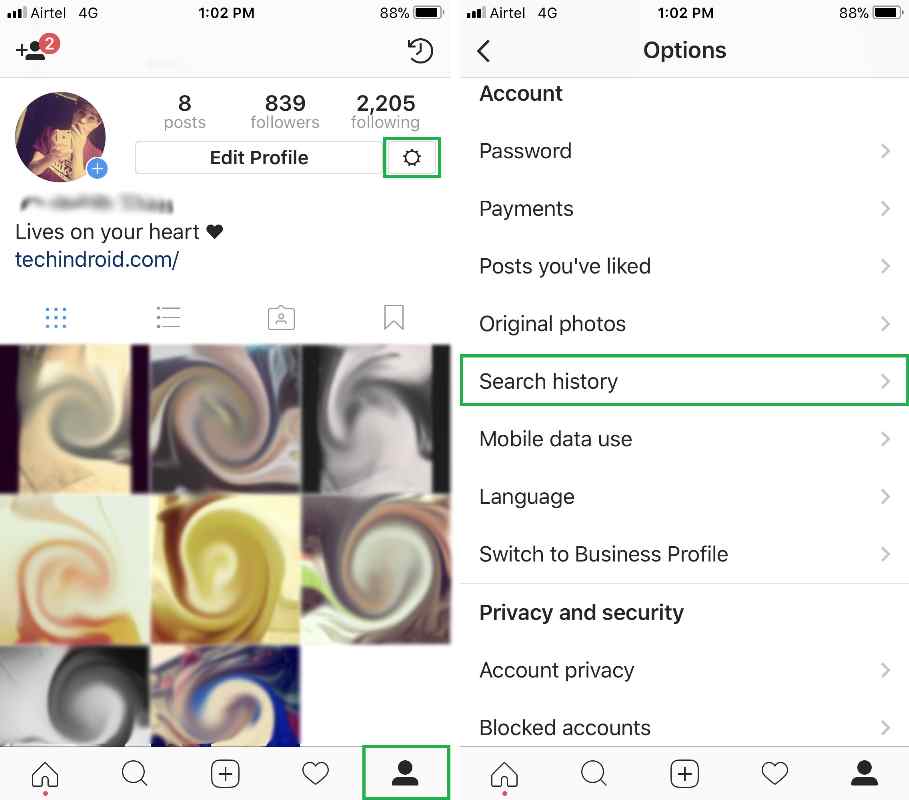 Step: 3 Finally, all you have to do is tap on "Clear Search history" to confirm this action and our search history will be clean.
And this is how to clear your history on Instagram. You should note that even though you can delete history on Instagram, personalized suggestions will still appear when you select the magnifying glass icon. These suggestions display a list of accounts that have interacted with our account more frequently in our latest visits to the social network.
Also read:
Deleting Instagram Search Suggested Users on Android & iPhone
---
Another catch you have on Instagram is that, suggested users!. But, who are these suggested users on Instagram? what is Instagram suggested based on? Well, People who you stalk frequently are appear top in suggestions when you go on search section. In case you also want to clear Instagram search suggestions, you must do the following:
Step: 1 First, access the Instagram suggested search section by tapping the "magnifying glass" icon.
Step: 2 Once You're in that Instagram suggested users list section, you will see at the top accounts all of the profiles that Instagram suggests, based on our recent activity.
To remove the profiles, You must press and hold on the account you want to remove until a confirmation message appears. Once you do click "Hide", the account won't appear in our suggestions anymore.
Step: 3 You must repeat the previous process with each of the accounts that you don't want to see in our search section. After you're done, you will see our search tab completely empty.
If you follow these simple steps, you will be able to eliminate any trace of our activity on the social network, thus successfully protecting our privacy and intimacy. It's a really simple process and we don't need to download any external applications to do so.