Last Update: May 2023
ImgBurn is an easy image burning software which creates (ISO) image files from your hard drive and checks disc image files without having your computer or laptop equipped with the optical disc burner.
What is imgburn?
ImgBurn free program let you create iso images of CDs, and DVDs easily. This is a really complete tool for recording whatever you want to have on your discs ie. creating boot discs, backup images that help you recover your files in case your computer running into trouble you can free download imgburn now and start creating disc images.
Imgburn Software is an excellent option when you don't know which software to use to burn files and images onto CDs, DVDs, and Blu-ray in a simple way, without having to go through annoying steps and accepting unnecessary terms and conditions. imgburn download windows 10
With an entire image burn software UI filled with icons that are easy to understand, ImgBurn is well received by both advanced and novice users to burn the files that are on their computers onto their CDs, DVDs and Blu-Rays.
Software info:
| | |
| --- | --- |
| File name: | Imgburn setup |
| Version: | 2.5.8.0 |
| Size: | 2.95 MB |
| Licence: | Free |
| OS | Windows 10 (32-bit / 64-bit) |
imgburn windows 10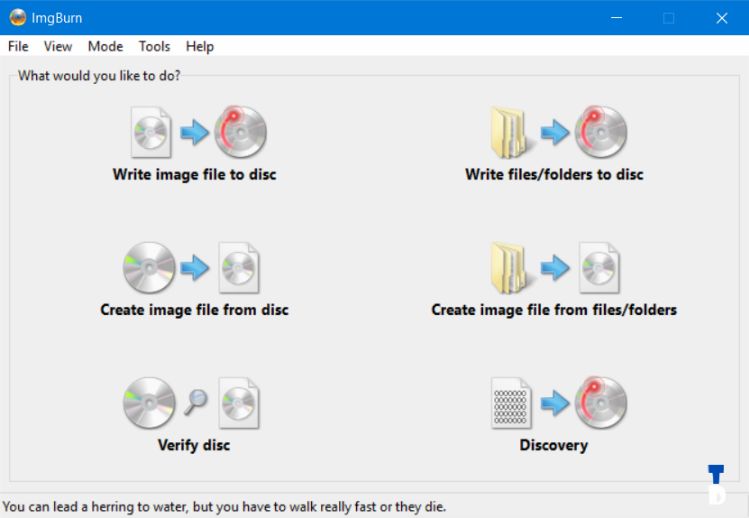 This the latest version of imgburn software for windows 10 32-bit and 64-bit, Its also work with windows 8 and 7 well.
Download imgburn for windows 10 latest

Download from Mirror 1
Features
In total, there are six main functions that img burn offers:
● Write image to disc: This option records a saved image to disk;
● Write folders to disc: While the above writes an image to the disc, this one writes folders and all of its files to the disc.
● Create Images from Disc: This option creates ISO Images from a disc;
● Create Images File From Files / Folders: This is the counterpart to the second function. It Creates ISO Images from folders or files;
● Verify Disc: This one checks the quality of the disc, in case there is a problem or malfunction;
● Discovery: And this one checks the properties of the CD / DVD drive.
In addition to the function for writing files and directories, ImgBurn supports all kinds of image files. (BIN, CDI, CDR, CUE, DVD, GCM, GI, IBQ, IMG, ISO, LST, MDS, NRG, PDI, UDI) With only three mouse clicks, ImgBurn can read your CDs, DVDs, and Blu-Ray burns and store them on the PC as a 1:1 image. Selected files from the network or from the PC can also be combined into an image file or burned directly on a removable device. With the "Check Disc" function, discs and image files can also be checked before they can be read out completely.
How to Use ImgBurn
You don't need to have experience using other burning software to use ImgBurn because as we have said before, the program is well suited for advanced and novice users alike.
The icons that were used on the UI are self-explanatory, just click on the desired option to display the next window with their respective functions. Make any small adjustments you may want to do and run the program!
The recording and imaging time will depend on the size of the file and the speed of your processor. For this task, a multi-core processor is highly recommended, in case you burn a lot of discs or you want to burn huge files into a Blu-Ray disc.
imgburn download

Now that you know about ImgBurn, what do you think about it? Do you think it might be beneficial for you if you started using this burning software? Leave your thoughts in the comment box below and don't forget to share this post with your friends!