Last Update: September 2023
WhatsApp Status allows you to share text, photos, videos and animated GIFs that disappear after 24 hours. Today in TechinDroid we will tell you how to download WhatsApp status videos & photos of your friends.
While stalking at the stories of your WhatsApp contacts, you found something interesting that you wish to save into your phone gallery to view them whenever you want or just wants to repost the whatsapp status of someone else? For many folks it's not enough to just watch the WhatsApp status of their friends and colleagues from the instant messaging app and let it disappear after 24 hours. You can download the content you love from whatsapp status of someone to watch them later. There are several tricks available to do this. The method that we going to show you will let you save WhatsApp status of your friends without them knowing!, isn't this great?
Possibly a WhatsApp status or story contain photos and short videos of 30 seconds that uploaded by the user and is visible to their contacts on whatsapp. Saving the status images can be done simply by taking a screenshot of whatever you want to save. However, this method is somewhat difficult because while you are capturing the screenshot, there might be some extra information shown on the interface of the WhatsApp status which you don't want it to appear as part of your screenshot. Now lets come to the video, it's not possible to save videos with screenshot unless your device allows you to record what happens on the screen. So for non techsavvys, saving WhatsApp status of someone is almost impossible thing.
Also read:
How to See Who Viewed Your Instagram Story.
How to Know Who Blocked you on WhatsApp.
How to Hide Last Seen on WhatsApp.
How to Repost Instagram Stories.
How to Save Instagram Stories.
How to Hide WhatsApp Chat.
But in TechinDroid, the word "impossible" pushes us to research thoroughly and found what we need to do for save the WhatsApp status including videos. Thanks to the file manager apps which has the possibility to save WhatsApp status photos and videos.
How to Save WhatsApp Status Videos & Photos of Someone
---
Many of the Android devices come with the File manager app installed by default. There are usually two types of file manager apps, one of those have the option show the hidden folders of phone storage and another do not.
Here we show you all the Steps in short (for pros):
Open "File Manager" app and make sure to Enable the option to "Show hidden folders". Go to this folder root on your device "WhatsApp > Media > .Statuses" There you will find all the videos & photos which are shown in the "Status" tab of WhatsApp. You can select and copy the video/photo files to the SD Card that you want to save permanently.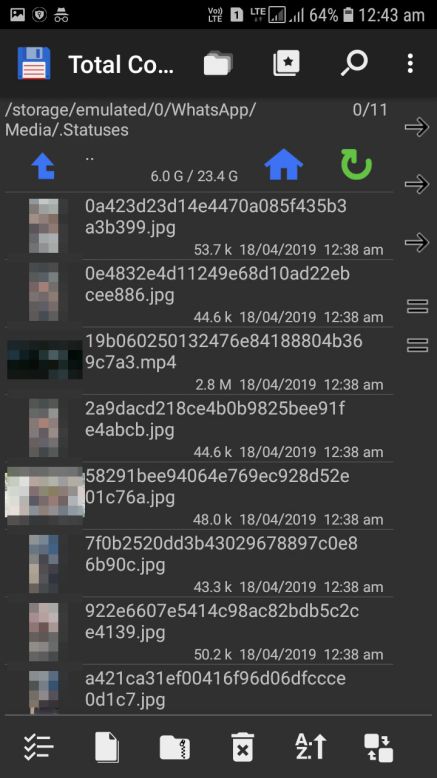 Downloading Video or Photo from WhatsApp status:
1.) If your File manager app does not have the option the show hidden files? you should not have to worry, just download the Total Commander File explorer from the Google Play Store or any other file explorer what you can do the same.
2.) Once you have the app downloaded & installed, all you have to do is Open the "Total commander" App and Enter into the Phone storage (Internal Storage) of your device and locate the WhatsApp folder.
3.) Once you have found the "WhatsApp" folder, open it.
4.) Now you will see a folder named "Media", click on it, if your device is able to locate the hidden folders you will find a folder called ".Statuses", this folder is where you will find all the WhatsApp status of your friends ready to be saved, shared, edited or copied in any other folder on your device for easier access anytime to it.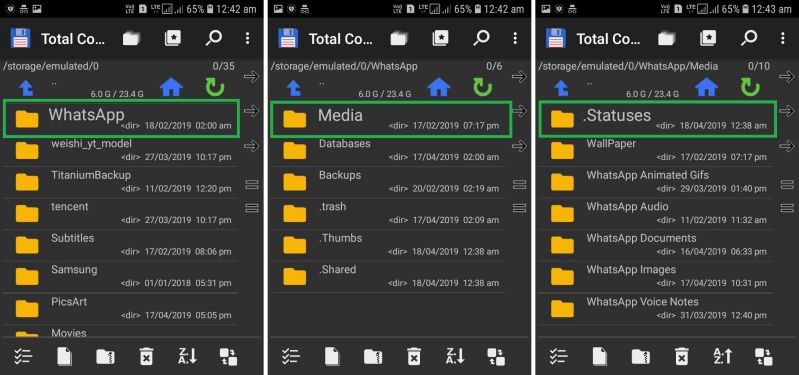 Note! Another important thing that you need to take into account, You will be able to save the WhatsApp status of your friends within 24 hours from when the status was uploaded. As soon as the 24 hours are finished the status images and videos will disappear from the .Statuses folder and you will not be able to retrieve them until they are uploaded again. If you already made a copy of the files to another folder, it will be available on your device even after they disappear from the .Statuses folder.