The social network of photography has just released the possibility of re-posting the story of a contact that has added our name as a mention in the image. In this article, we will show you how to repost Instagram story in which you've been tagged.
The so-called "stories" or "My Day" are already a phenomenon, a new communicative tool that goes beyond the comments, publications and reactions of a classical social network. A story is a message, with or without an image, that is published in an improvised way and only has 24 hours of life. After that time, it disappears. Stories are available on Instagram, WhatsApp, Facebook and Snapchat, the latter being their platform of origin.
how to repost a video on instagram story | how to repost someone else's instagram story | how to share someone's story on instagram to my story | how to repost instagram story you're not tagged in | repost instagram story app | how to repost instagram post.
It is on Instagram where the "stories" have found their most prolific terrain. It is normal that this company, owned by Facebook, committed to test this new function in such a healthy social network, where you can grow your number of followers quickly.
Instagram will now allow the republication of friends' stories. Do you want to know how to re-share someone's Instagram story on your own story? Keep reading.
Here's How You Can Repost an Instagram Story of others
---
When a contact mentions us in his story, via video, text or photo, if he does it using "@" followed by our username on Instagram, we will automatically receive that mention as a private message. This message reaches us using what is known as Instagram Direct.
Until now, when we received a notification that someone had mentioned us, all we could do was open it and check the image.
Now, in addition, if we want to reshare Instagram story of our friends to our story, just above this we will see the option: "Add this to your story", so we can now share the image as a new story in our Instagram account.
➢

To Repost An Instagram Story On Android:
As we said above, when someone mentions your username in their story, you will get notified instantly. Open your DMs. There, you will see the option called "Add This to your Story", above the photo or video you are mentioned in.
1.) To Repost Instagram Story on android as a first tap Tap on the blue colored "Add This to your Story" button.
2.) You will be taken into the story publishing page. There you can modify the pic adding emojis, stickers, your location, text, etc. After you're done with these things, tap on the "Send to >" button on the bottom right corner of the page.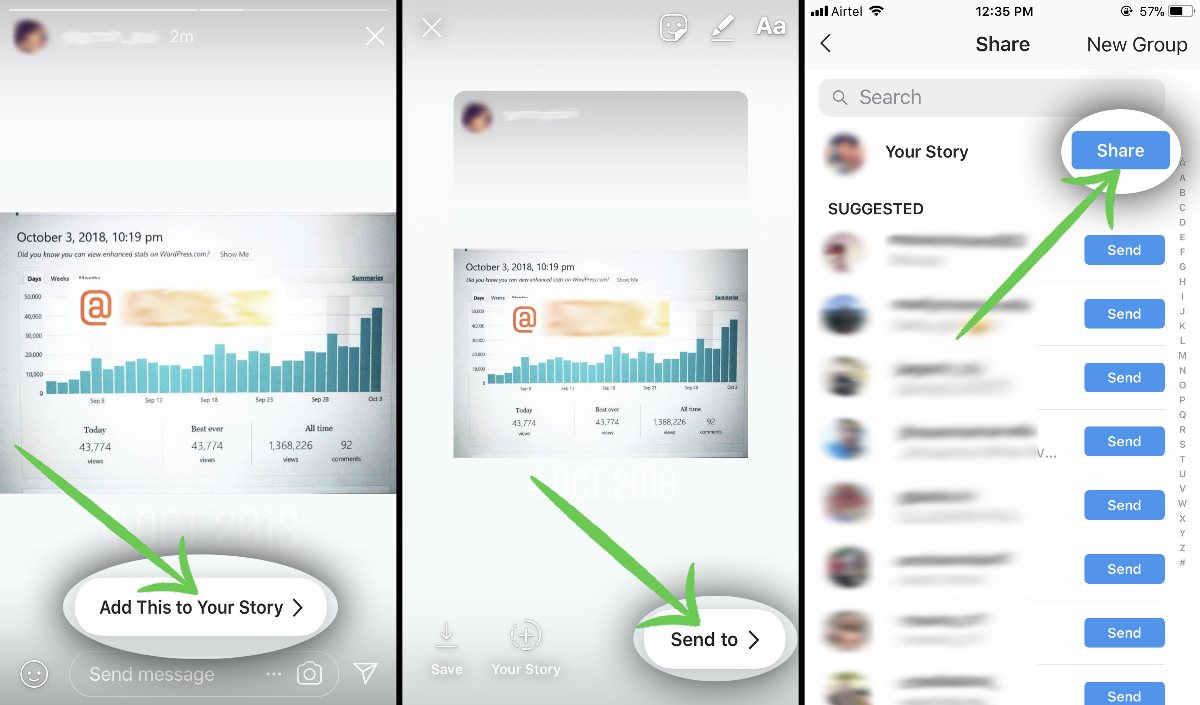 3.) After that, click on the "Share" button. That's all – you have successfully reposted an Instagram story.
➢

To Repost Instagram stories On iPhone:
1.) Reposting Instagram Story on iPhone: If you want to share someone's story on Instagram using your iPhone, you need to be mentioned in said story as well. If you are, then while you're watching the story, you will also see a button that says "Add This To Your Story". Select that option.
2.) After doing that, you will be able to change the picture by adding modifications to it, just like your usual story. After you've finished with that, select the "Send To >" button.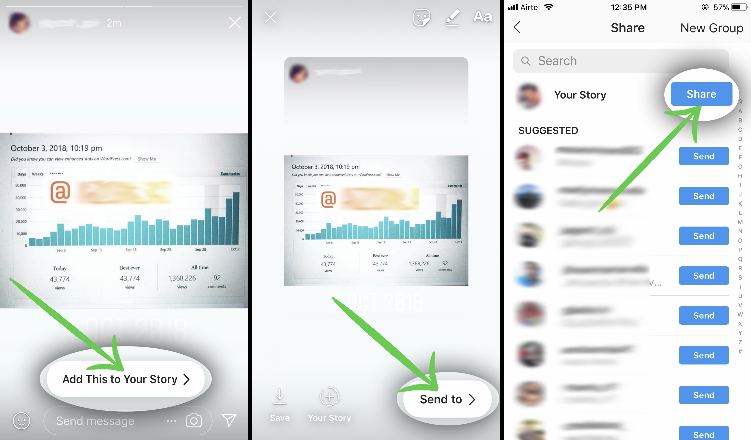 3.) Now you can share the picture in your story or send it to a select people. If you want to do the first choice, tap on the "Share" button. If you want to do the second, just scroll down on your screen until you find the users you want to send the pic, and tap on the "Send" button next to their usernames.
The Platform Gives 48 Hours of Time To Repost A Story Of One Of Our Contacts
As you can see, reposting someone else's Instagram story is something that can be done just with a few taps. And here are the things you need to know about this new sharing feature. Reposting the content of a story you're tagged in is something that can be done even when the first 24 hours have passed since its publication on the original Instagram story, the expiration time of all the stories. Once a day has passed, the original content disappears, but the possibility of reposting it is available for another 24 hours. In addition, it is possible to decorate this new story with text, gifs, various decorations and stickers to personalize the new message before reposting it on your Instagram story.
The shared photos can be seen by all those who follow your account or visit it, if you have an open account. However, if the person who has published the original story you want to repost has a closed account to the general public (only accessible to members of the users' contact list on Instagram), you cannot upload it again as new content.
Once published, this type of content will always include a hyperlink with the name of the user who uploaded the story for the first time. If you press it, you will go to the profile of the original poster.
To prevent this new feature from working in your case, if you dislike it, and to prevent anyone of reposting the content you upload to your account, Instagram includes the option to deactivate the repost feature. To do this, open your story, click on the three dots or Gear wheel icon on the bottom right margin and select on Story settings. From there, disable the option "Allow sharing" that is active by default.
We hope this article is able to help you if you didn't know how to repost an Instagram story. If you want to read more articles like these, we recommend you to enter our Tips & Tricks section.
Also read: