Whether you have an Apple ID account or not, you are likely to receive an email similar to this one. This email will tell you that your Apple ID account has been disabled.
You will receive a simple email that impersonates Apple's identity very well. However, as in any attempt at phishing, a good watchful eye can notice the flaws. We will explain why this email is a scam and you should not follow the steps indicated.
Here, you can read two different phishing emails trying to impersonate Apple, telling the receptor that their Apple ID has been locked.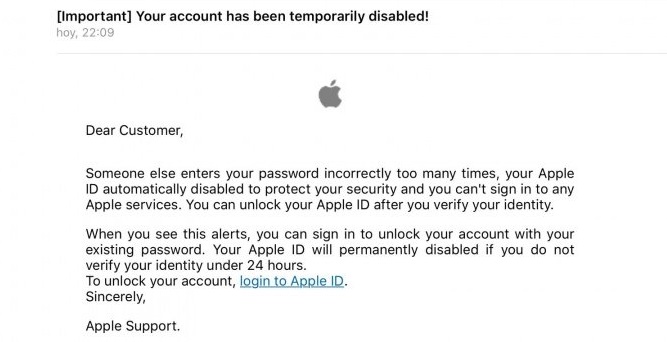 This is What Apple ID scam email look like:
Mail #1
From: AppIe (iforgot@help-desk-signed.center)
Subject: Your Account has been temporarily disabled.
—————————————————————————————–
We noticed unusual activity in your Apple ID. Your account has been signing in on a new location or different devices on February 12, 2020. at 06:41:09 PDT. For security purposes, we have disabled your account.
To unlock your account, we need the requested information about your Apple ID.
Verify now
If we didn't receive the information needed, your account access could be locked permanently.
Regards,
Apple Support
Mail #2
From: AppIe (iforgot@help-desk-signed.center)
Subject: Your Apple ID has been locked.
—————————————————————————————–
Dear Customer,
You can unlock your Apple ID after you verify your identity.
Someone else enters your password incorrectly too many times, your Apple ID automatically disabled to protect your security and you can't sign in to any Apple services. You can unlock your Apple ID after you verify your identity.
When you see this alerts, you can sign in to unlock your account with your existing password. Your Apple ID will permanently disabled if you do not verify your identity under 24 hours.
To unlock your account, log in to Apple ID.
Sincerely,
Apple Support.
As if all of this isn't enough, the email continues by calling the reader with a solution that has an expiration date – 24 hours. If we don't verify our identity within one day, our Apple ID account will be, supposedly, disabled forever.
Another thing to keep in mind is the link. The link on this email has already been classified as a malicious website. Thanks to this, upon receiving the "account suspended" and trying to enter the site listed on the fake Apple email, we will automatically receive a warning confirming that we are accessing a website that could contain malware or an Internet virus.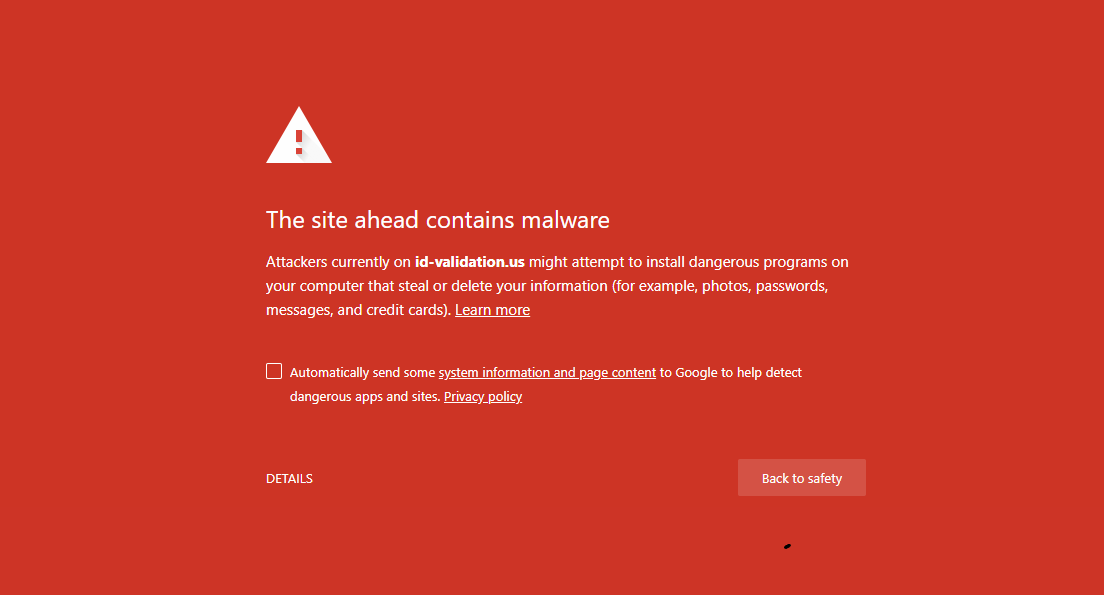 Usually, what we find when we follow the steps of this type of fraudulent emails is a website made to be a copycat of the official site. Once you believe your account has been locked, the site will ask you to fill out a form to access the account and solve the problem.
In the past, we have talked on previous articles about this type of malicious emails. The scam attempts could try to impersonate banks, media services like Netflix, financial apps, social media sites like Hotmail and Facebook, etc.
Anything previously mentioned is good material for cyber criminals to get your data easily and quickly. We advise not to share this type of emails, and not to believe at face value what it's written in them. You must also be careful if you plan to click on the links of this kind of emails – usually, just entering the site is enough for hackers to infiltrate your computer using trojans or similar malware.
Also read:
5 Best Secure VPNs to Protect Your Internet Connection
Be Careful With Hotmail Scam & Phishing Emails
Be Careful Of Facebook Scam Mails
If you get a very succulent promotion or discount, we recommend confirming the information directly with the brand or website using the official pages in social networks. And even on the Internet, with a simple search, you can find out if the email is malicious or not. Try it – just search "I got an email that says Apple ID disabled" on Google. You will read a lot of failed scam attempt testimonies.
Now that you know the reality behind this email in which we're informed that our Apple ID account is disabled, we just need to pay attention if we receive a similar one. As long as we're paying attention, we will always be able to avoid problems.