Last Update: March 2023
A new scam is affecting the users of the social network Facebook. It is a cyber attack that compromises the data of those who fall into the trap because it aims to steal the identity of the person who has been scammed. The attack, which is being reported from various portals dedicated to cybersecurity, consists in tricking the user into believing that they will allow him to log in to Facebook with one click, sending them an email that supposedly helps them to do so.
Specifically, the cyber attack mentioned here makes the user receive an email (allegedly from Facebook) in which they are invited -as it appears in the image below- to log in faster because they have allegedly detected our problems to do it. So, with this email, the user is prompted to get back on Facebook with one click.
Obviously, it is a scam. What it does if we fall into it is that it will open a page that looks like Facebook but it is not, in which we will introduce our username and password. This will give our information to the attackers. Therefore, we must take precautions and avoid falling into these scams as much as possible. Just analyze the mail that offers us to get back on Facebook with one click since it can be a phishing attempt.
Get Back on Facebook / Log In With One Click – A Dangerous Scam
A few days ago, all the alarms turned on when a couple of profiles on Instagram were saying that you could become an influencer of well-known brands, work with them and be an ambassador of that brand. Nothing was real, it was a scam.
Now it's the turn of Facebook, despite it is not the best time for the social network right now.The email arrives at your account with apparent normality. The subject is: "Log in to Facebook with one click". But the reality is very different since the only thing you will do with a click is to give away your personal data and your Facebook account. Usually, this kind of "get back on Facebook with one click" emails can't get past the spam filter, but if that's not the case, you should be careful.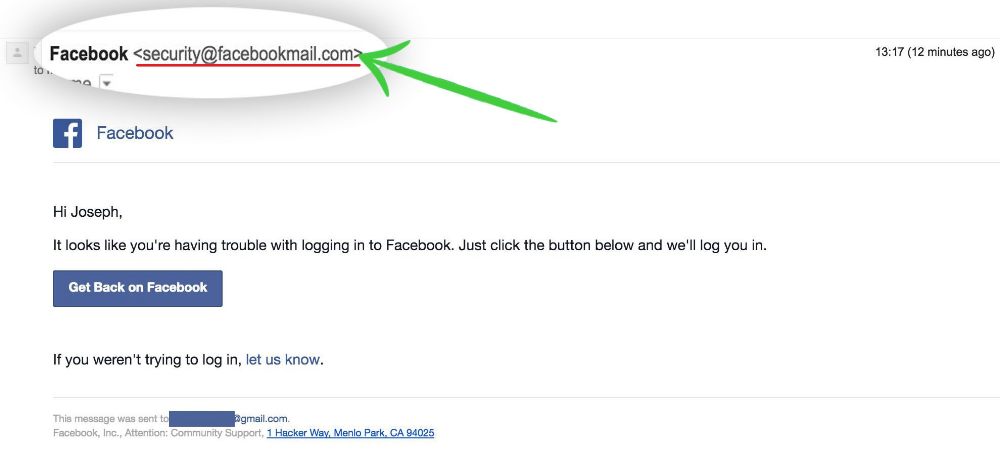 The majority of those who receive this email believe that it comes directly from the social network and they trust 100% on it. Once they read it, they believe that clicking on "Log in with a click" will take them to their Facebook profile, where they can change some parameter or setting to make a quicker login with a single click.
Sadly, that's not the case. If you click there, it takes you to a website that seems to be Facebook, but it isn't. They ask you to enter your credentials, and if you do, that's it – you have given your account and your data to a group of hackers.
Finding a scam on the Internet is something normal. This kind of things happen every day, and being Facebook the big network it is, it's not exempt from scam attempts and impersonations. That is why you have to know how to differentiate what is real from what is not.
In the case of emails, they are mostly phishing email attacks, so you have to be very careful and very suspicious.
If you're well aware of this kind of emails that promise you to log in to Facebook with one click, you must've been through a phishing attempt already. Don't be shy! You can tell us about it (and warn other users, too) in the comment section.
Also read:How to Change Name on Facebook.
How to hide Friends list on Facebook.
How to Go invisible on Facebook.
How to Disable Facebook notifications.
How to reduce Facebook Data usage on Android.
How to Delete Facebook account permanently.
How to View Facebook Desktop Site from Phone.
How to View Facebook Messages Without Messenger