Last Update: May 2023
On facebook you maybe try quiz apps, Q&A apps or others; that has sparked the interest of millions of users worldwide. These things go bad when you receive 100s of invites from the app.
Facebook's notification policy is one of the most annoying things about the social network. If you're a very interactive person or get tagged in a lot of pictures, chances are that Facebook's notification sound is implanted in your head and you can't get it away, let's show you today how to stop facebook notifications on android and pc.
I hope you know the Kiwi app. The app went viral in a matter of days mainly because it's hosted on Facebook and it's very accessible because the only thing you need to create a Q&A is a Facebook account, as well as another account for answering the Q&A, this makes your phone a living hell, with a rain of "Invite to play Kiwi"'s.
We're not saying it's a bad app, not at all. it has some really neat questions but, generally, when something goes viral. It becomes annoying really fast, so people usually complain and rant about the "unknown" Kiwi app. Facebook currently has two ways of disabling notifications according to the device you're using.
Here's How you can Disable Facebook notifications 2023
---
To stop facebook notifications from your device, just follow the below indicated ways.
❑ How to Stop Facebook notifications on Android
1. Go to the settings tab on the Facebook application, it's the hamburger one (the three horizontal lines).
2. Now that we're in the settings menu, let's go where to "Account Settings".
3. We have a list of options, let's go to the one that says "Notifications", this is the menu where we'll be able to control our notification activity.
Stop Facebook notifications on Android 2017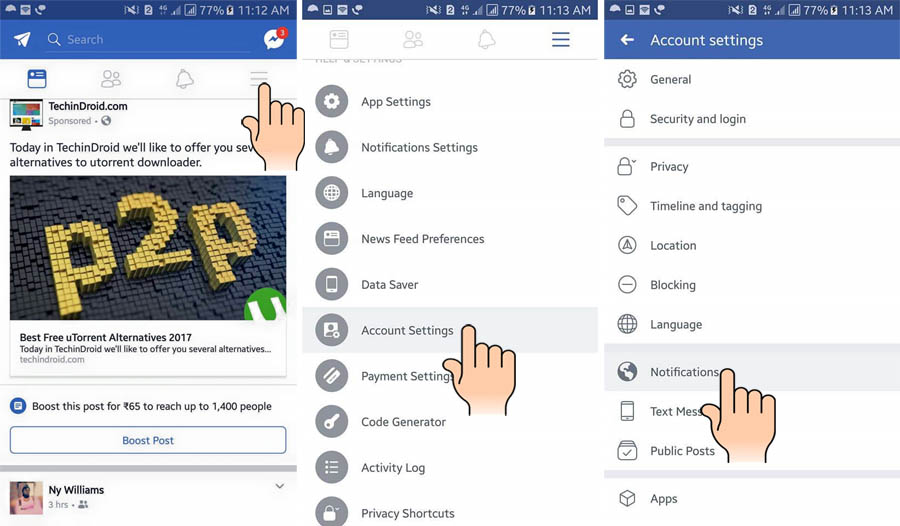 4. Afterward, tap on "App notifications".
5. Finally, we'll see a list of applications that have notifications linked to our account, those that have a blue accent are the ones that have the right to send us notifications, that's probably where Kiwi is, if you want to disable it, that's the place.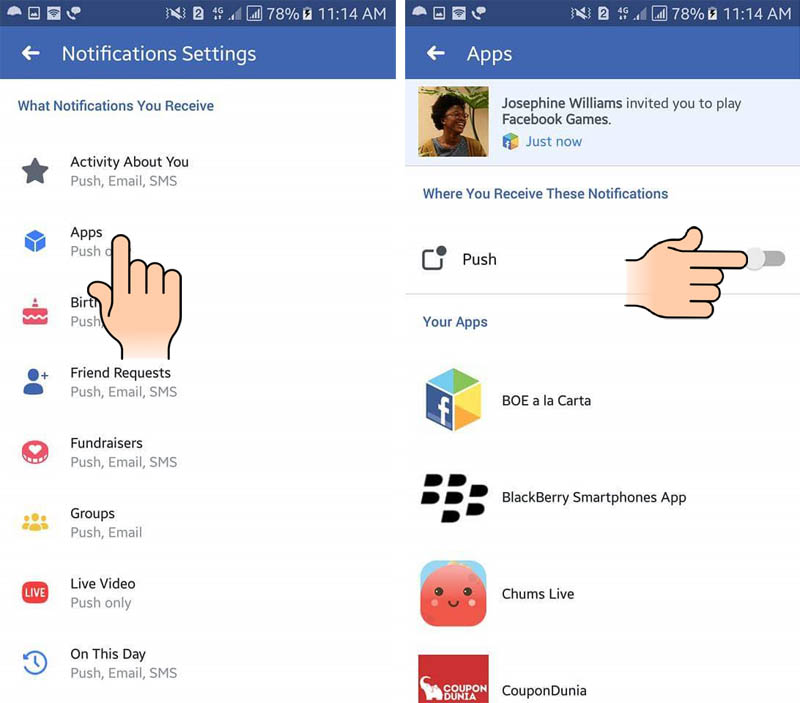 Enabling DND mode on Facebook
If you wish to completely turn off notifications from facebook app for some time or forever, facebook has option for you.
As like we turn off app notifications on facebook in previous steps, In the app go to settings menu and scroll down the page you'll see the option called "Account settings"  then tap on "Notifications".
Now scroll down all the way to the end of the screen you will find the option called "Push"  tap on it, there you will be able to "Turn on" Do not Disturb feature. This will completely turn off facebook notifications.
Do not disturb mode Facebook Android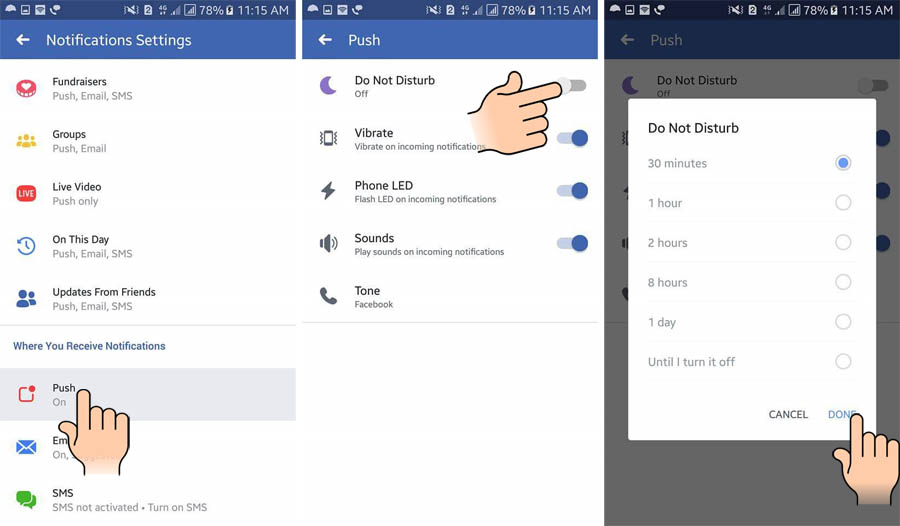 How to unmute Facebook on Android
You can also mute the app altogether, by going to "Apps settings" and then tapping on the "Sound" slider. Clicking this will enable or disable the sound of your app.
❑ How to turn off Facebook notifications on PC
These steps can be used for block facebook notifications on Windows and Mac Pc or laptop.
Disable facebook desktop notifications on chrome and other browsers; This method is way simpler than the one on mobile phones. We just need to go to the Notifications tab, and hover on the notification we want to silence, this will show an icon with a small point that will tell us "Disable notification", we click it and that's it! We can even click on it again to silence all notifications coming from the app, group, or user.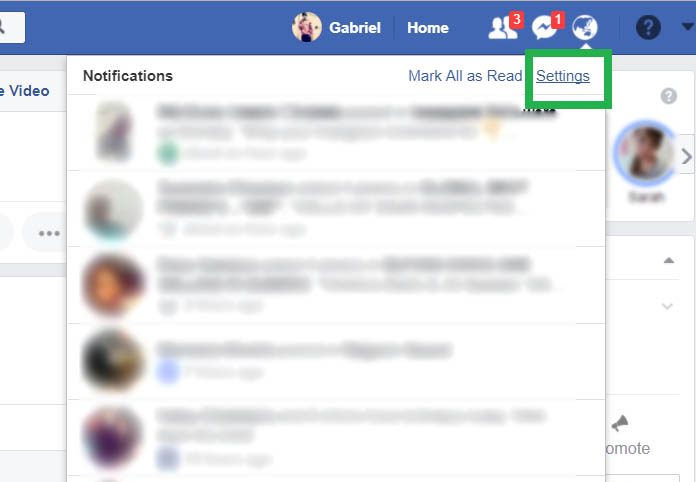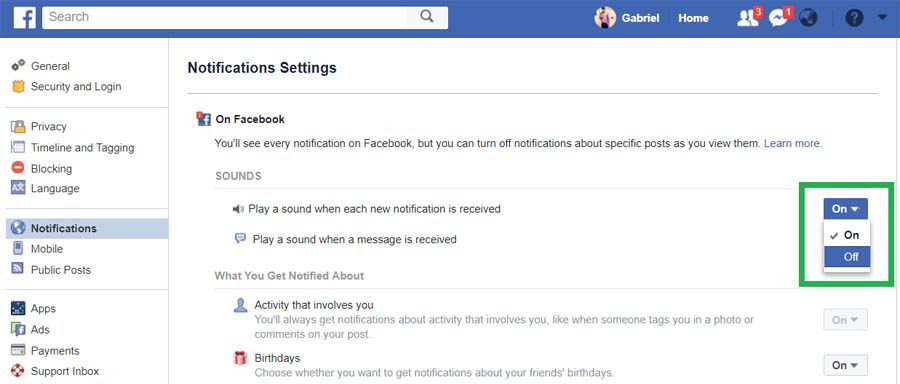 Notifications are generally pretty annoying, especially if you have family or friends that only use Facebook to play social games and ask for help on them, so we're glad that Facebook is thoughtful enough to let us disable them. If you encountered any issues with this How-to, let us know in the comment box below, and feel free to share with all of your friends so that they can take care of the notification problem effectively!