Last Update: May 2023
Are you done with facebook? here is the guide to delete facebook account permanently and temporarily.
Facebook is the biggest social network ever, with over 2 billion monthly active users, it's a global plaza where people from around the world gather to share their thoughts. That sounds good and all, but it can get tiring, and if for one reason or another you want to delete your account forever, Facebook covers a wide range of options for you to do this.
Be warned, though, that this process is neither easy or quick, because obviously Facebook doesn't want you to go, and they may make it difficult for you to delete your facebook account.
How to delete facebook account 2023
---
Follow up this guide to know the ways to delete facebook account in 2023.
Difference between disabling and deleting your account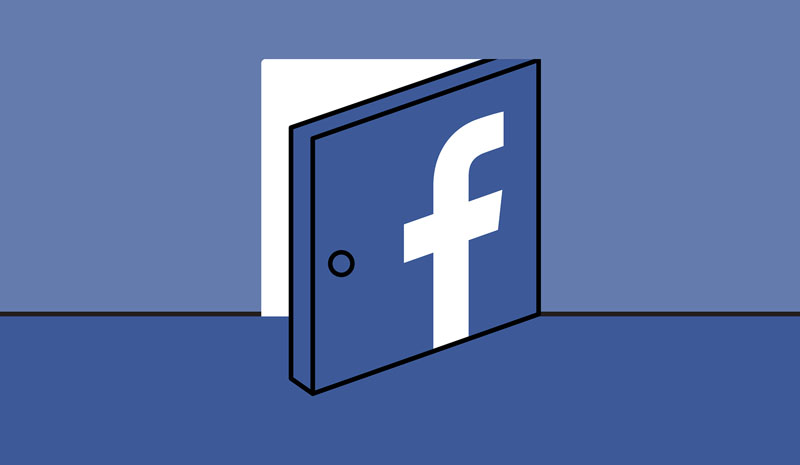 By default, Facebook won't delete your account, it'll deactivate it, you may keep looking for ways to permanently delete it but, it won't be easy pickings, as that is some sort of standard between all social networks. To begin this how to, let's first tell you the difference between disabling and deleting your account.
Disabling your account is a temporary action. Your account can be restored at anytime you want, even while it's not searchable on Facebook. it is possible though, that other users can still send and view earlier conversations that you and it had.
Deleting your facebook account is a definitive action, so once you've done this, your account will be lost forever, your friends won't be able to look for you or watch your past messages or tag you in anything, however, this process takes 14 days to take action and it can take Facebook up to 90 days to delete your info from their database.
Still, Facebook warns that it is possible that copies of some materials remain in its database, although the possibility that the remnant is personal is really small. You must keep in mind that the messages that you sent to your friends are still visible because they are also stored in the receiver's own database.
Deactivating your facebook account
Let's kick off by telling you how to disable your account.
1. Firstly, you must go to Facebook's settings. You can do this by clicking the downwards arrow that's next to the interrogation symbol icon at the upper right of the site, click it and this will show some options, select "Settings".

2. Once you're in the Settings menu, click the General tab option on the justify sidebar. On this list of options, you'll see an option called "Manage account", click the Edit anchor link to continue.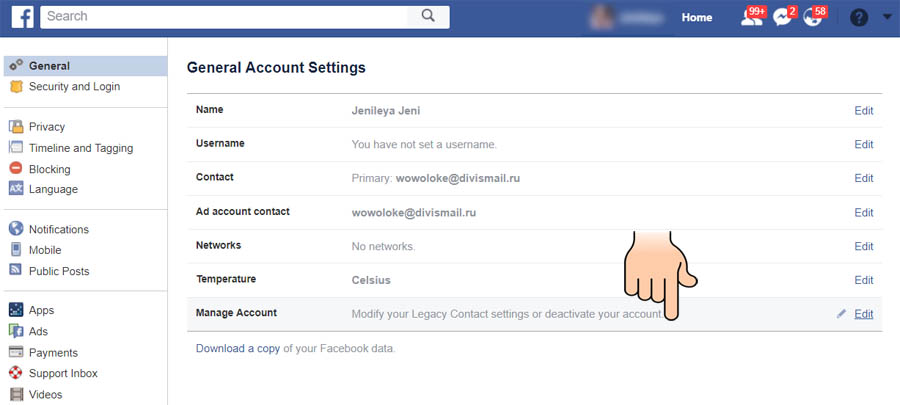 3. This will show you a message stating the consequences of disabling your account, this is just a formality, to continue you have to click on the link "Deactivate your account", and enter your password after that.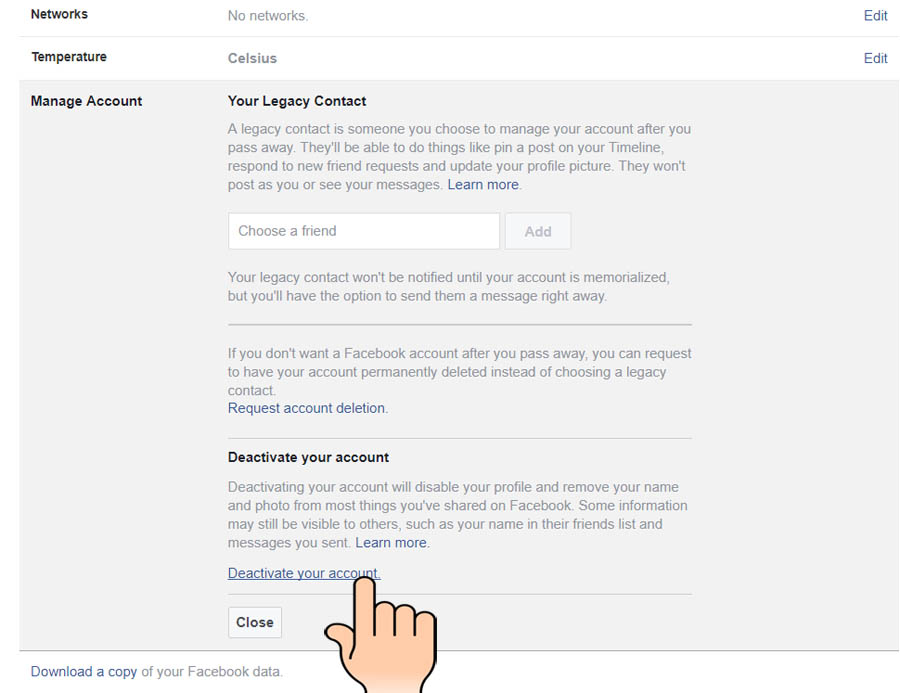 4. Facebook will then try to touch your heart by showing photos of the friends you interact with the most, and it will display a questionnaire that you're required to fill to disable it.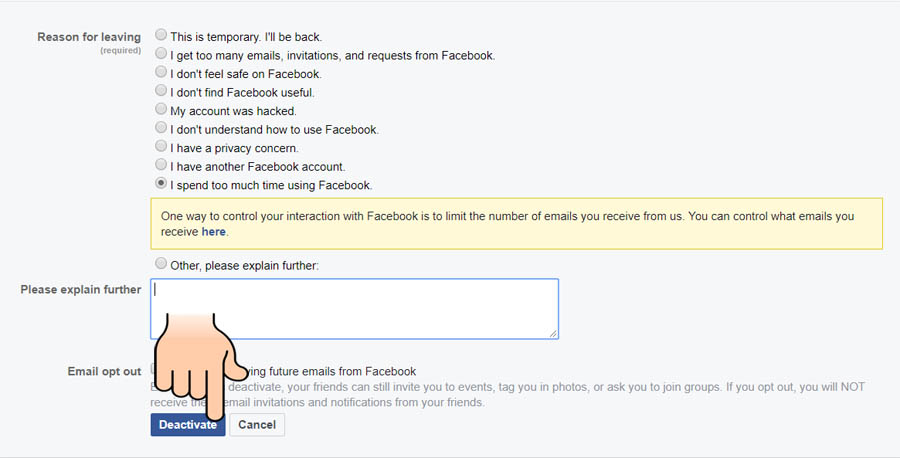 5. After you've chosen the reason of your disabling, Facebook will suggest you an alternative, but as we don't really care, ignore it by clicking on the Close Window button (the x at the top right), and continue by clicking the Disable button.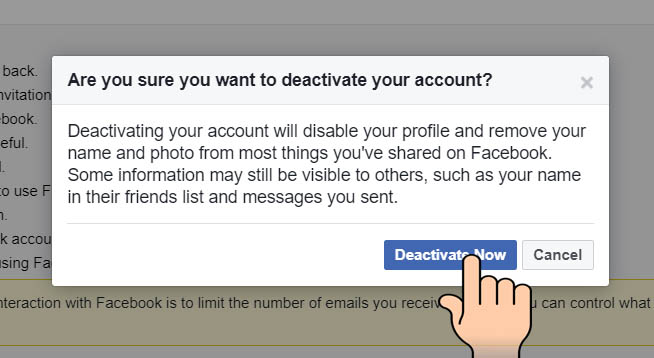 Delete your facebook account permanently
The option hides definitively eliminate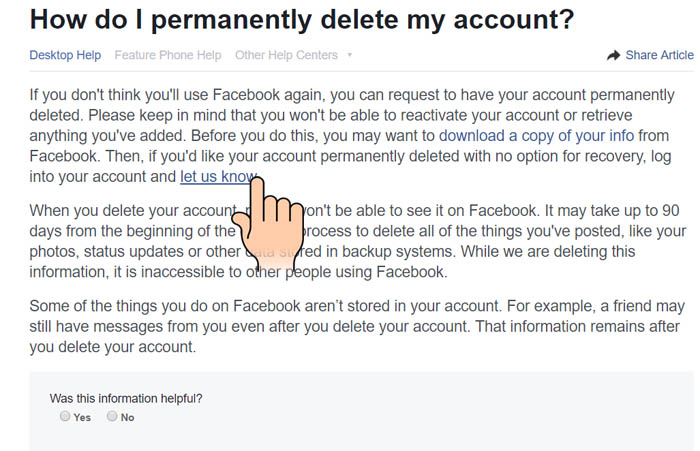 If you want to delete your facebook account permanently, finding the FAQ option is the first thing you have to do. Frequently Asked Questions (FAQ) is the place where the most common questions of Facebook are answered, there is a section on that page where you can find information about account deletion. Hidden in the text you'll find a link called "Let us know", this takes you to the account deletion page, if you don't want to read more, here's the link www.facebook.com/help/delete_account.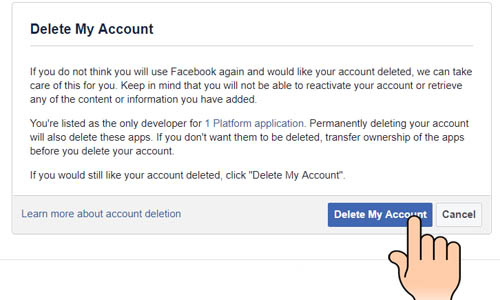 When you enter this link you'll be going to a page where you have to enter your password and a captcha. Keep in mind that this is not a simple captcha, and just the letters will be visible, if you can't distinguish anything on your captcha, you can choose to try with a different one or use an audio one.
Delete facebook account permanently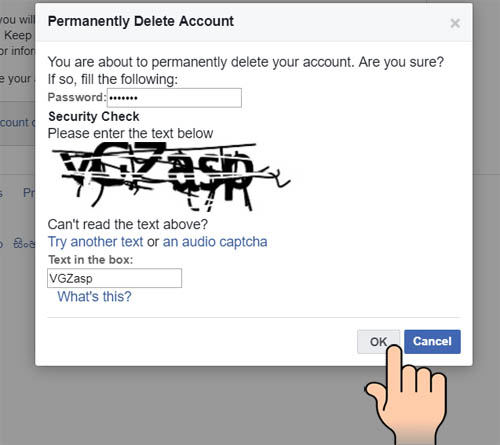 After we've solved the captcha we'll get to the last window that will notify you that your account has been suspended and if you don't sign in in the next 14 days it'll be deleted. After you've read this, click Ok and that's it! Just wait your 14 days and it'll be deleted.
Facebook should certainly be more thoughtful on their users. If you want to delete your facebook account that's your choice, and they shouldn't make it so hard. Share this post with anyone who needs it and feel free to leave your comments in the comment box below!