Today we will see how you can change your Facebook name, a possibility that has a lot of requirements, limitations and aspects to consider, because Facebook wants to avoid abuse of the system and Facebook name change confusion or fake identities.
First we will see what names are allowed on Facebook, then explain how to change your name on Facebook, how to add a second name (Nickname) and how to add your name in a different language. Finally we will tell you what types of documents Facebook accepts to verify your name, if necessary.
What names are allowed on Facebook?
The rules of Facebook regarding user names are quite explicit. As a general rule, your name on Facebook should be your real name , as it appears in official documents (we will see later).
As this rule can lead to misunderstandings, Facebook clarifies precisely what can and can not be included in your name on Facebook. This is all you can not include in your name on Facebook.
Punctuation and strange characters. I mean, you can not say you're 2I3V G8T1RCY! or ʝǟֆօռ ǟʝ.
Titles. The titles also do not take place in the main name on Facebook, so forget about Dr. Jason Aj or Sir Jervin.
Words or phrases. This prohibition is the most general. Basically any other word or phrase that is not your name, can not go in your name. For example, Jason El Escritoire AJ, is not valid.
Offensive words. Although they would be included in the previous point, Facebook has preferred to say clearly that offensive words are prohibited, which is quite obvious.
But wait, there's more. Even if your name meets all of the above, there are some additional restrictions. For example, nicknames are allowed but always and when they are the variations of a real name (Pepe by Jose).
Ultimately, the name must be the one that appears in an identification document admitted by Facebook and you can not use the name of a company (for that are the Facebook pages) or another person. How do you change your name on Facebook? Just follow the instruction given below to know the way to change your name on Facebook:
How to Change Your Name on Facebook
---
The fastest way to change your name on Facebook is just follow this link in your browser. (OR) If you prefer to go in the traditional path step by step from your news feed, you need to click on the "arrow" in the top bar and choose "Settings".
Then click on "Edit" next to your name. Then, write your name in the appropriate box, your middle name (if you have) and surnames. Then click Review change.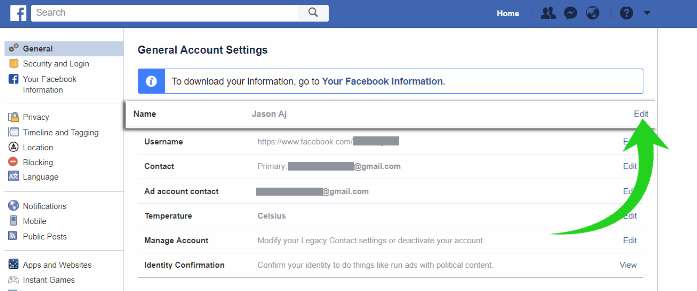 In a pop-up window you will see a preview of your new name. You are given here several options to show your name, and you must choose the one you like the most. The default option is Name + Surname. You need to add your password before clicking Save changes. Check it well, you can not change your name again for 60 days.

How to Add or Edit Other Names on Facebook
Facebook is very restrictive with your main name but, When it comes to Other names (Nick name), it gives you the possibility to add other names; such as Nickname, Maiden name, Alternate spelling, Married name, Father's name, Birth name, Former name and Name with title. where the rules relax a bit. You can achieve it from the same page we sent you before, There by clicking "Add or change other names".
Follow this link, it will take you back to your profile, in name edit mode. There you will find the section Other names, where you must click on "Add or change names": nickname, a nickname… to do just that.
The mode of editing your additional name will then open. First of all, Click on the "Add a nickname, a birth name…" then choose type of name, where you have a large number of options: nickname, maiden name, alternative spelling, married name, name of your father, name of birth, previous name, name with title or other.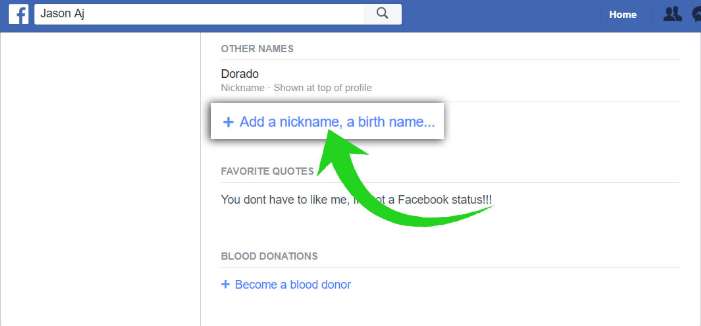 After choosing the type, type the additional name and click "Save changes". You can check the box if you want this additional name to appear at the top of the profile, next to your "normal" name or not.

Unlike your normal name, here the changes are immediate. All additional names are public, so anyone who visits your profile will be able to see them. You can add as many as you want, although only one of them can appear above, next to your normal name.
How to Add your name in a different language
Finally, you have the possibility to add your name in a different spelling, ideal to add it in a language that does not use the Latin alphabet. It is done from the same form as the beginning, that is, by visiting this web page , and pressing add or change your Facebook name in a specific language.
This setting exists for places where an alphabet other than Latin is used, so that they can add the name in their native language. Facebook suggests the additional language and you can not choose it for yourself. The Facebook rules specify that this name must be the same as the one you use on Facebook, with the only difference being that it is written in another language.
When you finish click Save changes and your name will be recorded in another language. The rest of people on Facebook will see this or your normal name, depending on which language they are using Facebook. You yourself will not see this name unless you use that language on your Facebook. To read more articles like how to change Facebook name? We recommend you enter our Tips and Tricks section.
Also Read previously shared Tips and Tricks about Facebook on techcrachi: