Want to use Facebook desktop site login or your news feed homepage from mobile devices like Android or iOS? In this article We will show you how to use facebook desktop website on android and iPhone.
You must have been living under a rock for the last 10 years if you don't know about Facebook. The world's most known social network gains thousands of new users daily and it keeps growing while you read this. A lot of people uses Facebook whether is on their phones, their computers or their tablets. At this point, though, we all should be aware of the different options Facebook offers to the user.
You can use the official app on your smartphone if you own an Android, iOS or Windows Phone device. You can also use the mobile site in your browser if you don't have enough storage space or something like that. However, every alternative has different features. If you want to use Facebook at its full capacity, you'll need the facebook desktop version full site UI, something you can only use if you're on your computer… or at least that's what most people think.
Facebook automatically redirects all mobile browsers to their mobile site: m.facebook.com, if they try to access the site. Despite this, you can use the desktop version of Facebook while using your smartphone or tablet with your mobile browser, and it's easier than what you may think. Today in Techindroid, we'll teach you how to view Facebook desktop site from iPhone or Android smartphone using chrome, other browsers.
How to Open Facebook Desktop Site from Android / iPhone
---
To access the Facebook Desktop View in Phone:
Don't search it on Google and don't access it using external links. You need to copy the following link: https://facebook.com/home.php into the search tab of your browser and click "Go" button on keyboard.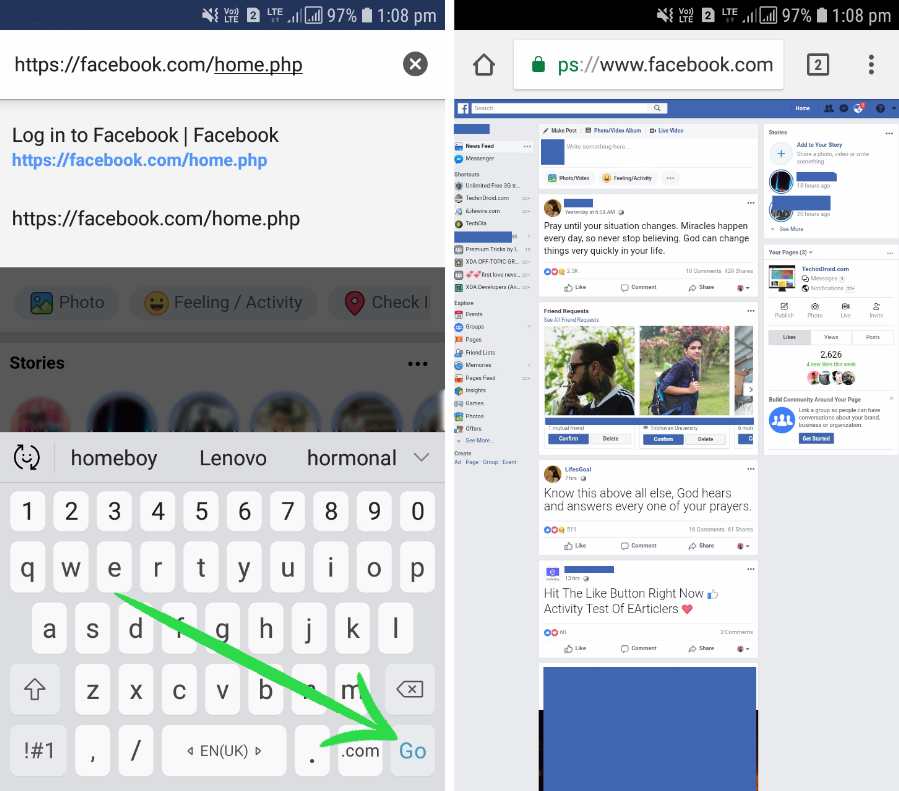 You can bookmark the link for easy access to the facebook desktop home page later if you want to. The thing you must always remember is to add the home.php at the end of the address in order to view facebook full site from mobile devices.
The desktop version is easy to distinguish from the mobile version if you're using a smartphone. The desktop version will look a lot bigger, it will take more time to load completely, and you will be able to zoom in or out of the site. The mobile version is created specifically to match the size of your screen and loads a lot faster.
Another way to Access the full Facebook Desktop mode:
Facebook has an option to access the desktop version. You can use it. Just enter the site url: www.facebook.com and allow the browser to load the mobile version facebook.
Now just tap on "Three dots button (Menu)" on your browser.
There then tap on "Request Desktop Site". Once you have done, Now the page will reload and take you to the www.facebook.com full desktop site. One more thing you must consider after entered in the full site is avoid tapping on the Facebook logo at the top left corner, and on your own name. If you tap on these, Facebook will detect that you're using a smartphone/tablet and will redirect you to the mobile version of the site.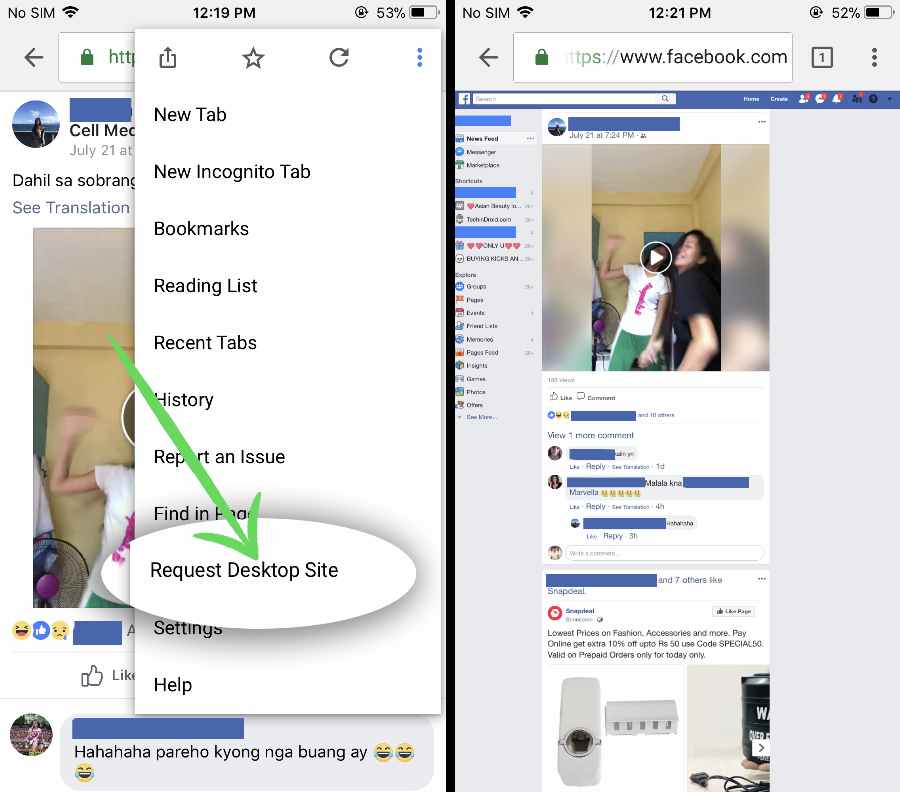 Facebook desktop version full site on iPhone.
The desktop version has some features that the mobile version doesn't, such as reactions, multiple multimedia upload options, more efficient tagging, and so on. If you have a good device, the desktop version should work fine in your mobile browser, so don't worry. If you experiment some issues, however, you can always download the Facebook official app, and do whatever you need to do using it.
Also read:
How to Check Facebook Messages Without Messenger App.
How to reduce Facebook Data usage on Android.
How to Change your Facebook Profile Picture.
How to View Twitter Desktop Version on mobile..
How to Download Videos from Facebook.
How to Change your name on Facebook.
How to hide Friends list on Facebook.
Age requirement for Use Facebook.
We sincerely hope that this helps you using your Facebook in PC UI. Do you have another way of accessing the desktop version? Leave us a comment below!