Last update: December 2021
Are you wondering
http //one.airtel.in/rcconf/ what is this
 After recharging any Data pack on airtel. if you type
google.com
or any other website url it will keep Redirect you to
one.airtel.in/net
or
one.airtel.in/rcconf
page and show you A recharge confirmation message again and again. if you click dismiss this alert button.its also not works .it will keep redirect you.
In this article we are going to tell you how to remove http //one.airtel.in/rcconf/
http //one.airtel.in/rcconf/ error one.airtel.in/rcconf android one.airtel.in/rcconf problem android airtel redirect page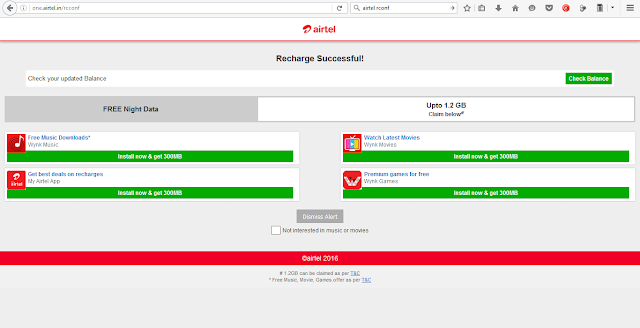 Fix Airtel rcconf Redirect Android
IN your mobile GO to Settings>>More settings>>Network settings>>Accesspoint names>>Select Airtel internet configuration

Edit the Apn configuration as below
APN:    airtelgprs.com
Proxy:  (Leave balnk)
Port:     8080
If you still facing troubles with the one.airtel.in/rcconf redirect. Just download and install any VPN then surf internet with vpn. I recommend psiphon vpn. it's fast and secure.
Fix Airtel rcconf Redirect on PC
 Step: 1  At first clear cookies,  cache of your browser then try browsing pages.  If the error still persists. We've to opt for VPN as previously I said. 
 Step: 2  Download Psiphon Vpn for pc. Once you downloaded open psiphon3.exe.
 Step: 3  After that click on connect button , now you will be get Connected to VPN server.  Now that airtel rcconf page no longer appear .
Thats it guys i hope you have successfully fixed that issue by our tricks. If you need any extra technical support please comment below. We'll write you back.