Last Update: September 2023
Do you have an Android and would like it to look like an iPhone? For many people, this is the biggest blasphemy, but the good thing about Android is that you can do whatever you want with it, basically. If you want to make your Android phone look like iOS… then why not?
Of course, Google Play does not lack applications that help the user to mimic the visual interface of any operating system. iOS is no exception to this rule. Today we have chosen seven applications and resources to explain to you how to make any kind of Android phone look like iOS without losing the Android essence.
7 Best Apps to Make Android Phone Look Like iOS
---
1.

iOS Wallpapers

The simplest way to give a touch of iOS to your Android is to use one of the wallpapers distributed with iOS. A simple search on Google will take you to several places where they are hosted.
All you have to do is download a background on your smartphone and enter the options to set it as a wallpaper. In this way, you will make your Android look like iOS 10, 11, or 12, without giving up anything of the Android experience.
If you prefer it, you can also get wallpapers using an application like Stock iOS 10 Wallpapers. It has some publicity, but at least it includes the iOS backgrounds in their original quality, allowing you to apply them easily.
2.

iOS Icon pack

Another relatively easy way to have an Android smartphone that looks like an iPhone is by modifying the home icons. Popular launchers such as Nova Launcher or Action Launcher support icon packages, which are very easy to install and use.
There are many icon packages supposedly inspired by iOS on Google Play, but the vast majority of them are of poor quality. In the absence of a perfect imitation, we recommend  iUX 12, an icon pack with more than 1,100 icons that, despite they are not identical to the iOS stock icons, at least they follow the same square design with rounded corners.
iUX 12 is a good icon pack. However, if you want the same icons as in iOS, you can try iOS 11 Icon Pack. In this case, the icons are identical – the downside is that only a few icons are included, and the rest of applications that are not on iOS will be displayed with the Android stock icons. Of course, keep in mind that most launchers for Android show smaller icons than those of iOS, so if you have the option (good launchers like Nova have it), you should change the size of the icons to make them bigger.
3.

iOS Lock Screen

Do you want to go further in your customization to make your Android look like an iPhone? Then you may want to change the first screen you see when you turn on your phone: the lock screen. There are a lot of copies of the iOS lock screen on Google Play, the majority of questionable quality. Nevertheless, we stumbled upon a very good imitation – iLock.
iLock has the same look, the same sound, the same operation and the same style for notifications as iOS 10 for the iPhone, and you can even display the quick settings by sliding from below. If you're using an Android but you had an iPhone before, you will feel at home again with this app.
4.

iOS Launcher (Control Center, Icons, Lock Screen, Wallpapers)

If you want a faster and easier solution to make your Android look like an iPhone, there are plenty of launchers on Google Play that claim being true mimics of iOS' visual interface. The problem with them is that they rarely come alone, and are the type of applications full of add-ons to "speed up" your mobile, advertising and so on.
This is the case of Phone X Launcher, a very good copy of iOS that includes wallpapers, icons and lock screen in the same package. As an iOS visual clone, it is quite good, but you are warned that you will have too many additional applications, cleaners, installation suggestions and more things like that.
5.

Keyboard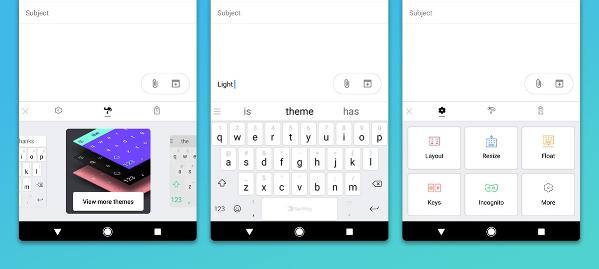 Do you miss the iOS keyboard? Once again, you will find many imitations on Google Play, although once again I must warn you that most of them are of dubious quality. That is why, after trying a lot of options, I have decided to stay with one of the themes available for Swiftkey.
It is not the most accurate copy, but it is the one in which you will achieve a similar appearance without sacrificing performance. Honestly, SwiftKey is one of the best keyboards for Android. There are several themes with round-edged keys, but probably the most similar, and the one I chose, is the so-called Light.
6.

Quick Settings

Android already has its section of quick settings (at least in most of its versions) but if you are reading this article, you probably want to know how to make your Android settings look like iPhone settings – that is, to be deployed by sliding from the bottom of the screen, not from the top.
Once again, there are several applications for this, although the one that has convinced me the most so far has been Smart Controller. With this application, you will deploy a control panel very similar to that of iOS by sliding the screen from the bottom. It is very customizable, and you can also use it as a floating button, as well as choose which elements appear in the window.
Did you know already how to make an Android phone look like an iOS system? Do you have your own tricks or use different applications? Tell us about it in the comment section below.
Also read:Best Instagram Photo Editors for Android
Best Video Calling Apps for Android
Best Camera Apps for Android
Best Web Browsers for Android
Best Battery Saver Apps for Android
Best Photo editor Apps for Android
Best Android Cleaner and Optimizer Apps