Last Update: September 2023
Best Root Apps for android 2023 May: First of all, who all still unaware of what is root. I recommend reading the article on  everything you need to know about What is root. Rooting is a practice mainly used for installing unofficial ROMs or moving apps from your phone to your SD. However, there are some apps that can only be used if you've previously rooted your phone, these apps add more usability to our phone and can greatly change the way we use our device. Today in TechinDroid we'll show you the best root apps for Android smartphones and tablets. Also have a look at Best Xposed modules 2021.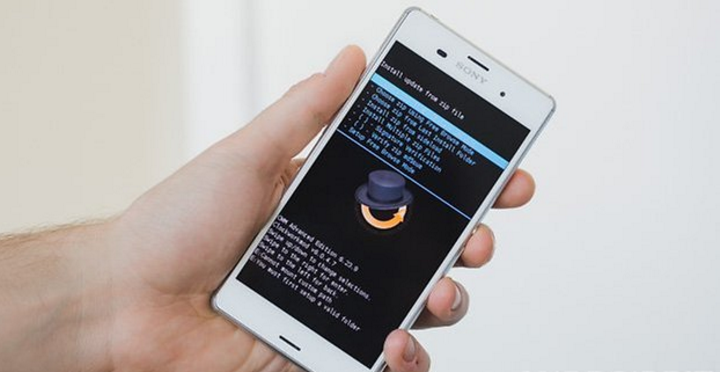 However, the most interesting advantages also Thousands of unique applications for root. So today we offer this list of the Best Root Apps for customization and improve performance of your Android phone 2023 edition you should use.
Best Root Apps for Android 2023
---
Are you ready to customize your smartphone? Because we are starting our selection of the best root apps for nougat, marshmallow, lollipop,  kitkat and jellybean.
1.

ROM Toolbox Lite
With ROM Toolbox Lite you'll take complete control of your rooted phone. It comes with a wide array of options to manage your phone, monitor and change your CPU state, edit the build.prop file, change your boot animation, reset menu, and more.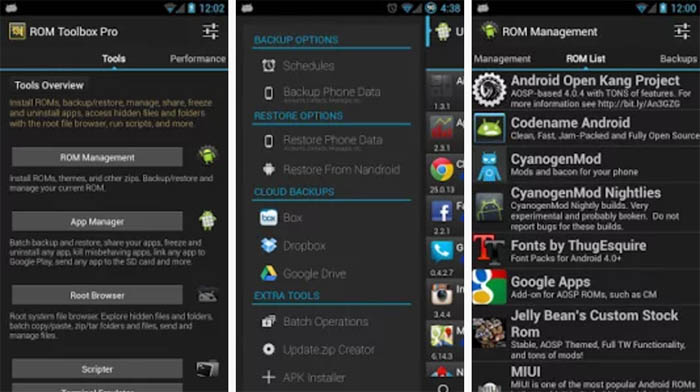 2.

Quick Reboot
This handy application helps you reboot faster your phone, with multiple options like soft reset or recovery mode reboot, Quick Reboot can also add a widget to your home screen or a persistent notification on your notification bar so that you can restart your phone with one tap.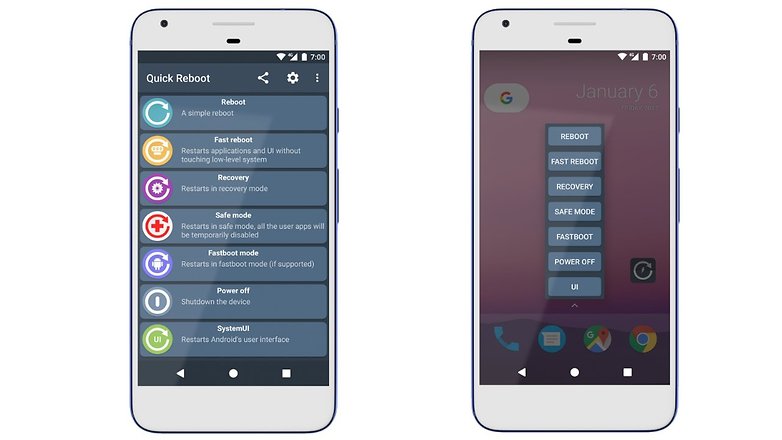 3.

Greenify 

root apps apk
This is perhaps a legacy phone's best friend, Greenify prevents certain apps from running in the background without our permission, saving battery life and memory to our phone, thus making it faster and last for longer periods of time without a recharge.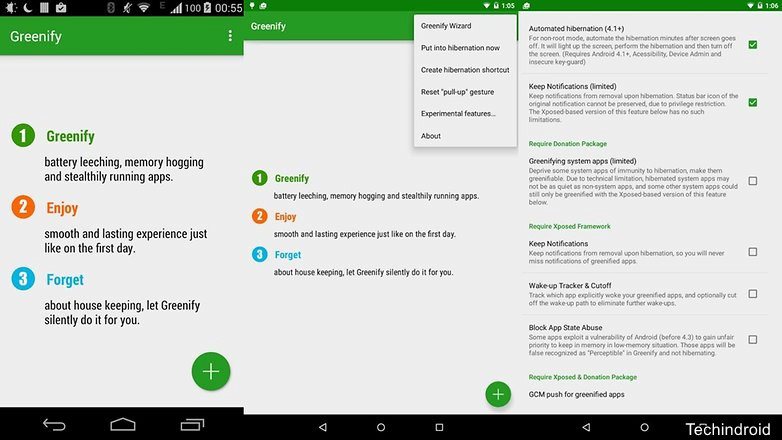 4.

Root Checker
Root Checker is a really simple but useful app, as it name implies, it checks whether your phone is properly rooted or not. This is obviously really important, because there are certain "rooters" that won't really work, making it really awkward when you're trying to change ROMs and find out that your phone isn't even correctly rooted!
5.

Titanium Backup
When thinking about backups we come across the saying "Precaution is better than cure", making sure your data is secure just in case something happens is essential for our peace of mind. Titanium Backup is the best backup app you can find around, with scheduled backups of both your downloaded and system apps -and data- it's one of the best choices around. Titanium Backup offers a PRO version that adds call list, SMS, WiFi networks and more to the backed-up items list, as well as app freezing and cloud-synced copies.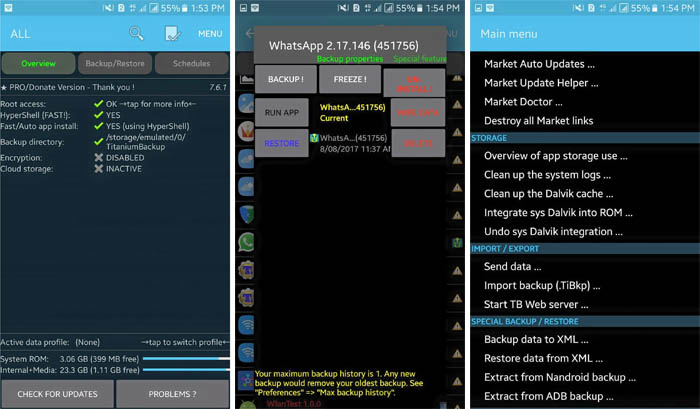 6.

FontFix
A simple to use app that helps us change the font of our phone. It comes with a huge list of fonts to choose from. If you want to take a look at them before you install any of the fonts, go to google.com/fonts and check out the ones you like.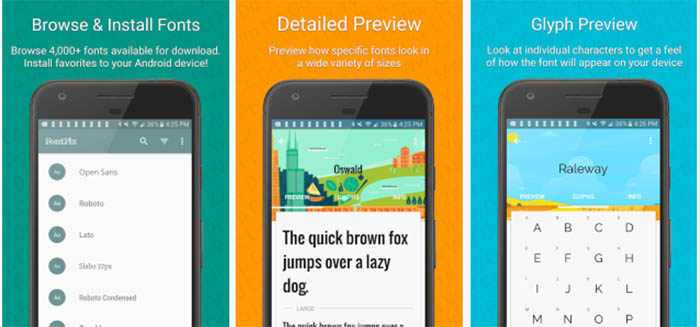 7.

Boot animations
Boot animations have always been one of those silly things you can change to your stock ROM, while custom ROM developers make something original for theirs, you can always add a custom boot animation to your stock ROM with Home animations, the easiest way to use this app is by using a GIF animation as your boot animation, it's quick and simple.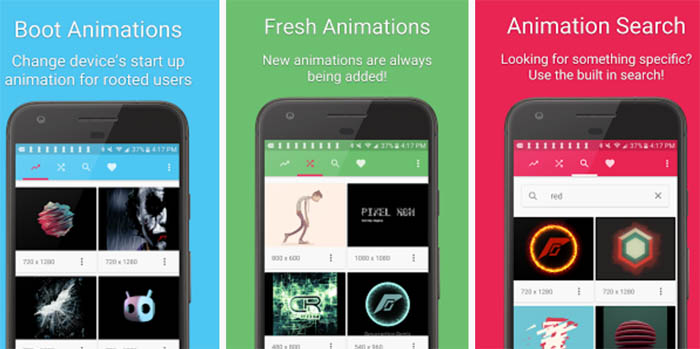 8.

Coolify
If you're the kind of people that like to overclock their smartphone you'll probably know that it can get really, really hot, really, really fast, Coolify takes care of that by arbitrarily monitoring and controlling your CPU temperature to make sure that it doesn't exceed the temp you want.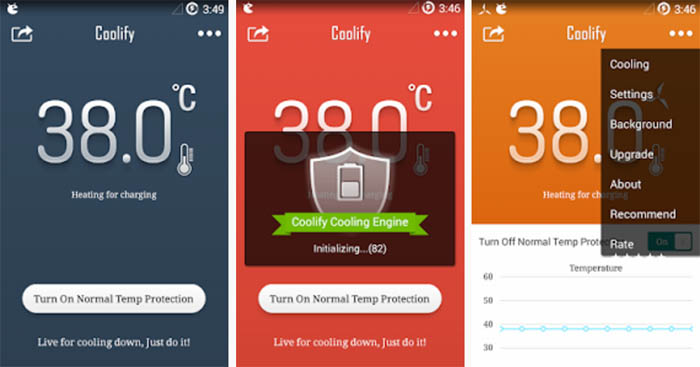 9.

Flashify
Flashify is a really useful app made to flash files without using a Custom Recovery such as TWRP or CWM. You can flash custom apps, mods, and even ROMs! All without having to restart your device. Using this app is really simple, just install it, select the .zip you want to flash and let the application do its work.
10.

kernel helper
This app lets you change the kernel parameters of your Android device. It comes with a simple-to-use interface that can adjust parameters such as the device's GPU or CPU frequency or the screen's color temperature.
11.

MacroDroid – Automation
Certainly one of the most useful apps on this list, MacroDroid is a beast at task automation, also known as setting your smartphone to do manual tasks on its own, such as activating the WiFi when we're at home, increasing the screen brightness when we open our gallery, or muting the device at certain times. The free version comes with up to 5 macros and ads.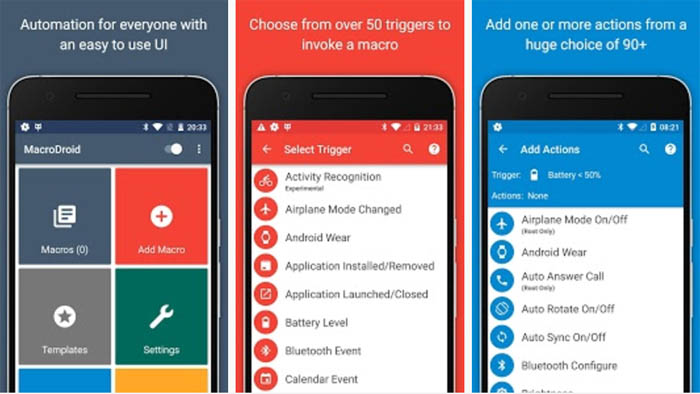 12.

 System App Remover
System App Remover fulfills a simple but hugely wanted task: Uninstall system apps on android. If your new phone comes with a lot of carrier bloatware, Applications Remover deletes them, be careful with what app you're deleting, though, as it may be a critical system app.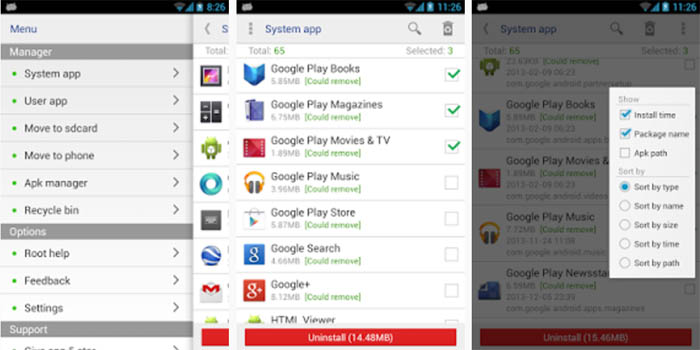 13.

Link2SD
One of the most legendary Android apps ever, Link2SD moves your applications to a UNIX-formatted partition on your SD card, the initial process to use this app can be a bit annoying or complicated for newcomers but, once you've gone through that, moving the apps that are on your internal storage onto your SD card becomes a piece of cake.
If you are good at doing experiments on android you should try our guide to increase internal storage on Android.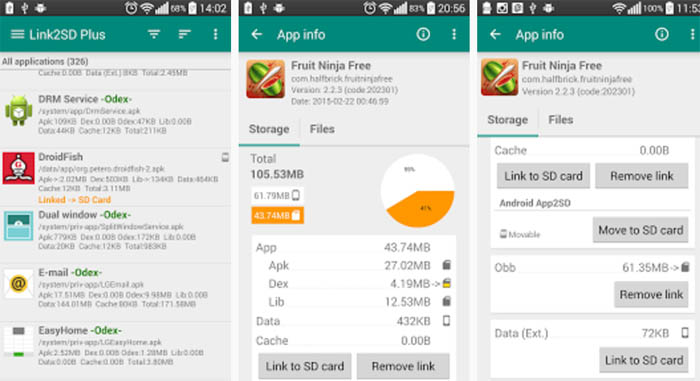 14.

SD Maid – System Cleaning Tool
This application is one of the best Android cleaner. It does almost everything, from moving apps to your SD, to task automation. It's definitely an app that can substitute all of the ones on this list.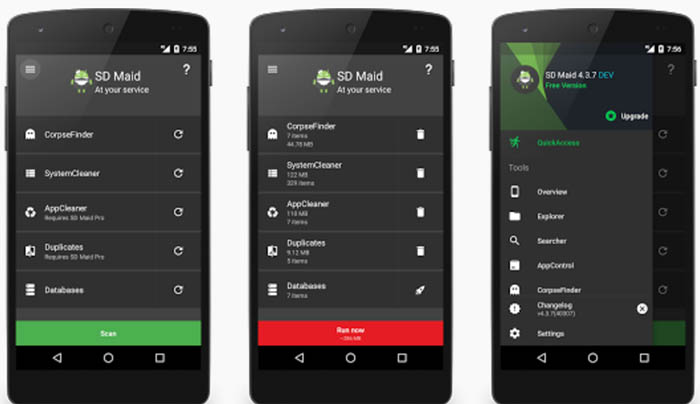 15.

LiveBoot
This application is one for the geeks, LiveBoot makes the initial boot services visible on a log while the boot animation is taking place, so that you can watch what tasks, services, and apps are starting when you turn on your phone, pretty neat, huh?
16.

Pry-Fi
Pry-Fy prevents our smartphone activity is tracked by those who take advantage of our phone almost always have the WiFi enabled. Although Pry-Fi is not a complete solution to monitor our activity, it is a good obstacle that puts it more difficult for "crawlers".
17.

ES File Explorer
There are thousands of file manager applications in Google Play. Its also works on non rooted devices. It does offer unique capabilities for root users. To access them, you have to click on the "root button" and among them is the possibility to explore the phone 's internal memory or delete preinstalled applications.
In the latest versions of this application integration functions as:
implemented in social networks
Greater presence in the cloud or navigation between windows by swipe.
Definitely its a best root app.
Best Root Apps for android 2023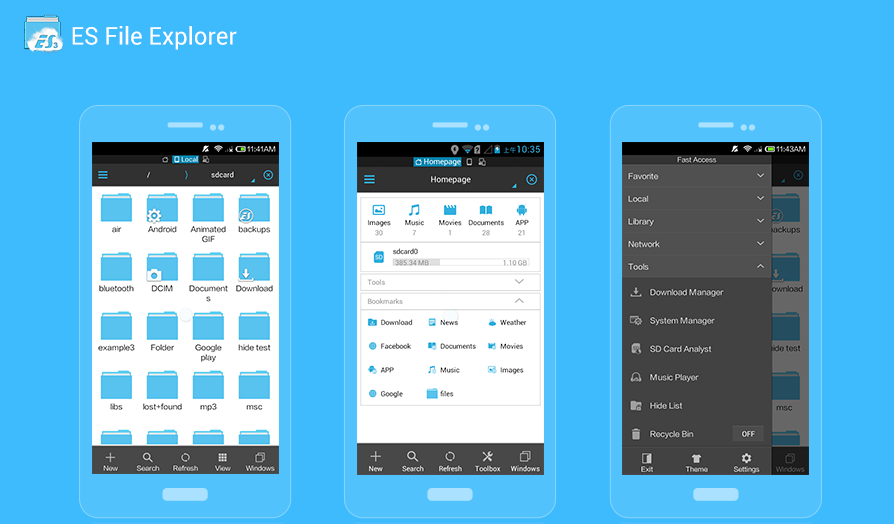 18.

Tasker
This is an interesting application is to set automate tasks. ie, set your smartphone to do alone tasks we usually do manually.
Activating the WiFi when we're at home.
Increase the brightness when we open the gallery.
Mute the terminal in specific periods of time.
The only drawbacks of this application are that it requires Android version 4.0 or higher and is not free but, has recently lowered its price to $ 1.99.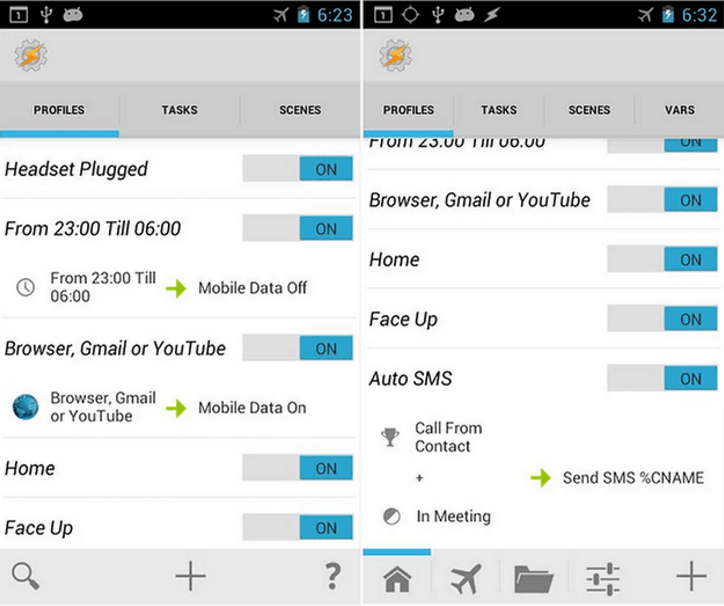 19.

ROM Manager
Among the various features offered by this popular application is that of installing a ROM with all the tasks that implies, backup, make partitions, update our smartphone or install files from QR codes, among others. No doubt it is a very useful application and ultimately allows us to perform those tasks for which a user decides to take root.
Best android Root Apps 2023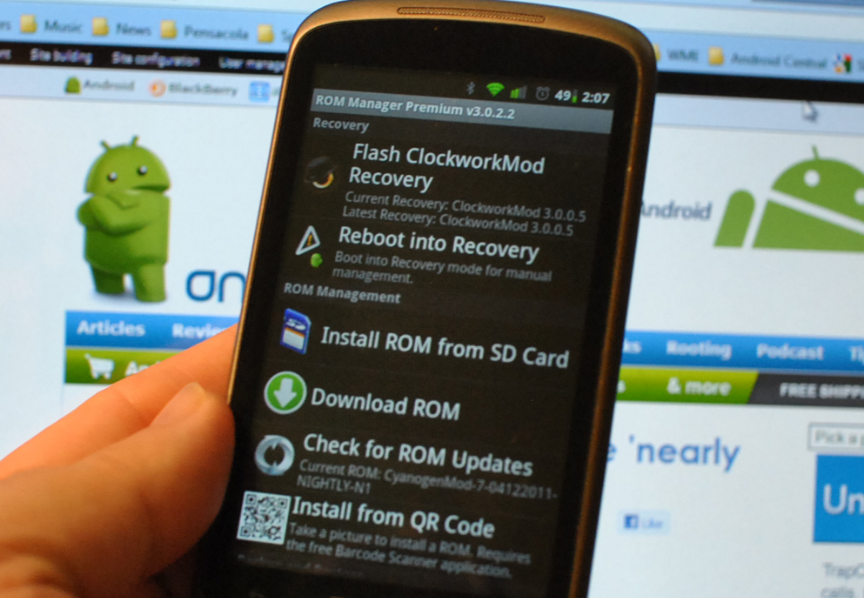 20.

Smart RAM Booster
To finish our collection, I present a useful application designed exclusively to manage our RAM. An aspect that is neglected in most smartphones despite being fundamental. Among the tasks that allows us this application is to eliminate both general and individual processes.
21.

Super SU
Most rooting methods usually install SuperSU in our terminal, so it is most likely that we already have it installed. It is the best app to control the root permissions that we give to the apps on our device, in addition to other features that are really good.
https://supersuroot.org/download/
22.

GMD Gesture Control
GMD Gesture Control is an app for root users that allows you to control the device through gestures (iPhone X style). In this way, we can open files or folders directly using previously established patterns. If we know how to get the hang of it, it can be really practical.
Download GMD Gesture Control APK
I'm sure all these apps are the best root apps of 2023. it's perhaps a bit short considering that there is a whole world of root-only apps out there, if you want to propose an app to us, feel free to leave it in the comment box below, and share this post with your friends if you liked it!