Last Update: November 2022
What could be more horrible than losing the photos you recently clicked when you went on a memorable trip? Literally speaking, losing any precious data from Android can be heartbreaking especially if those items means a lot to you. Pictures and videos always bring back the happy and satisfactory memories that we cannot live without.
However, Android smartphones are very unreliable these days and causes data loss without any particular reason. Basically, if anything goes wrong with your smartphone, the first thing that will happen is data damage whether it is factory reset or system crash or virus/malware attack or even you or your kids may accidentally delete them.
Well, the good news is that with the advancement of latest apps and software, it is possible to recover photos from Android effortlessly. It is not possible for everyone but trust me, most computer experts can restore the deleted data from Android with using just a few tweaks and tricks. We are also about to share those tricks with you in this guide so that you can retrieve the erased photos from your Android smartphone.
1. Recover Deleted Photos from Android Backup.
If you are cautious and smart person then surely, you must have backed up your data. If you really have then congratulations, you are only 1 step away from getting back your deleted photos. Photos, contacts and documents are usually backed up in Google account and you can simply follow these steps to get back the data without any issue.
Step 1. Tap on Menu and open "Settings".
Step 2. Go to personal section and tap on "Google" under accounts tab.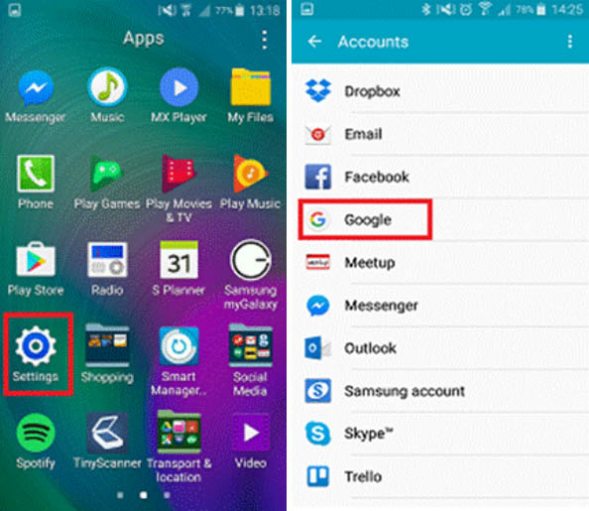 Step 3. Enter your Google account information where you have backed up your previous data and login successfully.
Step 4. Your Android will automatically detect the backup file from your account and will ask if you want to restore the backup file. Simply tap on "Restore" and wait for the photos to be downloaded on your device.
Pros
Easy method. Anyone can do it.
Google is a reliable and sufficient service to work with.
Cons
Internet connection is required.
Photos will be corrupted if the downloading process is interrupted.
2.

 Recover Deleted Photos with Android App
Google Play Store has a huge selection of data recovery apps to restore your photos without any hassle. But be very careful choosing any data recovery app as most of them won't work or ad supported. In this tutorial, we will be using DiskDigger Photo Recovery app to restore your erased pictures.
Step 1. Open Google Play Store on your Android phone and search for DiskDigger Photo Recovery.
Step 2. Launch the app and select the memory location to scan from like internal or external memory.
Step 3. Let the app scan the whole memory slot and once the monitoring process is completed, it will preview all the recently deleted photos.
Step 4. Select all the photos that you want to restore and tap on "Recover Selected Files".
Success! Your album should now show all the deleted pictures normally.
Similar apps – Undelete Recover Files & Data, Photo Recovery Pro, GT Recovery etc.
Pros
Free app. Download it from Google Play Store.
Easy and elegant interface.
Cons
Ad supported app.
Premium features needs to be unlocked.
Conclusion
Recovering deleted photos from Android is really simply if you could use the solutions shared in this guide. You can also retrieve other data with the same methods like videos, contacts, messages, documents, etc. It is highly recommended that you guys must keep a backup of your phone so that if you again delete any data accidentally then at least you will have the option to get them back.