Hello there, this time TechinDroid came up with the guide on (Aol email sign up) How To Create a new AOL Mail account for free. A complete guide about create Aol account which will help you get yourname@aol.com email address.
AOL is one of the most recognized companies on the Internet and it was one of the first to enter and thrive in the online business. With their headquarters in New York, AOL was founded in 1985 and has since been diversifying their businesses until the enterprise was acquired by Verizon Wireless in 2015. create aol email
AOL e-mail is also known by the name of AOL Mail. Although it initially was designed for the American market and it uses the English language, there is also a mail service for the Latin American market. AOL Mail is a direct competitor of other email services as well known as Gmail, Yahoo! Mail or Outlook, and it allows free email creation. AOL e-mail is also closely linked and integrated with AIM, its instant messaging client and is easy to create AOL account.
AOL Mail Features
It lets you send and receive e-mails.
You can block people and AIM conversations.
It has a calendar function. You also can print it.
You can adjust your time zone and your hour clock.
You can create, rename and delete your folders for better organization.
It has an app available for Android, iOS and Windows Phone.
It has a spam filter.
It has two-step verification.
It has unlimited storage space.
You can attach files, photos, and videos up to 25 MB of total weight.
You'll need:
A computer with Internet connection.
A browser to access the Internet.
A few minutes of your time.
AOL Mail Sign Up / Create AOL Mail account in 2020
---
Now you are ready to go, learn how to create a new AOL email account by following our step by step guide with pictures.
Steps to follow for Creating AOL Email Account [Aol mail sign up]:
1.) If you want to create AOL email account on mail.aol.com, access this AOL mail sign up page: https://mail.aol.com/. In the right side of the website, you will see a pop-up window like this one. Click on the option Get a Free Username.
2.) Here, you will be redirected to the typical form where you have to enter the data you are being asked for to create AOL email or sign up for AOL. As you can see in the screenshots but, even if you don't understand a lot, don't worry – we're here to guide you with create AOL email account.
3.) In the Name field, enter your full name.
In Pick a username, you must choose a nickname (username) from the ones that are available.
In Create a password, you need to enter a secure password (numbers and lowercase/uppercase) and write it again in the Confirm password section.
In Date of birth, you'll have to put your birth date by selecting the month in the Select month option, your day of birth in Day (two digits) and the year in Year (four digits).
Next, you put your gender in the Gender>Select gender section (you must choose between male and female).
In Zipcode, you'll put the zip code corresponding to your location. In Set a Security Question, you'll put a security question that you can use later to recover your account, and in Type in your answer, you write the answer to said question.
In Mobile phone you put your phone number – please note that you must verify your account using that number. In the Alternate mail section, you will put another mail account in case you have it, as it is yet another security measure. Once you finish everything, click on Sign Up. 

sign up for aol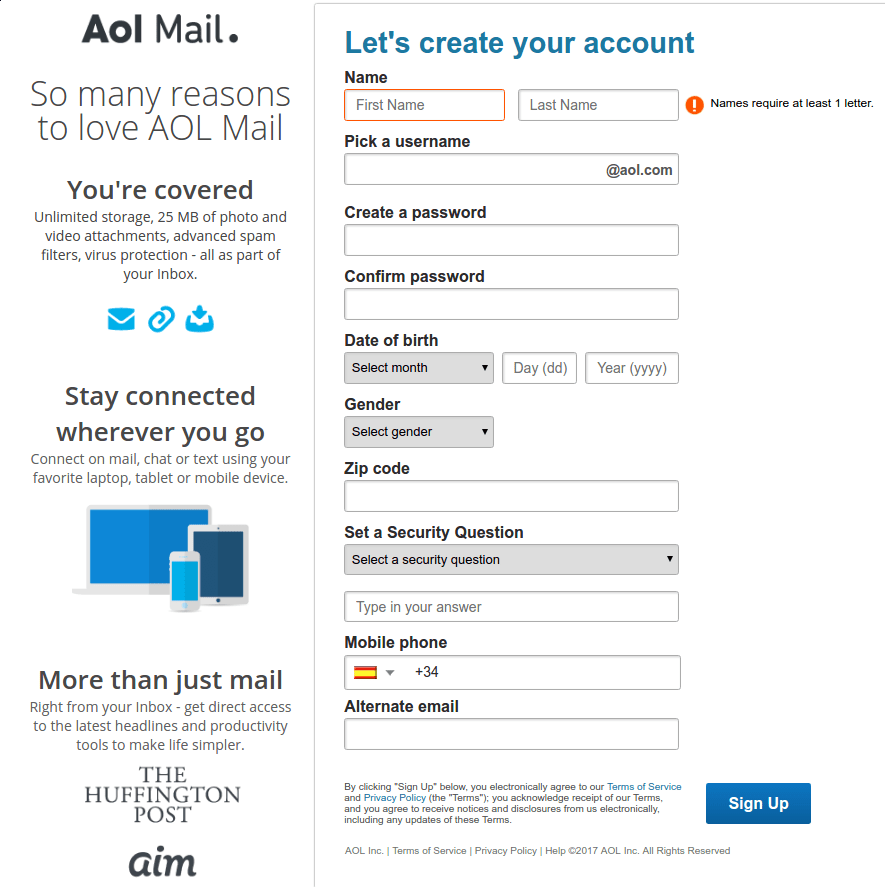 AOL create account
4.) After that, AOL will send a text message (SMS) to the phone number you gave, with a 6-digit code. On this screen, you must enter this code and click on Finish to move forward the next step of Aol mail sign up.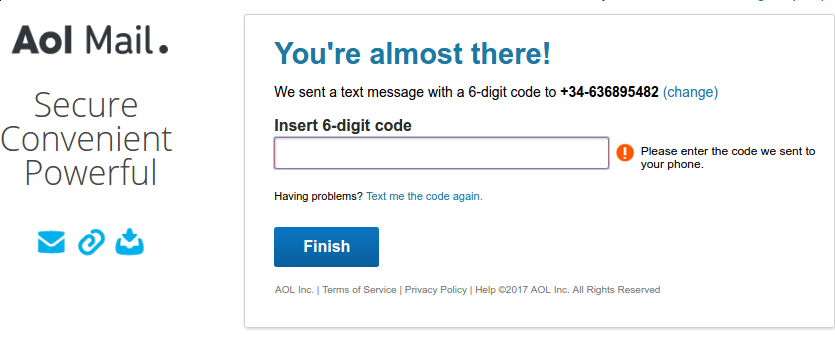 Note: In this screen, you can still change your mobile phone number in case you put it wrong before. Just click on Change create email address aol
5.) They will also send an email like this to your alternate email account, so you can check your AOL account from there and access both accounts without issues. Click on Check my email address. A page will open in your default browser to confirm your account.
6.) The last step to create AOL email address, AOL shows you some of the information you provided in the previous steps. If you want everything stored in a safe place, you can print it. Click on Print this page if you want to do this. Once you're done with everything, click "OK" to finish Aol mail sign up!.
Meta keywords: sign up AOL, free AOL email account, AOL register, aol.mail sign up, aol.com sign up, aol.com email sign up.
How to Log in to AOL email
To log on to AOL Mail you must enter mail.aol.com. Enter your email and password and then click on Next.
It is possible that before you can access your new mail account, you will be prompted to answer the security question you previously put when you were registering. After you answer the question, click Next to continue.
Once you're done with this last step, you will be able to enter your email account. On the left side, you can find a couple of options: you can click on New to create a new message or choose to check the folders below. You'll find a search feature, and the ability to personalize your mail. In the bottom left, you have a chat and an option to stay connected after the session is closed automatically.
See also:
Conclusion of Sign up for AOL mail
Overall, the AOL email service seems very good for personal use. I have not found any other inconvenience. Its clean and clear interface is something that helps being selected as a good candidate if you want to create a new mail and it doesn't matter where you live in! This AOL email sign up guide will work on US, UK, CA and DE well. We hope opening new account on AOL is really easier task as like the story of hotmail signup! What do you think about this guide? Do let us know in comments section. If you found this article helpful share this article on your social profiles, Thanks for reading!