Last Update: November 2023
Hotmail is no longer available, If you have a hotmail email account learn How to login to your hotmail email account and manage emails. In TechinDroid we will show you the way to sign in / sign up for a hotmail account.
With the Hotmail login, you enter Hotmail (now Outlook) with just a few clicks of your mouse and gain the ability to use Microsoft's free email services. All you have to do is enter your username and password at the Hotmail login screen to proceed to your [www Hotmail com] email account.
Hotmail was an e-mail service from Microsoft and was installed on many computers, especially in the late nineties and early 2000s as an essential part of the Microsoft Networks (MSN). At its peak, Hotmail had over 12 million users, making it one of the leading web mail service providers in the world.
Does hotmail still work? Since 2013, however, Hotmail no longer exists: it was replaced by a new, faster and better mail service: Outlook.com. The practical part: You can continue to log in to the Hotmail login and use the new Outlook services with your usual e-mail address.
Hotmail Login: Log in to Hotmail account (Sign in)
---
If you want, you can also convert your old Hotmail address into an Outlook address but, this only works in one direction: an Outlook address can not be changed back into Hotmail afterwards. No matter which address you use for the msn Hotmail login, the process itself is in principle always the same.
How to sign in to Hotmail:
1.) At first, go to login.live.com or www.hotmail.com in your web browser.
2.) If you go with the first url, that will directly land you on the msn hotmail login page. If you go with second link then you will be redirected to the outlook page Click on "Sign in", this will land you at the Hotmail login screen. You can enter a Hotmail or either an Outlook address there and Click "Next".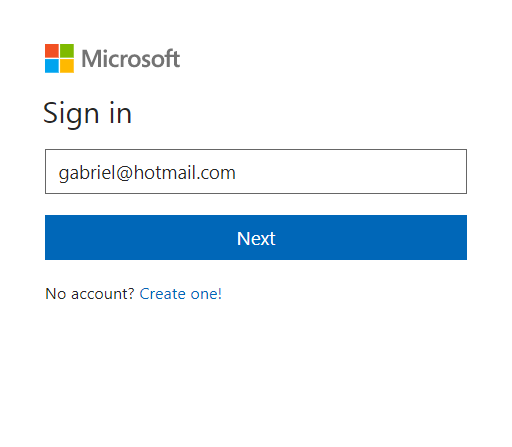 www.hotmail.com sign in
3.) Now you'll be asked for enter your Hotmail password in the hotmail login page.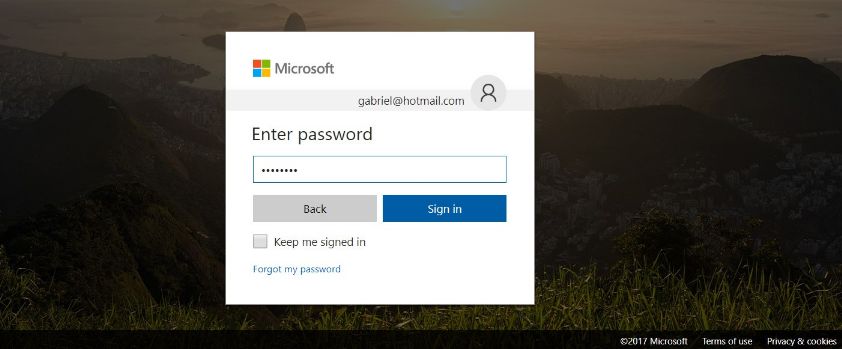 msn hotmail sign in
 Note: Don't be confused by the heading Outlook and the name Microsoft account: your hotmail account login will work anyway, since outlook also works with Hotmail addresses.
4.) Once you're done typing, click on "Sign in". You'll get access to your Hotmail mailbox and will be able to receive emails, send them and upload documents.
If you've changed your Hotmail address into an Outlook address, you'll notice a new folder in your Inbox tab. In this folder, named after your old mail address, you will receive every email sent to your old mail address. This is done for comfort purposes: this way you can be sure that every new mail in your mail folder is sent only to your new address, avoiding spam and junk mail.
Hotmail Signup | Sign up for Hotmail email account 2023
---
If you don't have a Hotmail mail account, you can also sign up for hotmail. In this way, you can create a new Hotmail account for free. Instead, you get an Outlook mail address that is linked to your Microsoft account.
The registration is also via same website login.live.com or www.hotmail.com. For the registration you need to have a Microsoft account.
Click on the button "No account? Create one!".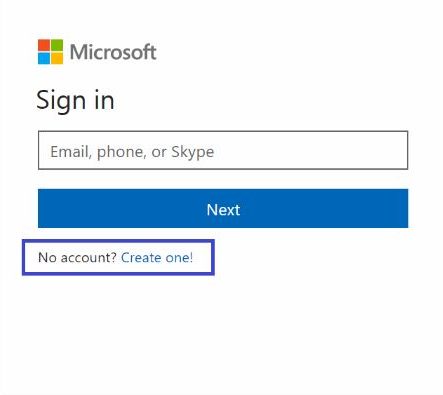 Type a Hotmail address in the field. This must be a unique name for your email address and your ID which you will have to use for login. Password should be a combination of letters and numbers or symbols that mean something to you and that is easy to remember.
Select " hotmail.com " from the dropdown menu.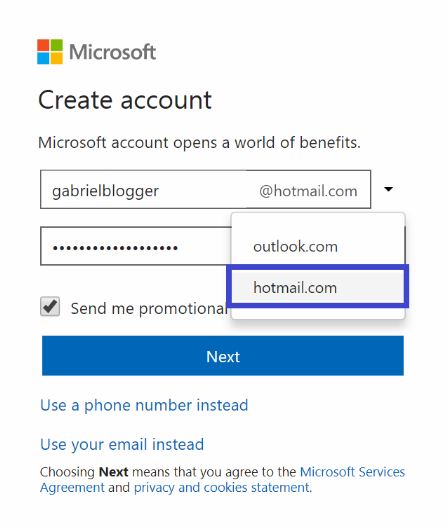 Click "Next" and follow the instructions on the screen. That's all, as you can see how easy is that to sign up hotmail account.
Hotmail is no longer available under the same name. For now Outlook service replaced it. Don't get confused into thinking that Hotmail and Outlook are different services, though! Both are the same, it's just that the former is now discontinued and the latter is the active one. If you still have a Hotmail account, you can login to your account by signing in at Outlook.com, And also be able to create a new Hotmail mail account. Read more articles similar this one AOL Mail Sign Up.