Last Update: May 2023
You are not happy with the features offered by Mailbox for iPhone or iPad. TechinDroid created a list of useful e-mail apps for people who want to manage their e-mail with the apps like mailbox or to simply say read our reviews for get a good Mailbox alternative that you like.
Mailbox was one of the first apps with which you could deal with managing your e-mails. Your productivity went by leaps and bounds: A wonderful thing! Mailbox was introduced an easy swipe feature. With this feature you can manage the conversation by just swipe on the e-mail (right to left).
Mailbox email | Mailbox App Alternatives | Mailbox App replacement | Mailbox replacement.
Mailbox and similar apps such as Taskbox and Seed Mail that born in the same period have had a lot of influence among the e-mail apps with the similar features offered by mailbox. So you don't like to relay on that mailbox app,  you should opt for other e-mail apps having all sorts of useful features, features and even more customizable than the mailbox app.
10 Mailbox App Alternatives to Replace Mail App on iPhone & iPad
---
Apple, Google and Microsoft have partially taken over all these new features in the Mail, Inbox and Outlook apps. But, there are even more competitors. These are the mailbox alternatives that can replace Mailbox.
1.

Airmail
Airmail is a relatively new app on iOS but, the creators of this app had been active on the Mac for a long time with an e-mail app of the same name. Airmail does not contain revolutionary innovations but, focuses primarily on flexibility. You can really customize everything in this app, from the side menu in the app to the icons. The order of emails, counters, account colors, you can choose everything yourself. At the same time, the app is also very handy to newbie users. You can configure the swipe actions you want to perform in Airmail. That is nice, because with that you can ensure that Airmail works just like Mailbox. You can even make some adjustments in the swipe actions, if you want.
This app is our favorite mailboxapp replacement, Airmail let you completely customize their e-mail app like modifying the menus and the swipe actions themselves.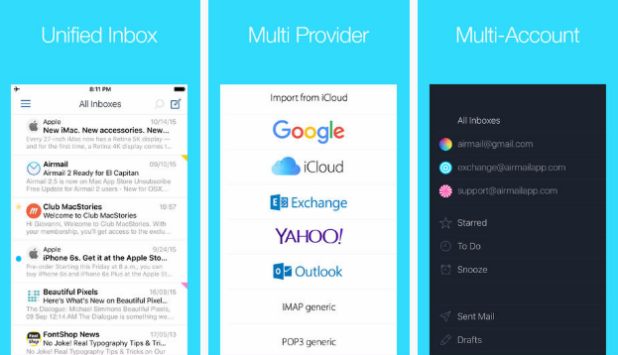 2.

Spark (Readdle)
Perhaps the best-known e-mail app from a non-multinational. Readdle is a relatively small player from the Ukraine, in recent years has become a major player in productivity apps for iOS. Spark does not focus so much on scheduling e-mail to be send later but, mainly looks for wide range of features. There are a lot of useful features such as smart search, cooperation with tools like Google Drive and Dropbox, respond quickly without typing and smart notifications, so you are only get notified about important mails. Spark also has an Apple Watch app, a widget and all sorts of personalization options. You can even save e-mails as a PDF so that you can easily archive them. Its also available for iPad.
This mailbox alternative is for whom? Not so much for people wish to have inbox clean but, people who have to deal with large amounts of e-mail and want to organize.This app do this job easily.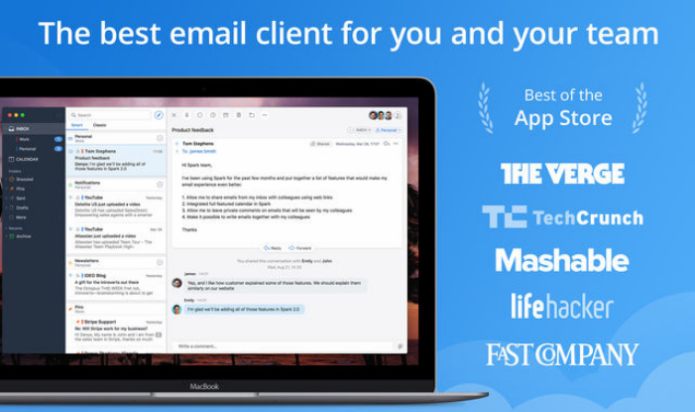 Available for iPhone, iPad

3.

Mail app (Apple)
Apple Mail: swipe for more actions Apple took over the swipe gestures in the Mail app, but does not offer you the possibility to schedule emails. The only option you have is to mark a message for later reply but, until then the message will remain in your inbox. So no inbox zero.
For whom? People who are simply looking for a basic mail app and are not looking for a lot of extra features.
4.

Outlook (Microsoft)
We all know Outlook is one of the free email service from microsoft. Why this app is so good? Because Acompli was one of the best mail apps for the iPhone before Microsoft took over. Acompli formed the basis for this app, with which you can schedule emails. Swipe right over a message and you will see the Schedule option. With that you schedule the answer to a later moment, on which it is more convenient. Outlook also contains all sorts of other useful features and is really not only Available for Outlook.com and Exchange. You can also manage Apple's iCloud mail, Gmail and any IMAP mail services in this app.
Also read: How to Login to Hotmail account.
For whom? Actually for everyone, not just for people who use Microsoft products. This all-round e-mail app is very complete and has enough to offer for people who find productivity important.
Available for iPhone, iPad.

5.

Gmail (Google)
You really do not need the official app if you want to read your Gmail on the iPhone . Almost every alternative app is Available for Gmail. What this app is especially good at is offering the basic features. Simple, effective. For example, you can organize your emails with archiving, labeling, adding stars and reporting spam. But, you can not swipe to schedule a message. For that, Google has a completely different app, which comes next.
For whom? Gmail fans who do not want too much hassle.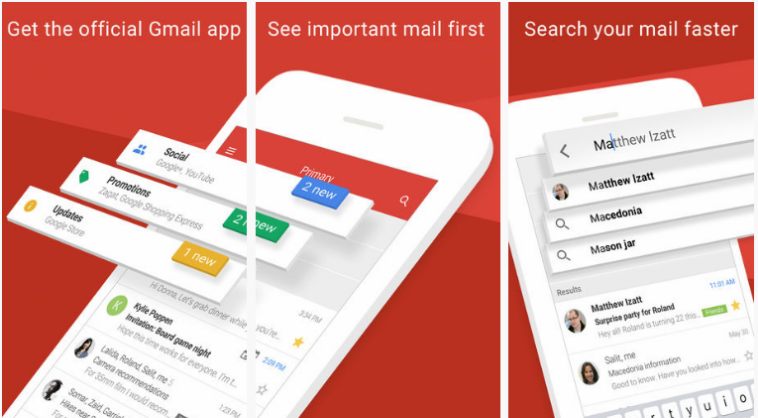 Available for iPhone, iPad

6.

Inbox (Google)
In Inbox by Gmail it is possible to snooze emails. You can even view a separate list of 'Snoozed', in which all delayed e-mails are listed. Per day and per location, so you can immediately see which emails you want to edit tomorrow and at home. If you swipe a message to the left, a clock will appear with which you can set the time. There are even more useful features, such as bundling of similar emails, memories and highlights.
For whom? People who want a lot of functionality. The smarter brother of the standard Gmail app has more to offer and is a great mailbox app replacements.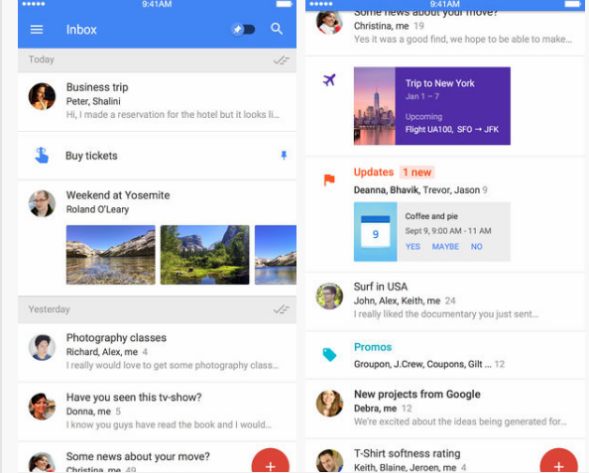 Available for iPhone, iPad
7.

Dispatch
Dispatch is meant to easily manage your e-mail on the go. For example, do you always have to type the same answer? Then you can create snippets, so standard answers with which you can respond quickly. Optionally you can let Dispatch work together with TextExpander, with which you can manage longer standard texts. The strong point of this app is the cooperation with 55 other services and apps. This allows you to archive important e-mail in Evernote or send interesting e-mails to Pocket for later reading. We could not find any features to schedule e-mail.
Also read: How to Create a New AOL Mail.
For whom? People who want to get rid of their e-mail as quickly as possible by archiving. You do this with handy sweeping movements and mainly respond with standard text blocks.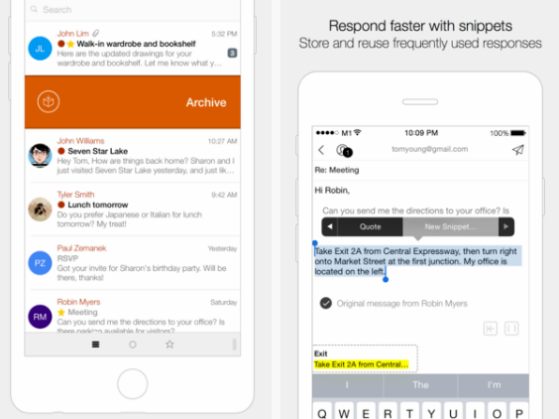 Available for iPhone, iPad
8.

Newton Mail
This is one of the few apps that you can protect with a pin code so that others can not get in to your mailbox. This can be useful if, for example, you often give your iPhone to the children, to play a game. You can also remotely erase your data if you lose your device. With the interactive notifications you give immediate answers to incoming emails, without opening the app. CloudMagic offers you the possibility to forward incoming e-mail to apps such as Wunderlist, Trodoist, Evernote, Trello, Asana and the like, so that you can create a task right away. This way you can schedule e-mail to a later time, although it will mainly concern tasks that arise from the e-mail and not so much about answering the e-mail itself.
For whom? People who look for a privacy and want to protect their e-mail. People who immediately answer their e-mail but, want to immediately schedule the resulting tasks as todo.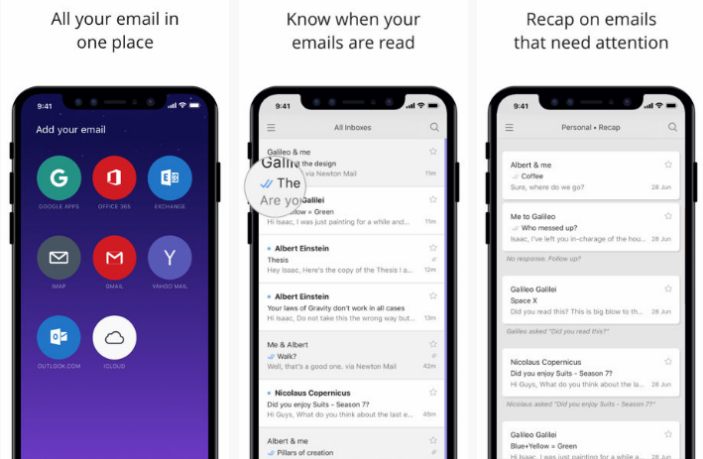 Available for iPhone, iPad.

9.

Boxer (Bodkin Software)
There are two variants of Boxer: a paid and a free version. Here we look at the paid version, because it offers the most features. Boxer has a little bit of everything: you can set a pin code and provide your data with encryption, you can forward e-mail emails to Evernote or convert to a todo. And there are also calendar features, contact lists and availability features. The strong point of Boxer, however, is that you can adjust the swipe actions. While you're stuck with the standard set of other apps, you can choose at Boxer whether you want to erase, archive, mark as spam, plus 9 more actions.
For whom? People who want a bit of everything. Security, adaptability, links to task lists, return standard responses. All the features you've seen with the other apps above, Boxer also offers a bit. Not perfectly worked out, but it is there. Subordinate positions are somewhat less important for Boxer.

Even more Mailbox App alternatives
In addition to the apps we mentioned above, there are more possible alternatives. Also check out this once, if you're looking for a good mail app:
SlideMail – Email app for Gmail, AOL, Exchange, iCloud (free, iPhone, iOS 8.0+) – A thinking e-mail app. Unfortunately no Mac version.\
Unfortunately we can not show the right data at this time, Download – Makes your mailbox simpler.
Unibox (free, iPhone / iPad + IAP , iOS 9.0+) – Organizes your inbox per person.
Unfortunately we can not show the right data at this time, Download – For people who want to organize extremely.

Triage: Email First Aid (€ 2.29, iPhone, iOS 9.0+) – A mail app for busy people.
Hop (free, iPhone / iPad, iOS 9.0+) – Turns your e-mail app into a chat app.
Among these alternatives to mailbox app which do you advise? Which apps do you switch to? do let us know in the comments section. Thanks for reading.