Recent Update: September 2023
TechinDroid Conclusion on YouTube Downloader Windows 10 App Fortunately, unlike other YouTube downloader programs, there is no download limit and also work with windows 10 PC. But, the app is infested with excessive advertising.
YouTube Downloader for Windows 10: YouTube is the one of the largest video sharing website in the world, Now a days YouTube is becoming a part of everyone's life we can get anything want on YouTube such as recipe guides, news, game plays, songs and much more we can watch YouTube videos anytime we want to but, we need to have a internet connection to play them online or using app since YouTube natively doesn't not have option for downloading videos. However this can be done by Third-party downloader tools that made for youtube, in this article Techindroid will list them with the deep reviews that pan out their features, pros and cons.
Also read:
Best Free YouTube Downloader for Windows 10 2023
---
You can pick one of the YouTube downloader for windows 10 that meet your needs, we have listed in this article.
1.

 YouTube Downloader for Windows 10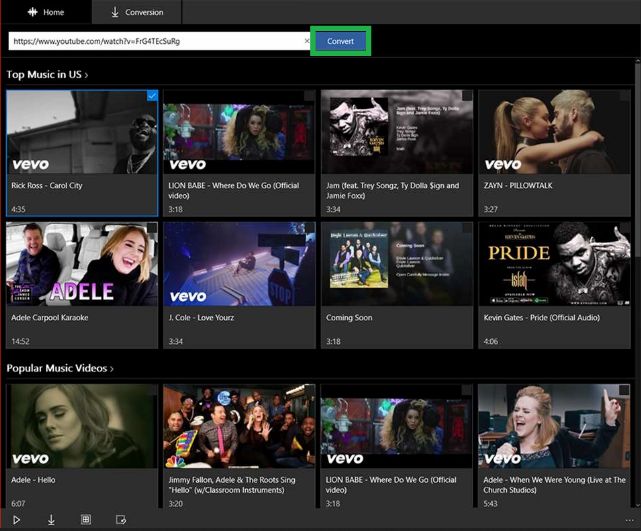 With this YouTube Downloader app for Windows 10, you can easily download and convert videos from YouTube. This YouTube video downloader free not only download YouTube videos: SoundCloud, Vimeo, Dailymotion and Instagram are also in the list of its supported sites.
YouTube Video Downloader: a Windows 10 app that let you download Online Videos
If you want to have music or videos from YouTube, Soundcloud and Co. in your computer while offline, you can now use this free Windows 10 app. The tool downloads up to 99 songs in parallel and stores entire YouTube playlists and channels in just a few steps on your computer.
Among other things, MP3, AVI, WMA, MP4 and other formats are supported. Also downloads in HD quality are possible. The app has a built-in search engine and its own video player.
Pros
Easy selection.
Faster download.
Cons
2.

WinX YouTube Downloader
WinX YouTube Downloader lets you download video music from YouTube, Facebook, Dailymotion, Vimeo, Vevo and 300+ sites, save video in different formats (MP4, FLV, WebM, 3GP, etc) and different resolutions (Up to 4K/8K)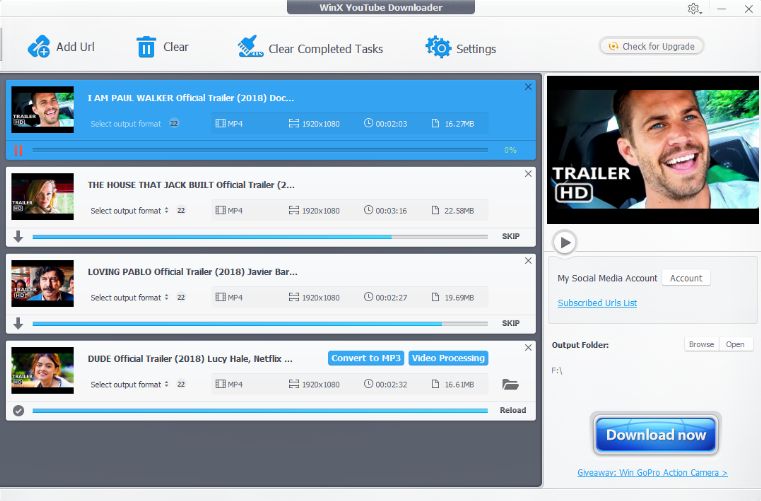 Using freeware is as easy as it gets, only 3 steps you can save the video on your Windows PC for offline viewing or further edit, convert it into a format that can be played anywhere, anytime.
Do not forgot that WinX YouTube Downloader is 100% free, clean, no ads, no malware and is compatible with Windows 10/8/7/Vista/XP. This is the best free YouTube downloader for Windows you were looking for!
2.

Youtube Downloader HD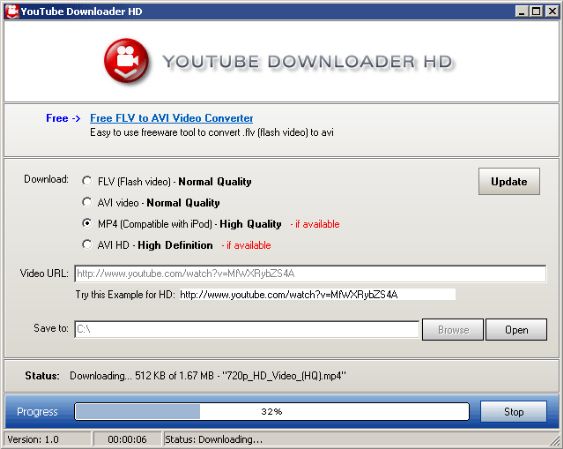 With the ad-supported freeware Youtube Downloader HD you can download videos from the online video site YouTube, convert them and save them locally on your computer.
From the Internet directly to your hard drive: If the desired movie video or music video is available online on YouTube in HD, you can download it directly on that quality. To start the download, copy the video URL in the browser and paste it into Youtube Downloader HD. Then just click on "Start" to start the download.
Before the download starts, you should specify in which file format you want the video to be converted. This app offers AVI, AVI HD, FLV (Flash) and MP4 formats. The latter is generally appropriate, as many media players and mobile devices read and use the MP4 format. This is especially true for iOS mobile devices like iPhone and iPad, which, for example, don't support Flash. In addition, Flash support is getting worse and worse because of potential security risks and is therefore not recommended and not really suitable for conversion. The destination folder for the downloaded and converted movie videos as well as music videos can be specified in the options of Youtube Downloader HD, so that way you can save them to an external hard drive and later connect it to your TV for watching them as you want.
Portable Download manager for you to use everywhere: In addition to the setup version to install, Youtube Downloader HD offers the user a portable version that doesn't need to be installed and can be started from an USB stick. This way one can use the Youtube Downloader HD on other Windows computers without having administrator rights.
With the Youtube Downloader HD app only one video can be downloaded at a time. Each time you want to download a new video, the link to the YouTube video has to be manually written and selected. This can be annoying in the long run. Youtube Downloader free download for windows 10 link given below.
If you don't want to download an app, you can use the free web app savefrom.net to grab any video you need or like. Here, you simply enter the link of the desired video and immediately you will be prompted to download it in the format of your choice. And this is the end of our list we hope these freewares help you with download YouTube videos on windows 10 Pc or laptop instantly.