Are you looking for officially Update your PC or laptop to Windows 10 Creators Update?. You have came into right place; In this article we'll show you how to officially update to Windows 10 creators update. Also read our previous article How to Change the Wallpaper on Unactivated Windows 10.
Windows has been in the spotlight for the past few days as the greatest update of Windows 10 is around the corner. Windows 10 Creators Update is a series of updates aimed at content creators such as writers, artists and other media makers. Its release date was April 11, but ISO leaks via the Insider Program have been released, however, the update is officially available via the Microsoft windows 10 creators update assistant.
How to Get Windows 10 Creators Update Right Now
---
You don't have to wait for a system notification to download and install the Creators Update, just follow these steps to get it before everyone.
1. Let's download and install the Windows Update Wizard which is available on the Microsoft website: Microsoft Web Update Wizard.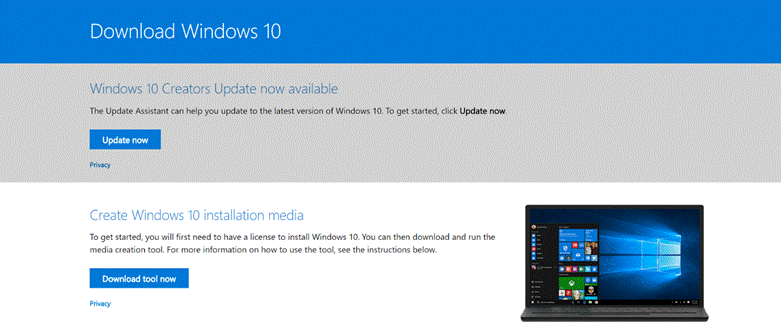 2. Get on the program, click the 'Update now' button and the update program will begin to download Windows 10 creators update iso.
3. And follow the further steps and that's it! Keep in mind that this process will take a while, as it is a big update and Windows sucks at them.
Things to do before upgrading Windows
Of course, before you launch yourself into the upgrade mode, you should keep in mind these next few tips to make the process of updating as easy as possible:
● Free up as much storage space as you can before you update.
● Even though updates keep your files and third-party programs intact, a backup is advisable just in case something bad happens (Murphy's Law, guys, Murphy's Law).
One exciting feature Microsoft has unveiled recently about the Creators Update is that you can change the options about what data Microsoft collects from you, this will definitely improve privacy standards. Also checkout windows 10 product keys.
Also you can update directly from windows update settings if your system officially received the update, To check your system eligibility Go to Start menu > settings > Update & Security. Now click on Check for Updates.
The Creators Update is a huge one, it will bring a whole new sea of possibilities of artists worldwide and keep cementing Windows 10 as the go-to OS on the market. We hope this post was useful for you, feel free to leave your opinion on the comment box below and share this post with your friends!