A Browser that Protects your online privacy without having to install or Configure anything.
Cliqz is a privacy based web browser that hides our footprints on the web. Its available for Windows, Mac, Android and iOS platforms. Also Cliqz is available as a browser extension.
You may Also like:

Best anonymous secure browsers 2017.
The battle for privacy on the Internet is booming. The minimum guarantees that the Internet users are disappearing little by little. The most recent case we saw yesterday, when the US Senate voted for operators to sell their user's data.
Cliqz can Protect your Privacy as Best
---
Its inevitable that we will see similar cases in the rest of the world. The larger companies, hire operators to trace internet giants. And have discovered them. Its an easy and continuous source of money. That's why browser tracking protection is essential to everyone.
Cliqz is a company that research about how the internet sector is changing & how the user's privacy affected by a ordinary browsers. They also developed an extension called Ghostery. Its a best privacy extension for Chrome and Firefox.
Ghostery blocks external server requests, Which used to track the web. It is an extension that received the admiration of Edward Snowden. So little more we can say of the security that offers.

Ghostery, Snowden using this extension  to avoid crawling on the Internet, is now better than ever.
Cliqz, the browser focused on privacy with everything pre-installed by default.
Cliqz browser
---
Cliqz browser (based on Firefox) now has the built-in Ghostery anti-tracking technology. In addition We do not have to do anything, with the newly installed browser we already have everything you need to browse safely.
The menu that next to the address bar brings together every tools we need to protect ourself. At first check the Ghostery anti-tracking is working by visiting any website. It will monitor how many requests has blocked.

In addition, we have the option to activate the ad blocker. Its disabled by default because Ghostery will block malicious advertising. But, You can enable it if you want powerful AD-Blocking.
Cliqz also has a phishing detector included. This feature will give complete browser phishing protection by filtering pages. In addition, the browser will request pages over HTTPS whenever possible. So our connection will be encrypted.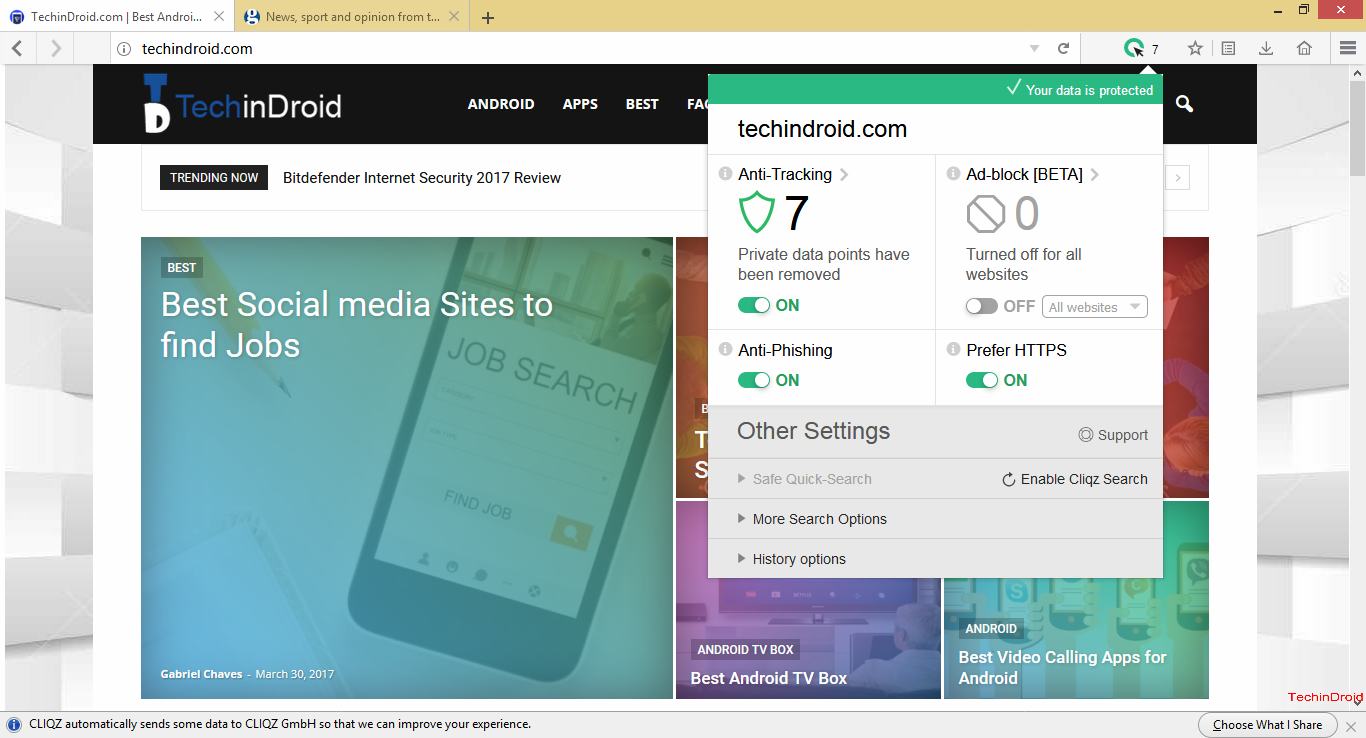 Cliqz not only just a privacy browser. It also boasts an intelligent search, which presents content that may interest us as we write. This browser is available in English, German and French.
Cliqz is a Firefox based browser that will protect us on internet by its tools. Although we can convert our ordinary browsers (Chrome/Firefox) by installing these extensions Ghostery, an Adblock, HTTPS Everywhere. The tendency of the sector will be to include these tools always by default. Cliqz is available for Windows, Mac, iOS and Android.