Google Play Celebrates this Easter with discount in-app Purchases games. Easter just days away, Google Play offers in-app purchases on many popular games.
Google play offers a spring bid for this Easter, which will surely enjoy a few days without doing anything while you use to distract with all the games on your mobile. Well, pay attention: The Google Play Store opens its spring bids with a selection of promotional games. They aren't direct discounts on the download price, although it does offer discounts on in-app purchases.
How To Get Paid Apps & Games for Free on Android.
Deals of paid apps for less price are gone. Google doesn't usually do this type of seasonal campaigns, although it does point to weekly promotions and free paid apps. Although not so succulent, these offers in-app purchases may interest you.
Google Play Easter Sale 2017
Spring Deals on Google Play with Rebates on in-app purchases
---
All selected games are has more than millions of downloads on google play. They offer a lot of fun and coincide in betting on the free download; As well as in-app purchases as a means of monetization. The list of games offered is very varied: from Angry Birds 2 to Asked. Google Play deals 2017
The "Easter Package" promo varies depending on the game but, usually is around 50-60% reduction on the cost of shopping within in-app purchase. Not all the options of the games are offered but, the ones that demand the most among the players. This makes it easier to move forward without having to repent excessively for what is spent.
List of in-app purchase discount Applied games.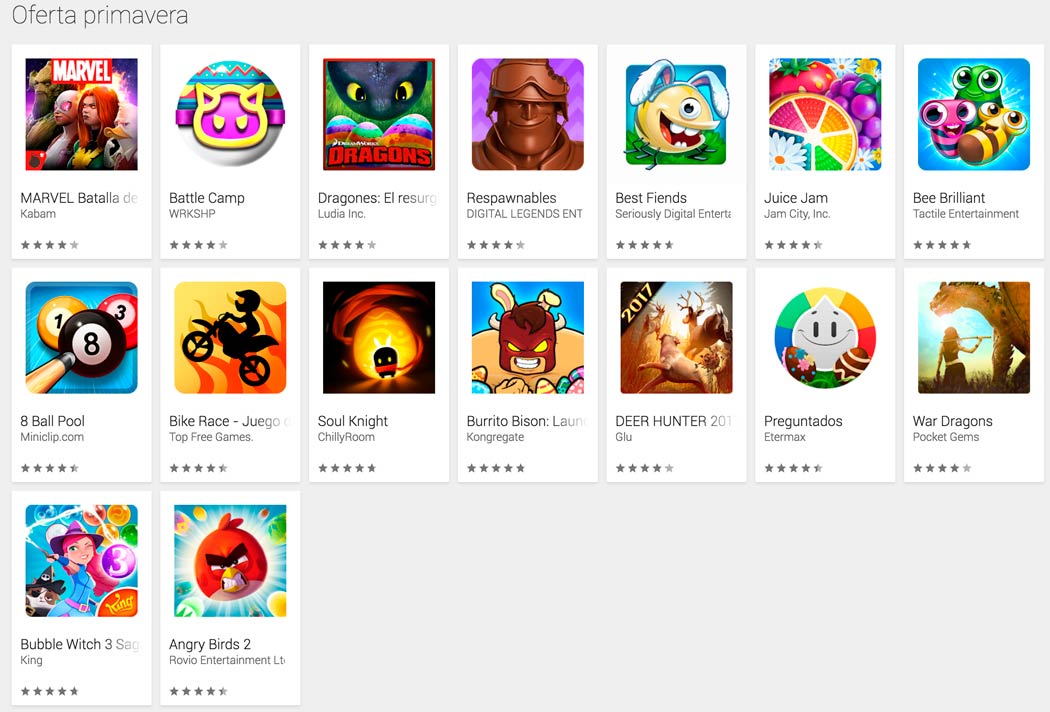 Easter offer in Google Play Store with 16 games in promo. Here is the list of the offered games with in-app purchase offers.
Google Play Easter Deals 2017
You can access discounts on certain in-app purchases from now until April 19; When the promo of spring bids on Google Play Easter Deals 2017 will end. You know: if you were waiting for an opportunity to move on the fast track, that opportunity has come. Take advantage of!