Last Update: May 2022
The browser is a source by which one can operate the internet. In today's world, it is tough to find a compatible browser for any smartphones because so many options are available. A capable browser can enhance one's experience of using a smartphone. Today I am going to tell you about the best five browsers available.
Top 5 Browsers for Smartphones 2022
---
1.

 Google Chrome
Currently Google Chrome is the best browser available because it is very convenient to use. One doesn't have to take the burden of downloading because it is pre-installed on every smartphone. It is straightforward and doesn't require any extra knowledge to operate it. Chrome loads it pages very fast and offers an extremely good speed. Even the downloading speed comparatively better.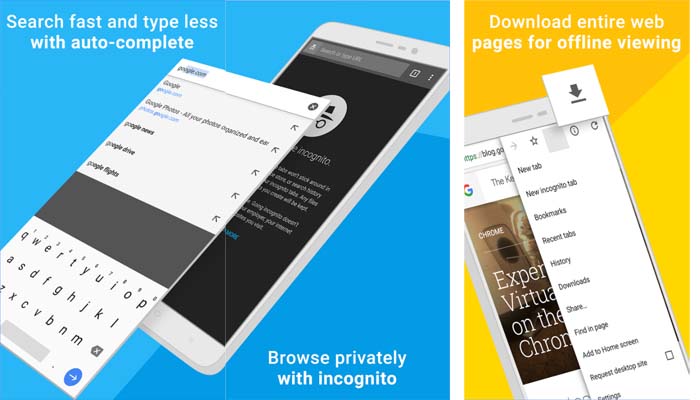 One can also link their email accounts to have proper access to its security. It automatically updates its security to offer the best. According to the current surveys, Chrome is the most used browser. This browser is often preferred for desktops.
2.

UC Browser
This is one of the most trusted browsers of all time. It is also available in a mini version it goes by the name UC mini. It is effortless to use. Download UC Browser on your phone to enjoy many fantastic browsing features. UC browser offers an excellent downloading speed. It also provides a night mode which helps to reduce the stress on lights by decreasing its brightness. It consumes very fewer data. Even the surfing speed is quite good. UC browser is the most commonly used browser in the asian countries. It also offers something which can be of great help that is ad-blocker. UC browser has gained a high amount of trust in a very less period.
3.

Opera Mini
This browser is also most commonly accessed because of its credibility. Opera Mini came into the market long ago. In some smartphones, it comes pre-installed but Android have to download it they can do it from the google play. It offers a battery saving mode which reduces the consumption of the battery.
Opera mini can even load a page without images which help in data management. This browser has completed its 17 years in the browser market. Opera has launched its latest version which offers many privacy features. The browser automatically updates its features.
4.

Brave Browser
This browser came newly into the market but also in less period brave browser has gained an excellent popularity. The best thing about this browser is that the level of protection offered by this browser is marvelous it automatically blocks the ads which enhance the surfing speed. Brave browser blocks all the ads and tracking on any website. The users can even earn bitcoin by replacing the bad ads. Brave browser gives 15% of its profits to its users. Brave Browser is obsessed with security protection. The brave browser is designed to make surfing more secure.
5.

Mozilla Firefox
After Google chrome most of the users prefer Mozilla Firefox as their default browser because of trust it has gained in so many years. This browser offers malware protection and prevents ads. Mozilla Firefox was the first one to introduce the tabbed browsing which was a revolution in the browsing history. The surfing speed and the downloading speed offered by the browser is quite good. The browser mainly concentrates on the security part. This browser was launched back ago in 2002. After Google chrome Mozilla Firefox is second which is having the most number of users.
From the above information it is clear that there are many good browsers available in the market. But the two which are mostly preferred by the Android users are Google Chrome and UC browser because they offer the best of quality. Google Chrome is having the highest no. of users because of the services it is providing to its users