Last Update: September 2023
Learn How to fix screen Overlay Detected error on Samsung Note 4 in just few mins! In TechinDroid We have explained it in step by step with pictures.
If you have reached our web page, you probably got the screen overlay detected Samsung NOTE 4 messages on your phone. You have no idea as to what you need to do, do you? Well, it's a good thing you quickly reached our page. We, as a community of software geeks, find out different working methods to fix screen overlay problem of many software and apps. So, fixing screen overlay detected NOTE 4 Samsung is actually quite simple according to us. Read on and find out various ways to turn off screen overlay.
What is Screen Overlay Detected Error?
To begin with, we need to first talk about what 'screen overlay detected' even means. Many Android users reported to having received a message about screen overlay error informing them that screen overlay detected NOTE 4. The message also read that to change this setting one would have to go to their Settings to turn off screen overlay galaxy NOTE 4. Why this happens? You are likely to get this message if you are running a floating app and then open a newly installed app, which asks you for access rights. A good example of a floating app would be Facebook Messenger's floating chat head.
Error info:
"Screen Overlay detected
To change this permission setting. You first have to Turn OFF the screen overlay from Settings > Apps."
The screen overlay glitch is not unique to Samsung phone users, people across the globe have reported facing this problem on their Samsung and Motorola devices. While studying the problem screen overlay Samsung we found out that the apps that were repeatedly associated with this glitch were CleanMaster, Lux, ES File Explorer, and Twilight have all been blamed for the problem. If you have any of these apps running on your phone, uninstall them immediately.
How to Turn off Screen Overlay Detected Samsung Note 4
---
Now, let's discuss what you have mainly come to our website for – how to turn off screen overlay NOTE 4.
First, you need to figure out what apps have permission to draw over the screen.
Open your phone Settings.
On the settings menu look for the option "Applications" and open it.
There Look for "Application Manager" and open it.
Under the option "More" select "Apps that can appear on top".
Now you need to check permission for all of these apps listed there. if you want to turn off screen overlay NOTE 4
All the apps that you see on the list have the permission to use floating buttons or other screen overlays. You will have to identify the problem causing app and temporarily take away permission to draw over the screen. If you aren't sure how to identify the app that is causing galaxy NOTE 4 screen overlay following the given instructions:
Is there an app bubble anywhere on your screen? If you do see it, then this app is most likely the cause Samsung screen overlay detected. To fix this, you can either hide the app bubble or disable the app in the list.
Do you see an app which changes the colors on the display or adjusts the brightness? If you do, then you have found the culprit.
Clean Master, although believed to do your phone some good is actually more of a trouble maker. If you have it, uninstall it.
Worse-case scenario, if you haven't found any app with any of these glitches, just turn off everything.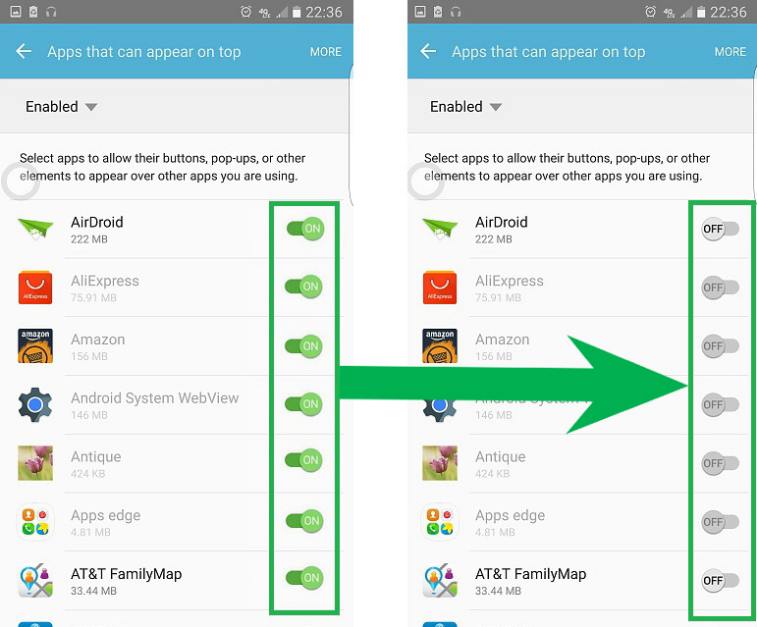 To know if you have fixed galaxy NOTE 4 screen overlay detected or not, you need to re-try the app. So, try launching the app again this time. Hopefully, if the problem has been solved, it will request permissions without the "Display overlay detected" error getting in the way.
With most Samsung devices, it has been found that the one-handed keyboard setting could be the root cause. Go to Settings and then open this option called ' Advanced features'. There, click on 'One-handed Operation'. You will need to deactivate this to fix screen overlay detected galaxy NOTE 4.
The next step is to reactivate screen overlays. Think it's a tedious process to fix NOTE 4 screen overlay detected? Don't worry, there isn't much left until we turn off screen overlay on Samsung NOTE 4.
Remember we disabled a few apps in the previous step? In order for these apps to work again, you will have to re-enable its overlay permissions. In case you have turned off all the apps for screen overlay settings NOTE 4, it would be advisable to reactivate only those apps that you actually use.
Conclusion
Have you found a decent solution to your question 'how to turn off screen overlay galaxy NOTE 4′ yet? Samsung NOTE 4 screen overlay detected is a common issue, you will find hundreds of ways to solve your issue online, so if our website didn't work for you, don't worry. There are so many more solutions to this one simple glitch. Just try keeping your search entry to something as basic as 'how to fix screen overlay detected on NOTE 4' or 'how do turn off screen overlay on galaxy NOTE 4' and you will find your solution in no time!