Last Update: September 2023
In this article we are going to show you How to fix Screen overlay detected error message on any Android phone.

 samsung s7 edge s5 j7 moto g3 g4 plus solution.
While using your Android smartphone have you Suddenly got an error message that says "Screen overlay detected" & you don't know what to do?. We have compiled all the information with which you can identify. And also How to fix this Screen overlay detected problem step by step. This screen overlay detected error mostly occur on samsung S5 J7 J7 prime, S6 and S7 edge.
Also read:
What is exactly the screen overlay on Android?
---
The screen overlay on Android is a advanced permission that lets apps to be show up on top of the other apps that we are running on our Android phone. Lower versions to Android M are automatically allow permission to which app could request that access in the document manifiest.xml of the development of the own app.
This permission that makes use of ALERT_SYSTEM_WINDOWS, from versions of Android 6.0 Marshmallow, like all the permissions that the app access in Android have undergone certain changes in its management.
To understand it in a very simple way, among some of the most popular apps that have this permission to overlay the screen in Android, For example Facebook Messenger app showing us the notifications of new messages As a floating icon known to all as Messenger bubbles or Chat Heads.
"

Screen overlay detected

" error: 

samsung j7 moto g4
---
The problem: Android warns you suddenly that a screen overlay detected. You must deactivate the corresponding setting. The warning message at least gives you a little clue as to how the problem can be solved exactly.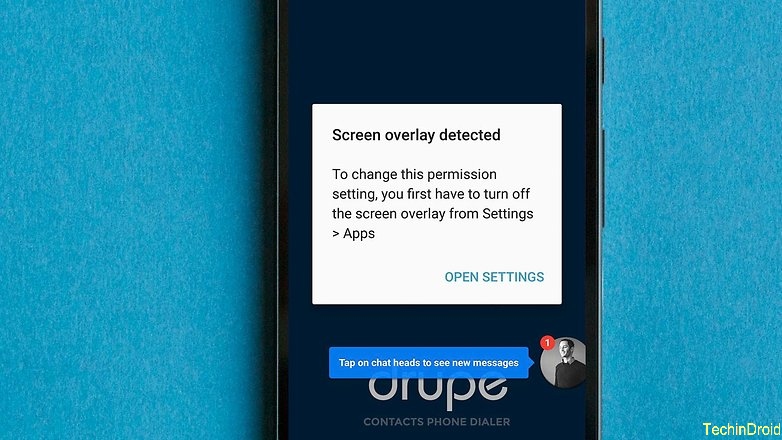 Cause: "Screen overlay detected" error message appears if you are using a Floating-App (floating app) and you open a newly installed app, which needs some access permissions.
Every App should ask permissions at its first start by prompt to access memory, phone, camera, etc. So for an app to perform a screen overlay must have permission. If there is an app that doesn't have it then this error message appears. screen overlay detected moto g3
It's a security warning! because a malicious app that uses the floating-app function can record our keystrokes as well as our passwords.
Affected Smartphones: This problem seems to be common in Samsung and Motorola smartphones. Although this problem can occur on any Android device with Marshmallow on.
App causing the problem: In our case, the Drupe app is the source of the problem; On the Internet and in our forums it has also been seen that applications such as Clean Master, Lux or Twilight were responsible for the "Screen overlay detected" error message. oneplus one
How to Fix "Screen overlay detected" Android 2023
---
Step: 1

 Find Apps that requesting the permission to overlay
To find which apps are requesting permission to draw over the screen. Usually, it is arrived at as follows:
For Moto g3 / G4 plus and other phones with Marsmallow
On your smartphone go to "Settings" and Tap on the "magnifying glass" at the top right.
Now search this therm "Draw".
Select Draw over other apps.
For Samsung users:
Then tap on Applications > Application manager.
Tap on More > Apps that can appear on top.
Step 2:

Fix "Screen Overlay Detected"

s7 edge  zte zmax pro
---
A list of apps that require permission to overlay other apps is now displayed. You must identify the unwanted app & disable the permission to overlap with other apps. Here you have a checklist with which you can identify the app. If it is not in this list try to disable them all.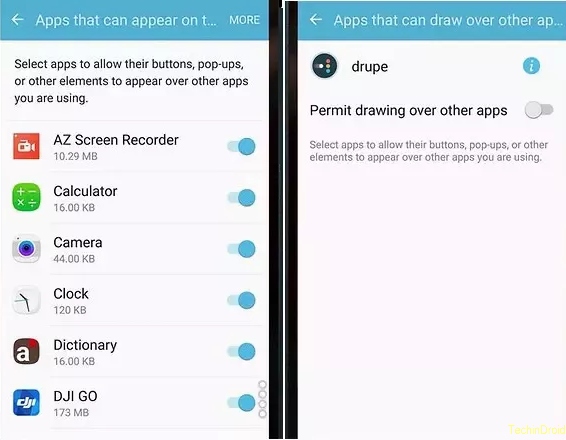 Step 3:

Start the app that requires permission
---
Now you can launch the app that will request permission again. Now no longer the "Screen overlay detected" warning message appear on note 4 alcatel. screen overlay detected note 4
For Samsung users: still not working? We are aware that the problem could be the configuration of the keyboard to a single hand. Deactivate it here: Settings> Advanced functions> One-hand operation. (or) You may have installed the Night mode app.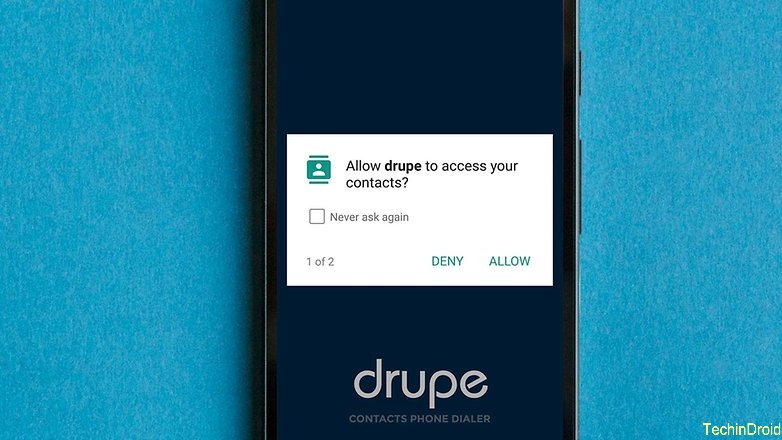 To Re-enable overlays on screen
The app that has been disabled in step two to work properly again. You must allow it to appear on other apps again. If you have had to deactivate all the applications in step two, it is worth reactivating one by one to check if there are two that have conflict or only those that you actually use. fix lg g4
Conclusion
Could there be a more elegant solution? Surely, since Android could put the request at the system level as high as possible, so that other apps can not conflict with the warning dialog. At present it really only helps to find and disable the malicious app.