Last Update: March 2023
Here we bring you a three different methods to set Activate & Get Night mode feature on any android phone running Ics, Jelly bean, kitkat, lollipop, marshmallow & Nougat.
Powered by iOS 15.3, Night Shift feature is now available on many Android smartphones. This function applies a filter on the screen to reduce eye stress and thus neutralize some of the blue light emitted by the smartphone screen. In this setup guide we explain how to get night mode in your Android, whether native or not.
You may also like:
Most of the users have tired eyes because of the time they spend in front of the screens. Actually, it is not surprising if we analyze our daily life (television, computer, smartphone, tablet …). The eye protection mode, as Huawei phones, is an effective way to fight the blue light on our screens. The blue light, in fact, is harmful as it disrupts the production of eye, a sleep hormone.
How to Get Night mode Option on any Android phone 2023
There are several methods available for activate this features on Android. We explain all possible ways to Use Night mode on your smartphone.
1.

Turn on Night mode in Android Nougat
---
Google has understood the importance of Night mode feature and decided to implement it in Google Pixel Android Nougat. set night mode on android
To activate it, simply go to the device settings and Display> Night light. It can also be set so that the night light mode is activated automatically at certain times.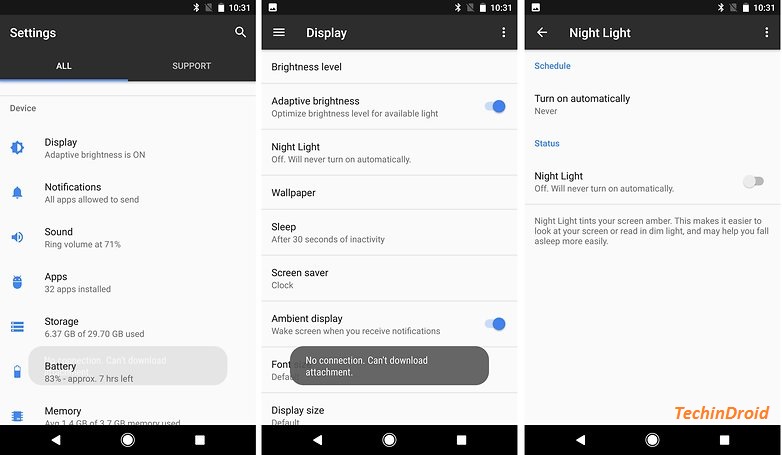 2.

Through an Night mode Android app

apk
---
There are many apps available on the Google Play Store that allow you to do this. Blue light filter is one of the best night mode app for android. It has the same functionalities as those offered by Android natively and also has new options such as selecting the color of the filter among the seven available, shortcuts on the home screen, a widget on the notifications screen and can be schedule activated. night mode android 7.1.1 6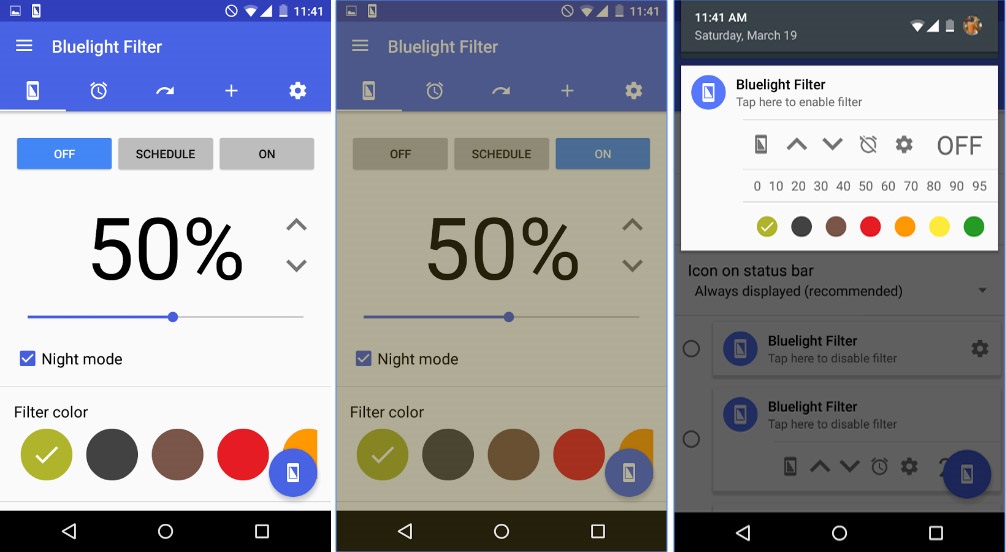 Alternatives:
Midnight
Midnight app allow us to reduce brightness below minimum of android screen offered by the OS. In fact, we can choose not only the percentage of brightness that we will use but, also we can activate a color filters like blue, warm orange etc, that will be applied to the screen to reduce the discomfort of brightness at night.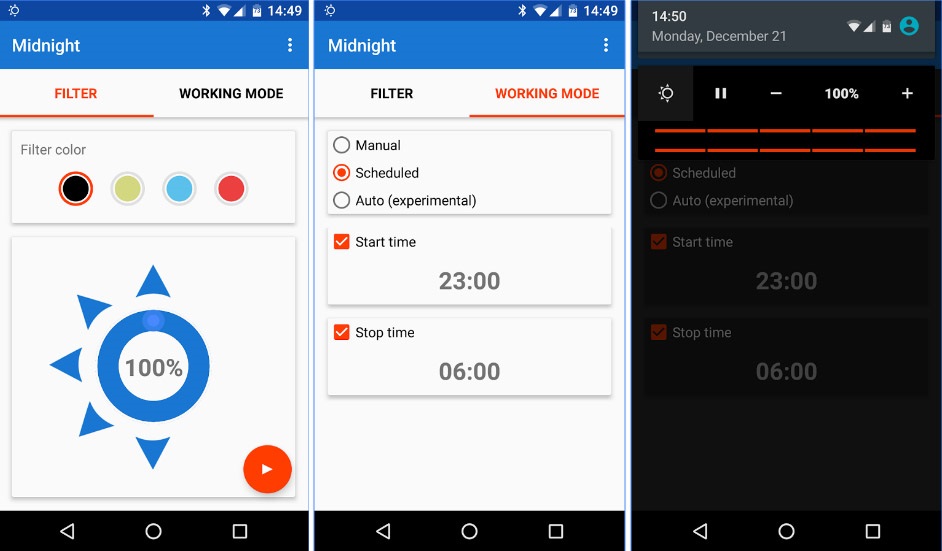 Midnight app has three options:
Manual : It is the user who has to activate or deactivate it.
Timer : You can set a start and end time to activate the night mode.
Automatic : This mode is in the experimental phase but, pretends to activate automatically according to the conditions surrounding the device.
In the main screen of the app you can select from the four available filter colors (black, yellow, blue and red). As well as adjust the brightness level of the screen. Once you have configured these settings, you only have to click on the Start button that you will see in the lower right of the screen to start.
Night Mode Enabler (for Android 7.0 Nougat)
Night mode enabler App for those who use their cell phone at late-night, serves to take care of the view of the intense brightness of the cell phone when you sleep at night, reduces the brightness of the cell even beyond the settings allowed by the device as dark as your wish.
night mode on samsung s7
3.

Other models like Honor, Huawei, Asus, OnePlus & Samsung
---
Many manufacturers have not waited for the Nougat update to offer the night mode on some of their phones. For example, Honor, Huawei, Asus, OnePlus, Samsung … In general, to activate it, just go to the settings or the shortcuts. android night mode on marshmallow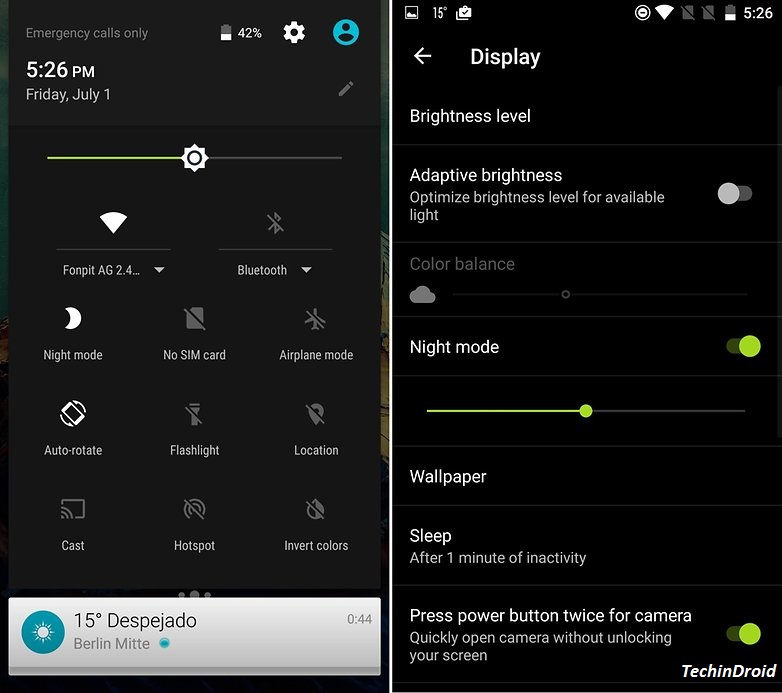 I hope this article help you with Turn On / Enable Night mode feature on any Android phone.  Do you use a similar mode on your smartphone? Does it seem useful to you?