Last Update: May 2023
Android smartphones aren't only limited to giving highly customizing experience, They are way better when playing games. Here is the collection of 10 best shooter games for android phones & tablets in 2023 [Offline / Online].
Formerly known as First-person shooters has great popularity in computers and consoles; smartphones couldn't be less as there is a huge genre of games to choose from. Here's a list of Top 10 best FPS games for Android on Google Play 2023.
Best Android Strategy Games 2023.
Today we have put together a list of the best Android shooting games 2023 May edition. So that you can spend your time on playing instead of testing.
Best FPS Games for Android 2023 – Shooter Games
---
Here we begin our list of android fps games that mostly downloaded and beloved by gamers around the world, you can play them with / without internet.
1.

Modern Combat 5: Blackout
Modern Combat 5: Blackout is the fifth episode of arguably the most popular shooter game on android devices. The game takes place from the year 2039 to 2042, the world is in the midst of war and full of madness and anarchy, you're the only one who can stop all this bloodshed, once and for all.
This game has multiplayer mode, here you can match up against people from around the world in a multitude of game modes, varying from the classic Free-for-all and Capture the flag, to new exciting modes based on the main story.
The Most Addictive Games for Android.
The graphics are marvelous, making it one of the focal points of the game, you won't feel like your device is underpowered at all (that is of course if you're playing with a mid to high-end device).
The only "bad" thing about the game (it's a very subjective topic) is the length of the main story, in earlier games, the missions had an average duration of 15-20 minutes, the missions of this game last 10 minutes, tops, this doesn't mean it lacks fun, though.
This is a must play game for all mobile devices, fast-paced, action-packed, and best of all, free.
2.

NOVA 3 & NOVA Legacy
Its one of the best Shooter Games for android, Take Modern Combat 4: Zero Hour, and put it in a futuristic environment and you get N.O.V.A. 3. We are in an apocalyptic future in which your main mission will be to save mankind from the Volterites. Just because it's a bit old it doesn't mean it's not graphically beautiful, the game has aged well, with artwork true to the saga and a lot of action-packed levels, you won't feel like you're playing a 5-year-old mobile game.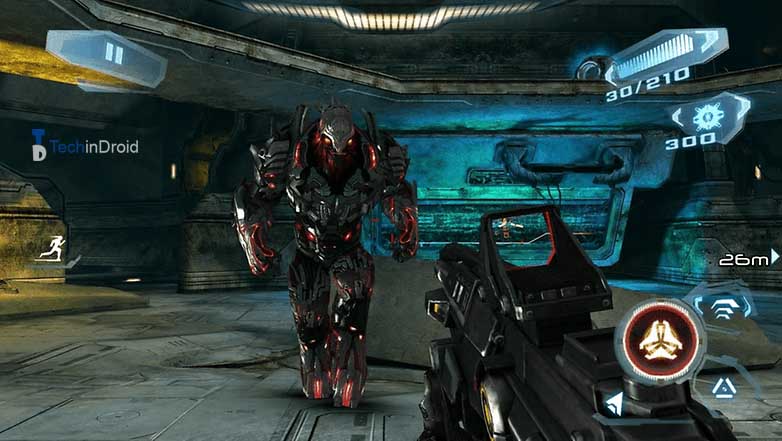 To continue you have the last episode of the saga: Legacy. Here you'll be sent to defend a colony as veterans. The magic of this game is that the initial download is only 20MB! and the overall game is really light, so if you want to pick up a quick game and are in a pinch, this is one of your best choices.
Both of these games are free to play and have multiplayer modes, so you can play with your friends free of cost.
3.

Dead Trigger 2
Zombie games are a must for all FPS fans, the excitement and adrenaline that these games give you are their main selling points. A staple zombie game for mobile devices is Dead Trigger 2, the game is powered by NVIDIA. This game takes place in a post-apocalyptic setting, humanity (especially you) has to fight for their lives in a zombie-infested world.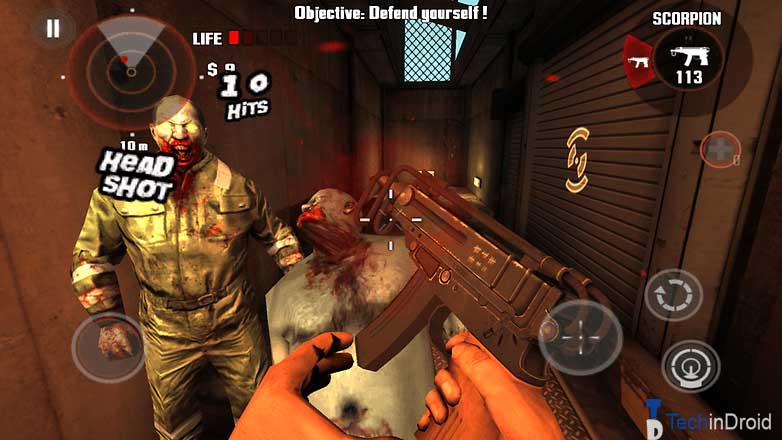 The game is initially free, but if you want to have more powerful weapons you will have to give some money.
4.

Call of Duty: Strike Team
This is COD franchise's best take on Android to date. Activision's developers have developed a unique game for mobile devices, a mix of strategy and shooter where you control the pace of the game on third and first person, you can customize your squad's loadout and abilities before heading into fast-paced battles in third and first person perspective.
The year is 2023, and global tensions have never been this high. After the US is attacked by surprise, you join a Joint Operations Special Team with the sole mission of hunting down those responsible. This game also offers a survival mode, which is highly addicting and will keep you glued to your phone.
5.

Into the Dead
Another zombie game. Into the Dead may be a little simpler in its plot if compared to the rest, but that does not mean that it lacks fun. I've remembered having to lend my phone to some of my friends, as they were impressed by how fun the game looked, and they got hooked.
The more meters you advance without suffering damage, the more points you get to be able to buy weapons, ammunition and other perks (you can use a dog to help you kill zombies!) so that you can kill more undead. The art and gameplay are fantastic, and the atmosphere will absorb you.
6.

Brothers in Arms 3
Brothers in Arms has always been a franchise focused on World War II settings, and this game is no exception. This third-person shooting android game main attraction is its single-player mode, you can unlock new allies and upgrade them, as well as your own weapons. This game also offers a companion app, where you can receive important information such as rewards and events for multiplayer mode, and get an overview of all your arsenal of weapons. FPS Games for Android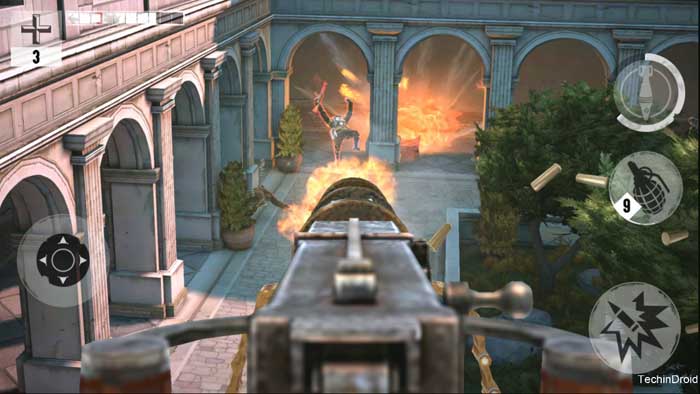 This game is a must play for all shooter fans, as well as all World War II fans, it makes you feel like you're in an actual war!
7.

Unkilled
Unkilled is a newcomer to the shooting scene, but it already has collected some accolades for its graphics. This game is developed by Madfinger games (the same devs as Dead Trigger) and they don't disappoint. Kill monsters, unlock new weapons and characters and release some steam with this game. I recommend a NVIDIA device for playing this game, it looks mesmerizing and it won't make you feel like you're playing on an Android phone.
This game is free, so why don't give it a try? Beware, though, you'll get hooked.
shooting games for android apk
8.

Fields Of Battle

(Offline FPS) 
Its one of the best fps games for android offline, perfect for those against not looking to kill other beings. Fields of Battle is a First person shooter for Paintball fans, run, hide and shoot are core mechanics in this game, and it's a nice break from all the gore and raw action of the other games. Fast-paced gameplay awaits you, so be prepared, anticipate your opponent and win on the Fields of Battle. shooting games for android without internet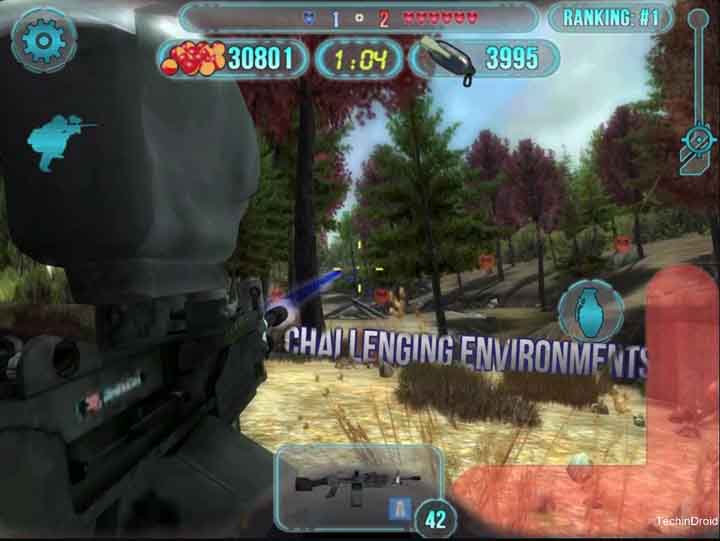 9.

Hitman Sniper 
In this Shooting game you put yourself in the skin of Agent 47, the famous sniper and murderer characterized for being silent and methodical in his work. Hitman Sniper tests your accuracy and speed in shooting. With over 150 missions, you will expect a lot of action and methodical thinking to complete your contracts.
If all those missions weren't enough for you, non-stop mode is one step away. In it, we will have to shoot a bunch of zombies without stopping. It's perfect for playing on the subway, your bed or anywhere. The only downside of the game would be a notable graphical difference compared to other games, as they seem to be quite simple, that doesn't take away the fun though, you'll have a blast with this game.
10.

Zombie Gunship 3D
The last item on our list is Zombie Gunship 3D. Just as the title explains, we're on a gunship annihilating zombies on the ground by using an array of weapons and ammunition. The graphics are not that impressive, but gameplay wise the game is quite fun, I recommend this game if you are using a low-end device and need to release some steam.
This has been our selection of the best android shooter games 2023 (FPS games). We would love to extend this list with your suggestions. Please, don't hesitate and tell us in comments what is your favorite FPS games!