Last Update: September 2022
We'll explain step by step how to download videos from facebook (Zuckerberg's social network) to the computer and from any Android or iOS mobile devices.
Let's say you celebrate at home one of the Christmas festivities and you've just seen on Facebook, on any page of irresistible food recipes, the ideal dish that will leave your guests smiling with pleasure. Ideally, you'd want to download facebook video because if you need to search through the social web the day you have to put you to cook in order to find your selected meal, you will lose a lot of time and even then, there's a chance of not finding the video again.
You may also like:
We'll teach you how to download Facebook videos in a very simple way from your computer, from Android and from iPhone too. Obviously not just for recipes, but for any video posted on the social network.
How to Download a Facebook video without using any App on Computer
---
There is an easy way to download videos from Facebook without any program or video downloader app. This trick is made for your computer [Windows, Mac and linux], and you need to trick Zuckerberg's social network into believing that you are using a mobile phone for it to work. You'll only need to follow these four simple steps to download a video from facebook.
1.) First you have to select the video you want to download. We'll continue with one of the video from my facebook profile. If you are scrolling in the 'Home' screen of Facebook or the timeline in the page, we 'click' on the upload date, as shown in the image. From there we will open a new window with the Facebook video.
2.) The second step is to deceive Facebook (don't worry, we're not doing something evil) and make it believe we are using fb from our mobile. All that you need to do is to change the URL.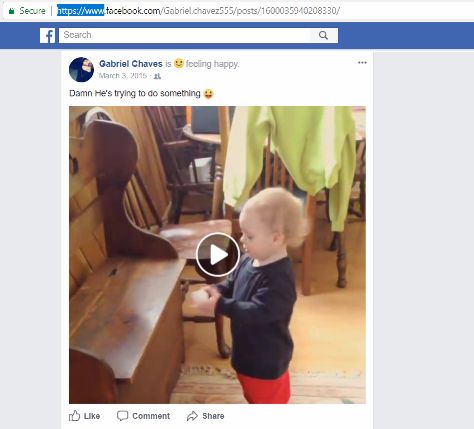 Download fb video
If this is the address of the video: https://www.facebook.com/Gabriel.chavez555/posts/1600035940208330/ you will need to change the 'www' by a single 'm'.
It would be read like this: m.facebook.com/Gabriel.chavez555/posts/1600035940208330/
3.) Now hit enter button, Do not panic if you see something odd in the new page. The display is different because it is adapted to the mobile support, not for your pc, so maybe it could look somewhat disorganized.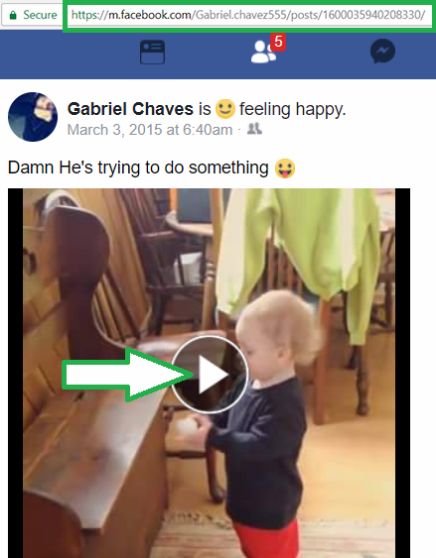 4.) Once you're seeing your video from the mobile interface, you just have to click the 'Play' button. While the video playing, please 'click' on the right mouse button (Right-click) and select the option 'Save video as' and choose the folder where you want to save the video. Within seconds you can have the video on your computer.

That's all by this way you can save facebook video to your computer easily, amiright?
How to Save a Video from Facebook to iPhone or Android 2022
---
Downloading videos from facebook on mobile: To save facebook videos on an Android or iPhone device you must use an facebook video downloader app. In the case of Android, there's a free tool available in Google Play called 'Video Downloader for Facebook'. It's very easy to use: within the app you choose which video you want to download and the format you want for it.
For iPhone, you'll need to download the ideal app called 'Documents'. It's also free and in the App Store, but, is a bit more complicated to use. Once downloaded the app, Open browser and type "http://en.savefrom.net/". After leaving that window open, In the new tab enter Facebook and select the video that you want to save. Next step is copying the video link ('share'-'copy link').
Now come back to the 'savefrom.net' the page you have kept open. Paste the copied link on the input box and tap on the Right arrow button you'll find it right next to the input box. Thus, the video will be saved in the Downloads folder of the application but, not on the camera roll.

To get the video in the iPhone camera roll isn't complicated. You only need to follow one step: Open the Documents app > select the video > 'click' edit and send it by email to yourself. Once you have it in the mailbox, you can download it without any problems from the mobile and from your computer. And another thing most of the peoples looking for, Yes it's about facebook private videos.
Can i Download a private video from facebook?
No, You are not allowed to download private facebook videos of your facebook friends and other people's private videos. But, you can download your own facebook videos using getfbstuff's facebook private video downloader. And techindroid believe that this easy guide helped you with download facebook videos from both pc and mobile devices. If have any queries about this guide please let us know in the comments and dont't forget share this trick with your friends.