Last Update: September 2023
Want to change your account, or just give up on the world of Android and delete an email account of google? Check out our tutorial to close your Gmail Account (or entire Google account), while still being able to backup your data if needed.
The Android operating system has always been closely linked to Google. Android is open source but it lacks a punch when the services of Google are not installed and it requires a lot of tricks to be able to get rid of them.
We've already helped you delete your Skype account, delete facebook account but, maybe you want to go one step further and just say goodbye? Your Google Account, symbolized by a Gmail account, may disappear into oblivion?.
Since Android support is relatively old, you can get involved in a long and boring procedure well you'll probably have this question how do i delete a gmail account?. We'll help you with deleting a gmail account easily, following these steps.
Before Getting started
Maybe you don't want to delete your google account, you just want to use a new one or you want to do some cleaning on your presence on the net. Be careful, however, because a Google / Gmail account is a lot of things and deleting it could have serious consequences.
Indeed, the deletion of your account would have the following effects after close gmail account:
Loss of access and data from all Google services such as Gmail, Drive, Calendar, and all data such as photos saved to the account.
Loss of subscriptions, whether paid or not, or content purchased on YouTube or the Play Store (apps, movies, books, music…)
Loss of Synced data from your Google Chrome browser, such as favorites, and also the apps in your web browser.
Loss of contacts on your Android phone.
Loss of your account's username, which won't be recoverable. If your account is "[email protected]", "machinchose" won't be available as an username after deletion.
Backup your info first
It's the first thing to do before delete my gmail account and you too, If your Android device has been with you for a long time, it's almost certain that your account has a minimum of information that you would like to backup before deleting it. Fortunately, Google has made sure that the procedure for that is very simple.
Click on "Personal Info and Privacy".
Scroll down to "Control your content".
In "copy or move your content", click on "create an archive".
On the page displayed, choose the information you want to recover (Photos, contacts, calendar…)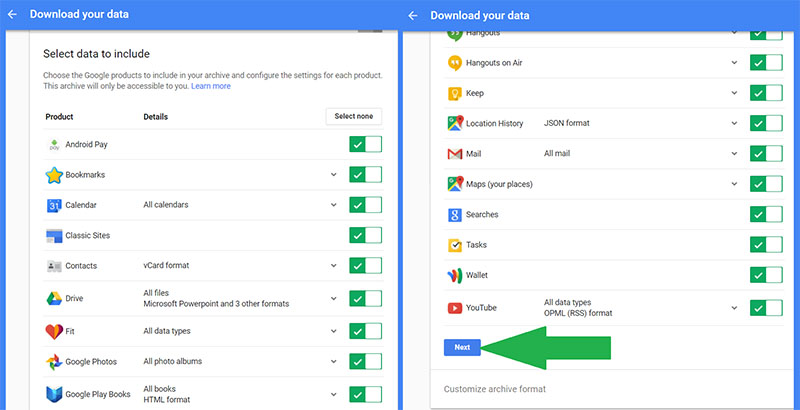 You can then choose to download it directly or send the archive to another account like Dropbox or OneDrive.
Depending on how much information you have selected, the process may take a while. Be patient!.
That's what is stored on your account. But, don't forget also to check out the sites on which you registered with your Gmail address, since you won't necessarily be able to recover your account on these after closing gmail account.
So be sure to revisit every site you use frequently and change the address associated with your account if it points to your Gmail you want to delete, in order to make sure you don't get stuck. Well now you may have a question how do i delete my gmail account now? You are ready let's see How to delete Gmail account.
How to Delete Gmail account 2023
---
The cleaning has been done, the data is saved… It only remains to go to the final stage! Be aware that you have the option to delete only certain products rather than the entire account, so be sure to understand what you want to do before continuing.
For example, you can just delete gmail email address of yours while still having access to Google services: it will simply ask you to put a new email address to use. You can do this following these steps to close gmail account only:
1. Log in to your gmail account and go to "My Account" options, you will find it by tapping on your profile icon located on the top right corner. Or directly access the page by following this link: https://myaccount.google.com/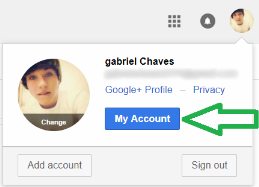 2. At the very bottom of the page, you will find the "Delete your account or services" section is where you have the possibility for delete your gmail account .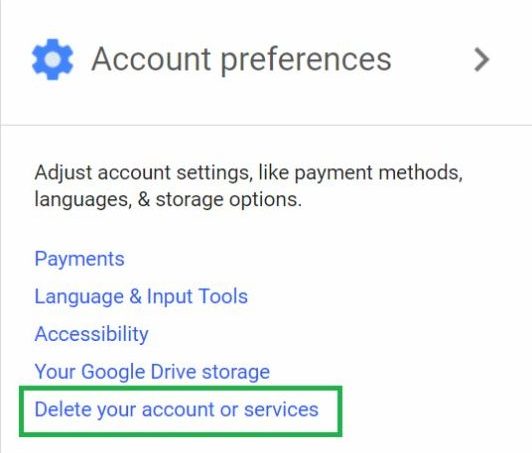 3. Choose "Delete products"

4. Select the product (s) you wish to delete, in this case, your Gmail address. This will delete gmail account permanently.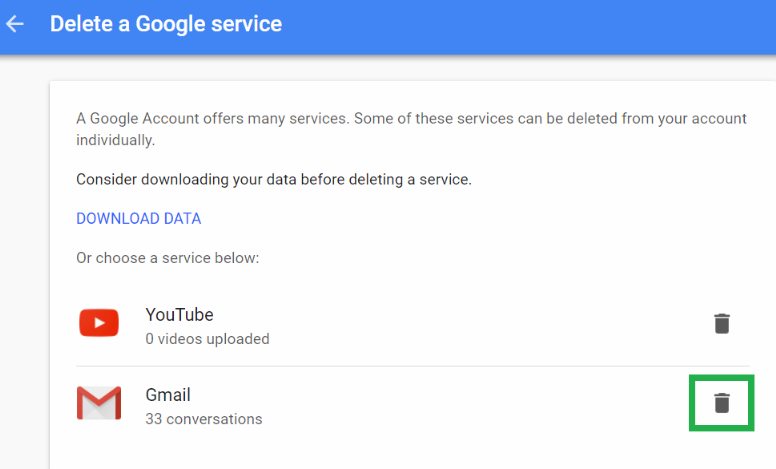 This is how to close a gmail account without affecting other services like google drive.
However, if you want to delete your entire google account, you can do it in the same menu:
1. Choose "Delete Google Account and Data".

2. The site will allow you to make a backup of your data again, as shown above. A list of all that you will lose is also displayed: once again, be sure to backup everything before continuing.
3. Check the two boxes that say you want to delete your account and you will still be responsible for its data.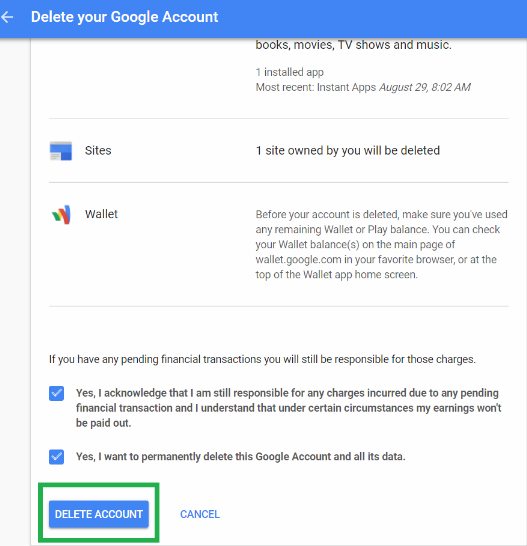 4. Click on "Delete account".
Recovering your account
By default, the account will be permanently deleted. However, if you instantly regret your choice, you will have a short period during which you could still have chances to recover your account.
To recover your account, follow this method:
• Go to the account recovery page
• Choose "I'm having other connection problems"
• Follow the indicated security steps.
Keep in mind, however, that nothing is safe and you will need a lot of luck doing this. So be sure that you want to delete a gmail account before you try it. Patience is a mother of virtue, as they say. We hope this guide help you with remove gmail account / remove google account easily, if you find this info useful don't forget to share this article on your social medias.