Last Update: March 2023
If you want to get rid of Spotify ads & get ad free music listening experience on Spotify, you'll need a active premium subscription to do. In this article TechinDroid will show you the way to mute Ads with Spotify Ad Blocker for windows with it you can use Spotify ad free.
The only negative point of listening to music on Spotify is that, unfortunately, it is continually interrupted by advertising; however, we can not complain, all users know perfectly well that is the way in which this program continues to run streaming music-and glad we did! but … we can put any solution? The answer is ambiguous: they will not be blocked but, will remaining muted.
Also read:
block Spotify ads windows
If you do not know how to block ads Spotify on Windows , in Techindroid  we show you how to do it in less than five steps.
You will need:
 A computer with Internet access.
Spotify.
How to Block Spotify Ads on Windows PC 2023
---
Steps to follow for remove ads on Spotify:
1.) Click here to download Blockify (Spotify Ad Blocker).
2.) Depending on your internet connection the Spotify adblocker download may take more or less time; however, it is light enough and can be done in just seconds, you can enjoy it on your computer. Spotify adblock
3.) Once download is completed, extract the archive and install the vcredist_x86.exe first and then Open the Blockify program (no installation required) and run Spotify Spotify no ads pc.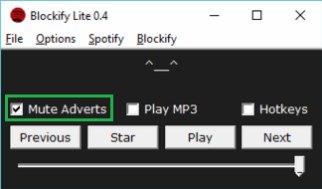 4.) Make sure Selected the 'Mute Adverts' option on Blockify. if it is not already selected, just select it; In this way, when Spotify app try to show up advertising, the program completely mute it for 30 seconds without voices to the next song!
To read more articles like How to block Spotify ads on Windows, we recommend you enter our category Tips and tricks.