With each new update of WhatsApp brings new features to its messaging application and now, thanks to its beta testing program, it is possible to test the new features implemented WhatsApp developers before they get to the final version.
How to create a WhatsApp Account
WhatsApp: Version 2.16.281
A new feature has appeared in the latest update of WhatsApp Beta and is the ability to share invitation to groups via the link. Thus we no longer have the phone numbers of participants. The link also allows other group members share the invitation to the group without administrator invitation.
Keep in mind that only the group administrator can generate links. To create the link must enter information the group and Add participant. Then we must select the option to invite the group link . Once this is done we see several options: share it through WhatsApp, copy the link, share it or cancel it . You can also print a QR code group.
Another new feature that appears practical but eventually we'll see if it becomes part of the useless functions of WhatsApp .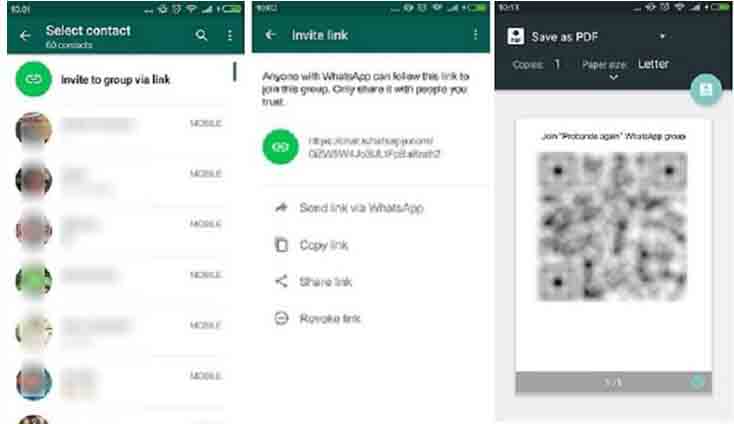 WhatsApp: Version 2.16.274
The latest update of WhatsApp in beta emoji updated and are now similar to those we see in iOS 10. The differences are not abysmal. They are seen especially in the faces, which have a healthier and more human. A well-trained eye could also see that the emoji have changed a little color and look sharper and as new emoji, WhatsApp has changed the gun, by a water gun as found in iOS.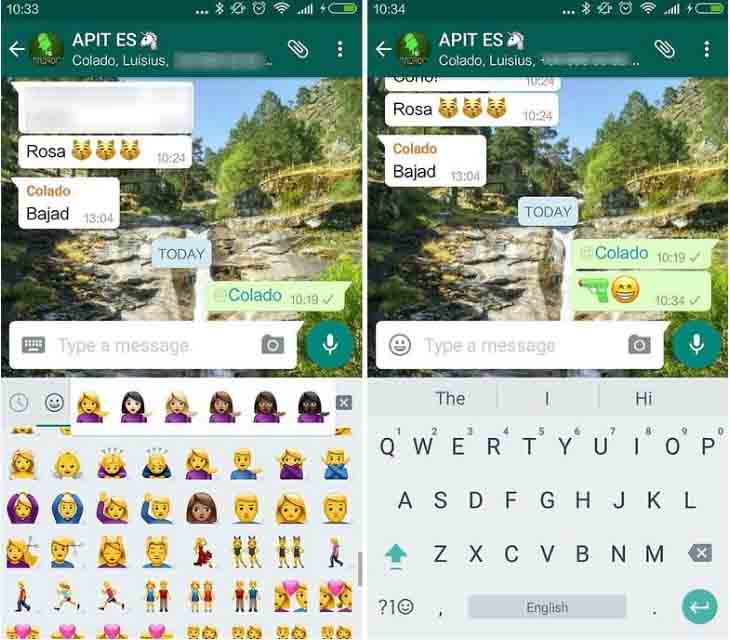 WhatsApp: Version 2.16.269
If the beta version of WhatsApp 2.16.263 was possible to draw and add stickers on photographs, the latest beta version can do exactly the same but on video, either live or recorded gallery from WhatsApp.
To test you need to be beta tester of WhatsApp. If you are, download and see that by sending video, new options that allow you to add text, lines and drawings appear version 2.16.269.
WhatsApp: Version 2.16.263
The latest updates of WhatsApp are being very fun. In its latest version, WhatsApp allows us to add stickers, drawings and text to your photos. The operation is very simple. When selecting a picture with the camera icon to send one of our contacts appear in the top four symbols: a square to crop the photo, a face for the stickers, a T for text and a pencil for drawing freehand.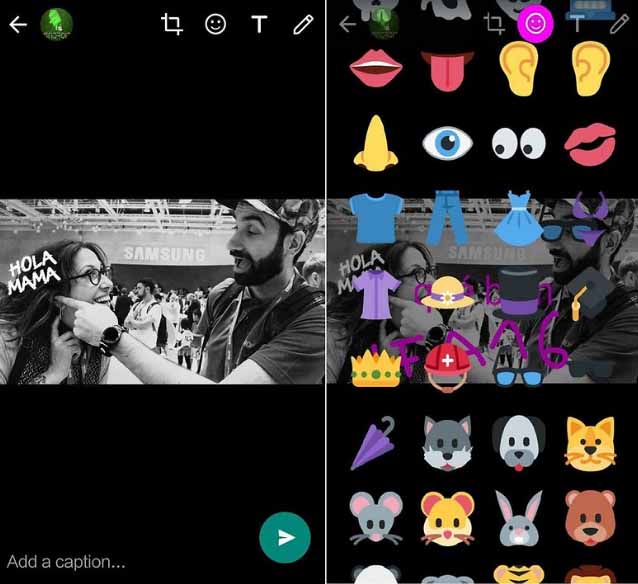 To apply each one of these functions, we just have to click on them and apply the chosen effect on photos. The freehand drawing lets you choose the color but not the stroke weight. The number of stickers is considerable although the design can be improved.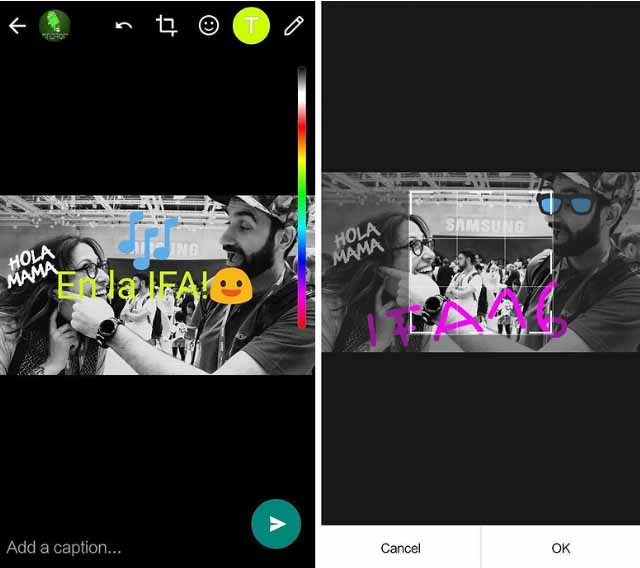 At the moment this new feature is only available to beta users and probably will soon be available on Google Play Store.
WhatsApp: version 2.16.242
Since this version you'll be able to create your own animated GIF 6 seconds of video. Still you can not be attached GIFs that you download from the Internet but you can make your own. To create a GIF in this version we must follow very specific steps.
Enter a chat and click on the clip to attach. Select 'Camera' now 'Record video'. Record your video, please note that the GIF can only last 6 seconds maximum. Once recorded center blue button click branded 'ok'. Now you can add a comment and in the top right we have a video camera icon that if we touch switches to GIF, click it and hit send. The video will be shown as GIF in chat.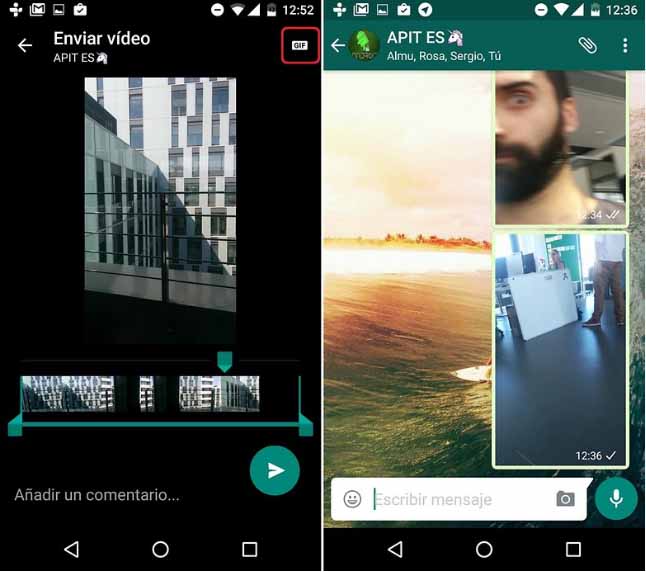 To become a beta tester you only have to access the link , sign in with your Gmail account. It is very likely that these two developments appear in the final version of the application is sent to the Play Store.
WhatsApp: version 2.16.230
The first novelty of this update is that if to call a contact do not hear you can leave a voice message as an answering machine. When the other person see that you call will also have to find your message as voice memo that You keep chatting together. The second and new feature is that from now on you can forward messages to several people and groups from a new interface with your frequent chats on top.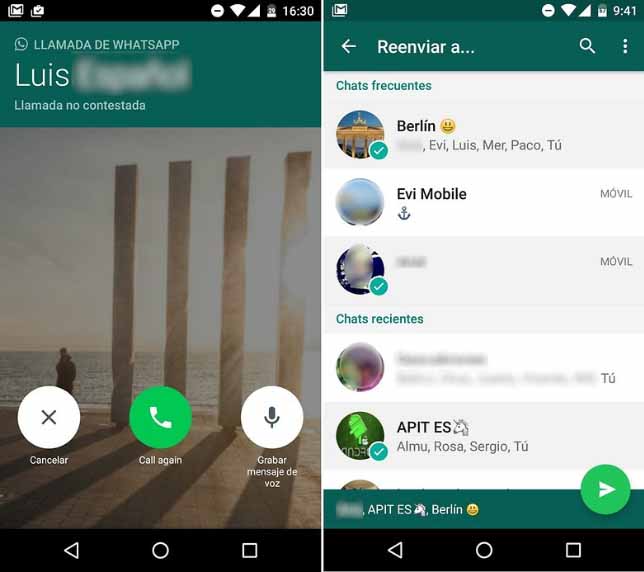 WhatsApp: version 2.16.183
In this beta version of WhatsApp program is a new feature hidden. It is a two-factor authentication to improve security. The images WABetaInfo offers us do not give a hint of system performance, but makes clear that WhatsApp wants to improve is access system application.
At the moment the only method to enter the account is through a code sent in a message to our phone number. It seems that we will have to wait a little longer to know how to work this double authentication.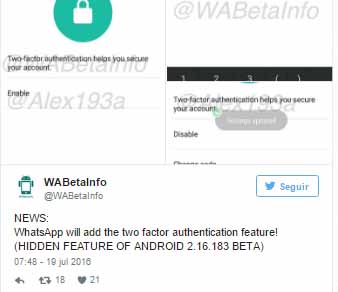 WhatsApp will add the two factor authentication feature! (HIDDEN FEATURE OF ANDROID 2.16.183 BETA)

The stable version is still in 2.16.182 but surely soon be updated with new features.
WhatsApp: version 2.16.139
Unfortunately the arrival of video calls is becoming hard to get. The new version number 2.16.139 is available for beta tester program, it has changed the interface when you receive a message from a contact you do not know. In this interface we have three quick options:
Report as spam
Block out
Add to Contacts
Also when you click on the option to save the number in the phonebook we can include it in an existing contact or a new one. It is no new feature if not just another way to present the options.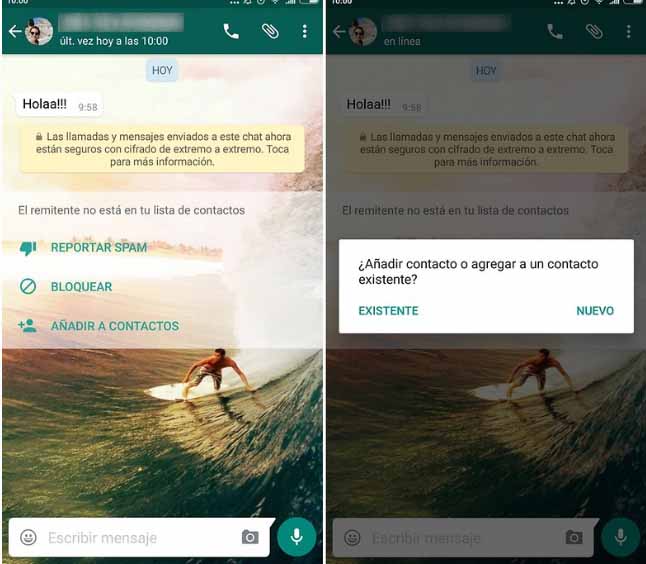 WhatsApp: version 2.16.118
This version brings a small but substantial change and the ability to quote messages. A function that is especially useful for groups where conversations are lost with the abundance of messages.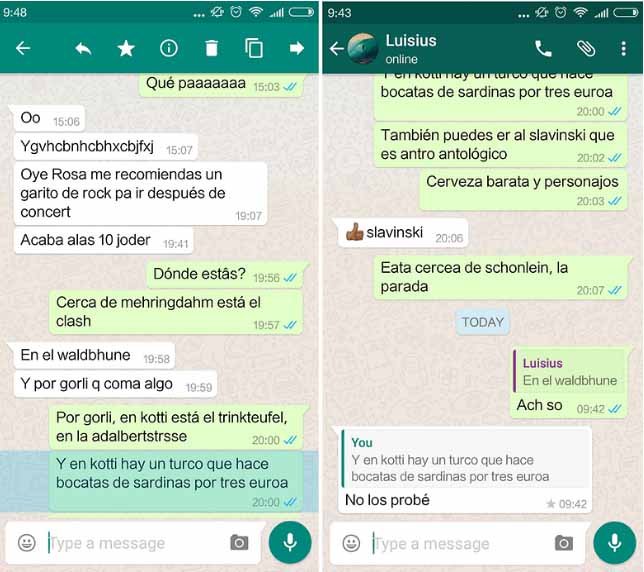 Operation is simple, you just select the message you want to cite and click the icon to answer. The message and your answer will appear above.
WhatsApp: version 2.16.93
2/16/93 version does not come with big changes. You can respond to your messages directly from the bar notificacioneso or you can select a photo directly from your gallery from the camera button. Also added some improvements and corrected some mistakes but not about a revolutionary upgrade but rather improves performance and safety. If you are a beta tester user already you have available the version 2.16.98. that does not include major changes.
WhatsApp: version 2.16.28
Since version 2.16.25 beta tester program, WhatsApp has the ability to send files of Microsoft Office . A few weeks ago another update allowed sharing  PDF type documents and now this feature is also wide to Word documents, Excel and Powerpoint.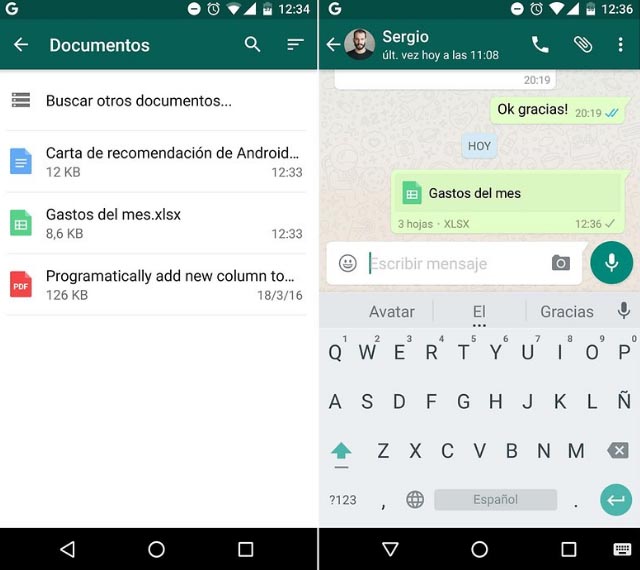 How always have the latest version of WhatsApp
There are two ways to update this application. The first and easiest is through Google Play, where if it is not the refresh button is that you have the latest version. However, it is not the most modern, as WhatsApp take to upload the new version to Google Play, so to really have the latest version should follow the steps I offer below:
Go to the website WhatsApp.com , either from your PC or your smartphone.
Click on Download. If you're using a smartphone must check the option View as computer.
Android click to download the latest version that exists for our operating system.
Click on Download Now .
If you have downloaded to your smartphone, install the application normally. If instead you've downloaded to the PC, connect your smartphone via USB and paste the apk and install the terminal normally.
Once this is finished, you will have the latest version of WhatsApp installed on your terminal.
I advise perform this procedure with the smartphone, as we get rid of having to connect to the USB device and we can install directly.
I remember that sometimes the application asks you to update, and does it automatically, without visiting Google Play, as happened with the 528. version In these cases, when the application itself that is updated, we can be sure that we the latest version.
Periodically you Active on WhatsApp? What version do you have?