iOS

10

make your iPhone best
Compatibility
The first is to emphasize that iOS 10 will work with the iPhone 5 onwards, which means that if you own an iPhone 4S or earlier model, it is time to consider upgrade. Neither the first generation iPad or iPad Touch of fourth generation or earlier will be compatible.
This is the official list of devices compatible with iOS Apple and 10:
iPhone 7
iPhone 7 Plus
iPhone 6S
iPhone 6S Plus
iPhone 6
iPhone 6 Plus
iPhone SE
iPhone 5S
iPhone 5C
iPhone 5
iPad Pro (12.9 inches)
Pro iPad (9.7 inches)
iPad Air 2
iPad Air
iPad fourth generation
iPad mini 4
iPad mini 3
iPad mini 2
sixth-generation iPod Touch
Interface Changes
The presentation of the new IOS 10 began with a look at the new lock screen. Among other things, you can now see just pick up the phone, you can press a notification to see it – using 3D Touch – respond to your messages from there. Also, from the lock screen you can access the camera faster with a pass on the right, and widgets with a pass to the left. The idea behind this is to access more things from the lock screen.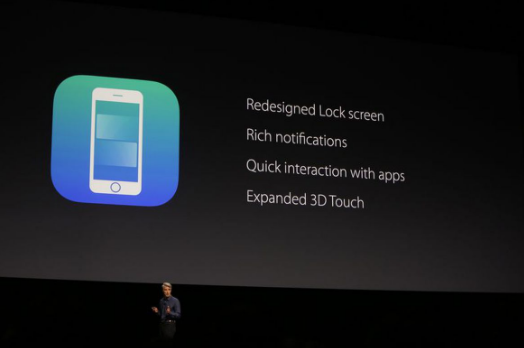 Also, now you can see more information when you use the interface pressure on apps so you do not have to open them completely.
Posts App
One of the most radical changes is in the messages app, iOS 10 is that much more interactive and allows you greater expressiveness. Among other things, you can write messages by hand, change the font size, view photos and related to a video link without leaving the app, the more efficient the camera and photo galleries access, suggestions emoji that you can use and , too, what words of your message you can change for emoji , emoji larger, interactive images for the background of the message display, the ability to double – tap the screen to send a reaction, invisible messages that you can discover by passing finger, quick responses (thumbs up or down), ability to resize dialogue bubbles, send keystrokes or kisses, draw pictures on videos and photos, animated stickers and direct payments Apple Pay in your messages.
The most important thing is that now posts will be open for third parties to develop apps compatible so that, for example, you can make a reservation from there or choose a restaurant menu with other participants in a huddle. Developers can start creating apps for messages. iOS 10 include a drawer to see the apps you use most often in Messages.
With these modifications, Apple acknowledges that its messaging app was running far behind the functions of apps like Snapchat, Line, WhatsApp and Messenger, Facebook, which also has a program for developers.
Maps App
One of the most criticized Apple's native apps, Maps, receive several improvements in iOS 10. First, the company also opened this app for developers, which means that you can make reservations at apps like OpenTable or request an Uber from Maps, and Apple even pay with pay from there.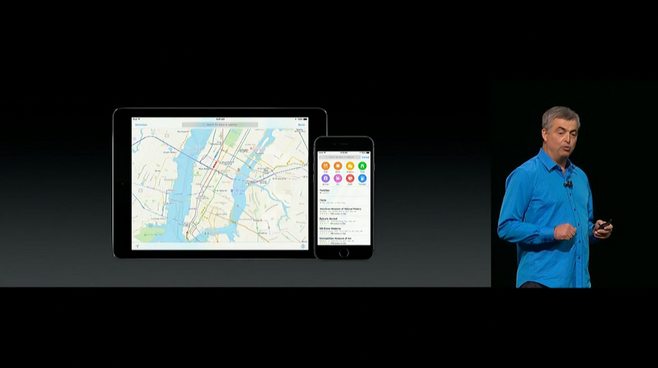 As for the interface, now it will show you suggestions of places, when you slide the screen up, based on your previous behavior. Even the app you can suggest how to get to certain sites without you indicate you want to go there, based on their predictions. We also give you alternative routes, traffic information and even how long it will take to fill the tank at a specific gas station, and allow quick searches along a route to easily find gas, food or coffee. Also, it is more integrated with Apple carplay for step by step directions.
New app Home
Apple will release an app called IOS Home that works with all accessories and smart home products that support HomeKit, its platform for such gadgets . With Home you can coordinate all your accessories to make simultaneous action, like going to sleep or waking up in the morning, and control each one individually, among other things. You can also monitor your security cameras with feed direct video in the app.
Smarter keyboard and multi-language
IOS 10, the keyboard will give suggestions related to your message, how to open the calendar when you write something related to a date or an appointment, anticipating what you want to do or giving you information you may need at that time, as the number of a contact .
And a feature that all bilingual people waited for years: iOS 10 can write in two languages at the same time without having to change the keyboard language, which you can avoid the embarrassment of sending messages totally meaningless – like when write something in Spanish and English have the keyboard.
What's new Siri
In addition to messages and Maps, another Apple service that opens to third parties is Siri. This means you can now leverage the power of Apple's digital assistant to execute or do actions in other apps, as dictated in messaging apps like WhatsApp, to see the message within Siri before sending it by WhatsApp.
Also, Siri will help you do contextual searches pictures – based on your location, for example, or people in the picture – and make VoIP calls using only your voice.
Delete native iPhone apps
Maybe not a revolution, but surely make more than one user very happy iPhone: iOS 10 allow you to delete the native Apple apps like Exchange or weather if you prefer to use another, if you never use it, or just because you like to keep your phone as neat and clean as possible, giving priority to the apps you use most.
Artificial intelligence photos
The Photos app in iOS recognition software 10 will use to build automatic photo folders linked to the same event, people or place, called Memories. We also will allow display on a map the photos you've taken and organize them based on people who recognize in each photo.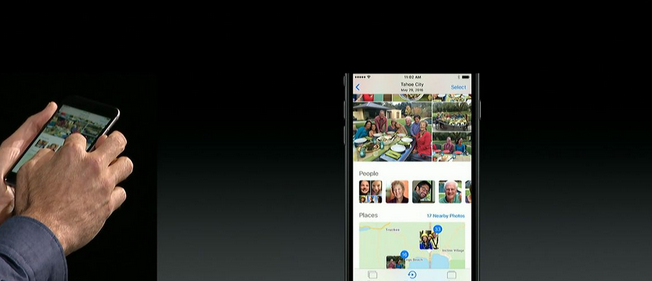 Also, now you can do searches for photos by topic, such as "beach", "football" or "pet" and make handwritten notes on photos. Finally, now you can edit and modify photos Live and there are new filters for these images called Live Filters. Finally, iOS 10 may take photos in RAW, a much more malleable than JPG format and you really like the fans of photography.
New Apple Music
The second version of Apple's music app receives a redesign to provide a simpler way to access your music. Also, the new app emphasizes personal music collections and will offer users the lyrics. Also, it makes it easier to discover music based on user behavior and tastes.
Calls, emails and voice mails
10 In iOS you can set a background image to view screen when you receive a call, it will notify you of my VoIP calls via third on the lock screen. For example, when you get an incoming call by WhatsApp or Skype notification will appear on the lock screen of your iPhone.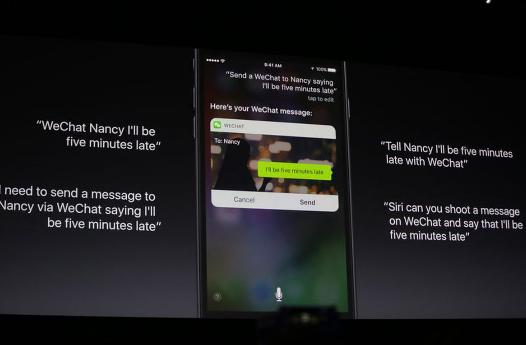 iOS 10 also include a transcript of recorded voice messages, although it is unclear whether it will in Spanish. As for the email, now you have a specific view to see conversations within an email.
App News
The News app, launched just last year, gets a redesign with new sections focused on your interests and the ability to subscribe from the app to the media that interest you.
App Notes
Now the Notes app lets you collaborate with others in the creation of texts, lists or any other point.
Apple Pay
10 In iOS you can pay directly with Apple Pay Web sites when using the Safari browser on your phone.
For iPad
Now, Safari on iPad will have shared screen to view more than one Web site at a time and can write two emails simultaneously. Also, there is a new camera app for the Apple tablet.
Security and privacy
Finally, Apple recalled during WWDC encryption using point to point in many of its default apps, including Messages and FaceTime. With the increased capacity of Apple services to predict your behavior and recognize your photos, the company said it does not create user profiles to record this information.
Apple WWDC spoke for something called "differential privacy" ( privacy differential ) involving the analysis of customer data for trends, but without identifying specific individuals. IOS 10 Apple will start using the differential privacy to "help discover patterns using a large number of users without compromising individual privacy" to improve their services