Last Update: September 2023
If you notice that the battery of your iPhone or your iPad lasts much less since you installed iOS 15, The new ios update draining battery? don't worry, you are not alone. Here we're going to give you some tips to extend and improve the autonomy of your device.
Since iOS 15 came out, complaints of short battery life, especially on iPhones, iOS battery drain problems are extremely common, Not every new iOS will be good for your device, Updates which are gone incompatible to your device then you may face these kind of bugs. iOS 15 battery drain can give you a big headache But, there are ways to fix it.
If your battery life is getting shorter, that's because of the way Background Updates work on iOS 15. This feature of the operating system allows an application to work independently at any time to perform certain tasks. For example: update your Geo location (GPS) or connect to the Internet at different intervals. Also see How To Improve Your Battery Life In iOS 15.
How to Fix iOS 15 Battery Drain in iPhone 2023
---
Apple gives quite a lot of control over what apps can perform tasks and Background Refresh and how can they do it. If you want to modify these settings to your liking, you must follow these steps to stop iOS 15 from draining battery:
1.

Disabling Background App Refresh
1.) From your device's main screen, access the Settings tab
2.) Click on General
3.) There look for the menu called Background App Refresh.
There you will see a list of all the apps that you have installed on your iPhone. You can activate and deactivate automatic background updates for all of your apps. In most cases, it is a good idea to disable everything unrelated to email, maps or news.
iOS update battery drain © TechinDroid
It is important to note that regardless of what operating system you have, there are apps that have a bad reputation of consuming large amounts of battery power – particularly, you should pay attention to the Facebook app. But, it is likely that the culprits of your short battery life are your WhatsApp, Instagram and/or Snapchat app. These apps, like Facebook, Snapchat tend to generate quite a lot of background tasks lately.
It is important to clarify that disabling the update in the background of an app does not turn off notifications when you are not using it. That means, if you deactivate background app refresh in WhatsApp, you will still receive notifications of new messages.
iOS also has an option that will make apps only Refresh in the background if you are connected via Wi-Fi. This will substantially increase the battery of the iPhone. However, as the name of the option says, this option can only be activated when the smartphone is connected to a wireless network – it won't work if you're using your 3G or 4G network.
2.

Try Disabling GPS
Another fact that you should take into account is that the geolocation system always consumes battery. Any kind of smartphone gets drained when it has to access GPS to obtain its geographical position. In iOS, there is an option that allows certain apps to access the GPS at any time, and that can consume a good amount of energy. To control what apps can do this, you must follow these steps:
1.) Access the Settings tab from the iPhone's main screen
2.) Select Privacy
3.) Access to Location services
There you will see a list of all installed apps. All of them have three possible options:
Never
While using the App
Always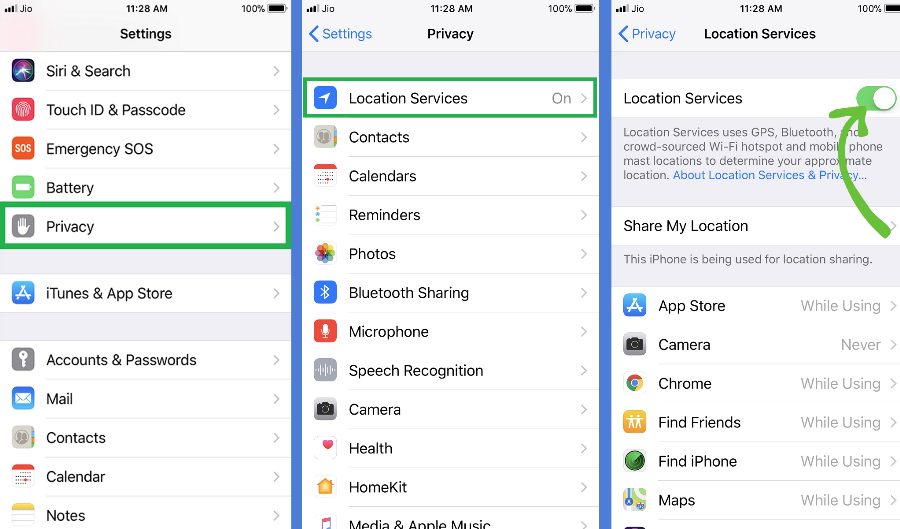 iOS 15.2 battery drain © TechinDroid
This customization allows you to control how the apps use the Geo Location system: apps can either access the GPS at any time, only when the app is used or only if it's really needed. In the vast majority of cases, the "Only when you use the app" option is more than enough. Only apps like Waze, Google Maps or Maps need constant access to your location and should be set to "Always". However, even those apps can be controlled. Configuring this section correctly can give you extra battery time and more privacy on the Internet. And if you are the one who not needed the GPS services, then you should completely Turn it off as shown in the screenshot above.
3.

Find out Which App is draining your device battery 
Lastly, it's possible to know which applications are the ones that are consuming more battery in your iPhone. Follow these steps:
1.) From the main screen of the iPhone, access the Settings tab
2.) Select Battery
3.) Wait a few seconds, scroll down there a list of the applications that use more battery will appear, both in the last 24 hours and in the last 30 days. Maybe you'll see some surprises.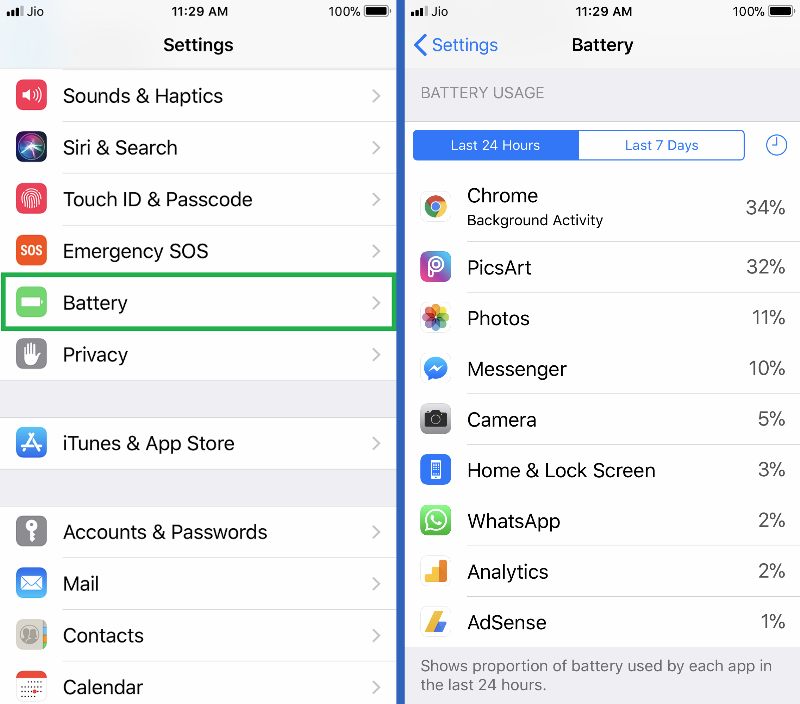 iOS 15.1 battery drain © TechinDroid
The important thing is that you can analyze if there is an app that is monopolizing the battery of the iPhone and modify the settings of the app. Have your iOS faced battery drain before? Do let us know in the comments!