Last Update: September 2023
iOS 11.1 continues with the failure that allows you to bypass activation lock screen of your iPhone.
Just a few days after the serious security breach suffered by the latest version of the iPhone operating system, iOS, and coinciding with the launch in United Sates of the new iPhone X, a new vulnerability has been reported. This OS flaw affects the latest iOS version, iOS 11.1.
You may also like:
On this occasion, the failure allows the user to be able to bypass iCloud lock screen, reset the phone and use it.
How to Bypass iCloud Lock on iOS 11
---
It's really simple to take advantage of this flaw to bypass iCloud activation. That's why it's so dangerous: you just have to repeatedly enter a wrong password, and after a while (sometimes more than an hour) the iCloud lock screen will not appear again and the user will be able to use the device without any other security method preventing it.
It has been shown that this iCloud lock bypass can occur both in the iPhone 7 and iPhone 8 devices, so it seems that the latest Apple smartphone, the iPhone X, will go to the US market with this serious security flaw. In the video that we leave you below, you can see how an iOS 11.1 user bypasses the lock screen using the method described above.
iCloud Bypass iOS 11: Hacked!
Sadly, this isn't the only security flaw that has been reported in the software owned by the American technology giant, and while it is true that all of them have been corrected after a while, they keep releasing OS updates with disgraceful bugs and exploits. Nevertheless, these facts don't seem to affect the company in terms of income, because Apple still has a great success in the market nowadays. Apple hasn't said a word about this bug so far. Everything points that it won't take very long to fix it, as it happened with the OS failures that appeared in the previous version of the operating system.
Other new features of iOS 11.1
The latest iOS 11.1 version of iPhone devices includes a list of new emojis, improved battery optimization and better security measures, emphasizing a security patch related to the vulnerabilities associated with WIFI networks. However, developers must hurry to solve the new security problems, such as the one we talked about, and include them in a new update, in order to avoid resenting worldwide sales of the so-called "most expensive mobile phone in history", a good name for this device – its base price in the US market is established at $1,450.
Here's How to Secure Your iPhone from Activation lock bypass!
As we shown above the iOS 11.1 version has security vulnerability that let anyone remove iCloud lock by simply following the steps shown in the video. To secure your device from this flaw, Update your iPhone with the latest version of iOS.
To do this on your iPhone open " Settings and go to > General > Software Update ". That's where you can check if your phone got newer iOS update. If an update available for your device you will see the detailed info of the update like OS version, its size along with bug fix notes and whats new in this version.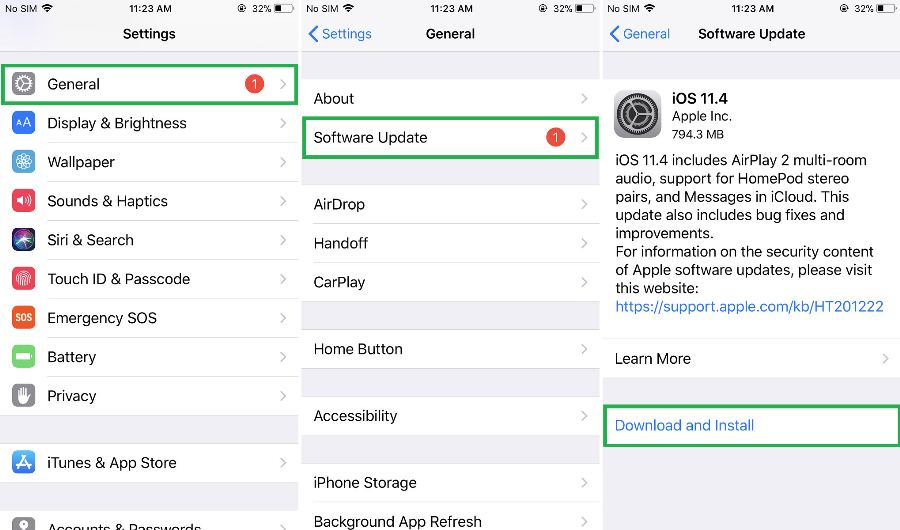 There You just Click on "Download and install" option. It is placed as very last option. Now the download will begin. Depending on the internet connection you have this may take some time, wait until it get fully downloaded. Once this process done, a pop up message would appear that says install the update right now, or do it overnight. Choose your preferred way of installation.
That's all Now your iPhone successfully updated. The Curent version of iOS 11.4 already fixed this security flaw, So your device is safe from bypass icloud activation lock. What you think about this iOS 11 iPhone activation lock bypass flaw? Does your phone running iOS 11.1? Update it immediately.