Last update: September 2023
How to unlock iPhone / iPad that has been locked out by iCloud lock.
iOS 7 brought many new features, one of which is called iCloud Activation Lock. This function consists of a password you have to enter to activate your iPhone after deleting all the data on your smartphone or when you want to use another SIM card from another phone carrier after release. We are going to explain how to remove iCloud Activation lock iPhone / iPad without having the phone's synced iCloud password.
This new feature has a primary mission: prevent a robber or third-party from using your iPhone. If you don't have the owner's iCloud password then you will never be able to use the iPhone. But, this feature has a major problem, if you buy a second hand iPhone, an iPhone that has been used by someone else, you will find that you can not activate it with another SIM if you don't have the iCloud password for that user. Of course, all of this is solved if the seller disables the "Find My iPhone" feature by going to Settings > iCloud prior to delivery, you can then enter your own Apple account password.
Also read:
How to Bypass iCloud Activation Lock on iOS 11.
Free iCloud Activation Lock Removal Tools.
How to Turn Off Find my iPhone / iPad.
Not a lot of sellers are aware that this step is necessary if they want to sell their iPhone, so let's check out what possibilities we have and how to remove icloud activation lock from iPhone or iPad: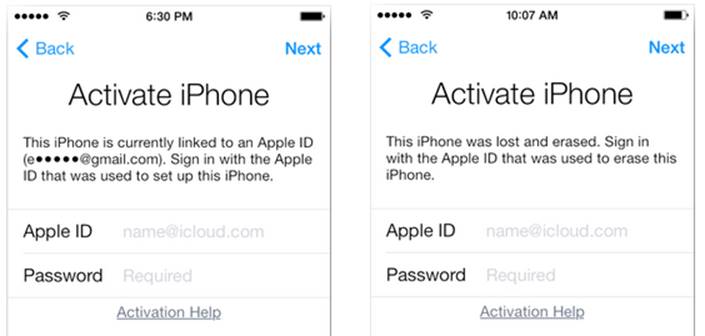 If you are using the iPhone with the same operator as its original owner it will stay activated. In this case, when you start using your iPhone it will work without any problem but, it is very important to know that you cannot restore or upgrade to a new iOS version through iTunes. If you do this process then your iPhone/iPad will ask for the previous owner's iCloud password and let's see how to remove icloud lock; if you don't have any type of contact with the earlier owner then you probably don't be able to get its iCloud password, locking you out of the device, meaning that you won't be able to use it until you type in the correct user's password till that your iPhone or iPad got stuck on activation lock screen.
How to Remove iCloud Activation lock from iPhone & iPad
---
If you have a iPhone or iPad with iCloud locked, here are the possible way to Remove iCloud lock on iPhone / iPad running (iOS 7, 8, 9, 10 and 11).
❒

iCloud Unlock by Disabling Find my iPhone / iPad Remotely
Delete iCloud lock is very easy as long as you've previously met the person who has sold you the iPhone or you have its contact. If you can be with this person, it will be able to enter the password, afterwards, the iPhone will go to the home screen and all you need to do after that is go to Settings > iCloud and uncheck "Find My iPhone", the previous owner will have to enter the password once again to uncheck this box. If you can't meet with the person but you do have its contact, then convince the previous owner to help you disable Find my iPhone remotely. This process can be done really easily from your computer:
1. Go to www.icloud.com
2. Enter previous owner's iCloud email and password.
3. Once you're inside the service, select the "Search" icon, it should be a radar.
4. If you have multiple devices then you will have to select the iPhone at the top of the screen, just where it says "All devices"
5. If the device has not been deleted then you have to select the option "Delete iPhone". Let's use this iPad for example: This will erase the entire contents of the device, removing the information remaining from the previous user.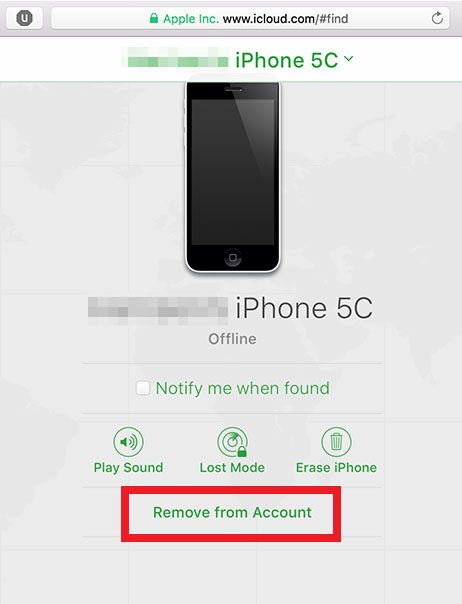 6. If the device has already been deleted then you just have to select "Remove from Find My iPhone" at the bottom of the screen Clicking on this will prompt a warning as the one you see on the picture, you must click Delete to continue with this process.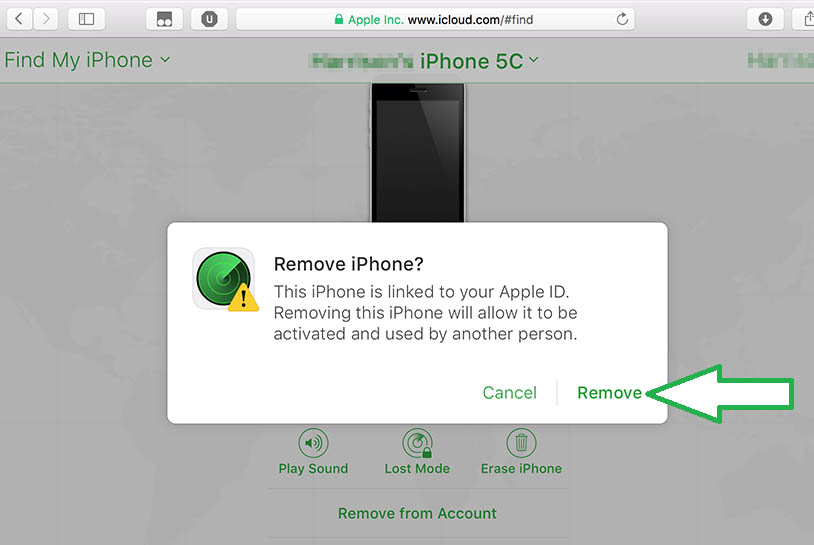 7. Once the device has been removed from your iCloud account, it will no longer request the password and you can normally activate it, problem solved. This process should be same for ipad icloud unlock.
❒

Unlock iCloud by Asking password from previous owner
Prevention is better than iCloud unlock; To prevent all of this from happening, go to Settings > iCloud and disable "Find My iPhone", be careful though, as it will ask you for the previous owner's password, so you still have to keep contact with the seller to do this step.
If the iPhone is restored, disabled or unlocked to use with another phone carrier.
If you buy an iPhone that has been factory reset or you want to use it with another carrier then you'll likely come across with this iCloud password problem. For example, you buy a second hand iPhone, you unregister it via IMEI to use it with a different phone carrier and it asks you to activate it with an iCloud password. You won't be able to use it nor get a refund because there's not malfunction with the device, as it is Apple the one that's locking you out of it until you type in the correct password. Let's take a look at how to fix this problem.
❒

What happens if you do not know the previous owner?
If you have an iPhone 4 then you can remove the iCloud password with a tool called iOS Soft Dev Pack, this is ironically only available for Windows, and it only works on iPhone 4. Just run the program, connect your iPhone and choose "iPhone 4 hacktivate Tool".
This iCloud bypass tool uses a known exploit software to activate your iPhone 4 inorganically. Remember that this tool is only for use on your own iPhone or from an iPhone you bought legally and have this password.
For iPhone 4s and higher currently, if the original owner does not remove the password, there is nothing you can do, but if someday there is any solution then we'll make sure to update this article.
Conclusion
As you can see, the ideal solution is knowing the person that's selling you the device, ask first that you disable its iCloud password from the device or from your computer using the iCloud website. It is also advisable to ask the seller to check the IMEI.
This guide is applicable for all iOS devices (iphone 4s, 5s, 6s, 7 plus, 8, iPhone 8 plus, iPhone X, iPhone Xs and all iPads.  Now that you know all of this, you can safely buy a second-hand iPhone safely as long as the owner has previously disabled the iCloud password. It doesn't matter if the person lives in a different country. Problems arise if you don't know the seller and aren't able to get in touch with it. If this is the case, then you're sort of screwed. What do you think about this process? Do you think it should be a little easier to unlock an iCloud protected device? Leave your comments below and don't forget to share this post with your friends!